EduClips: Discipline Program Failed to Intercept Parkland Shooter, Critics Say; LAUSD Averts Strike With Service Workers — and More Must-Reads From America's 15 Biggest School Districts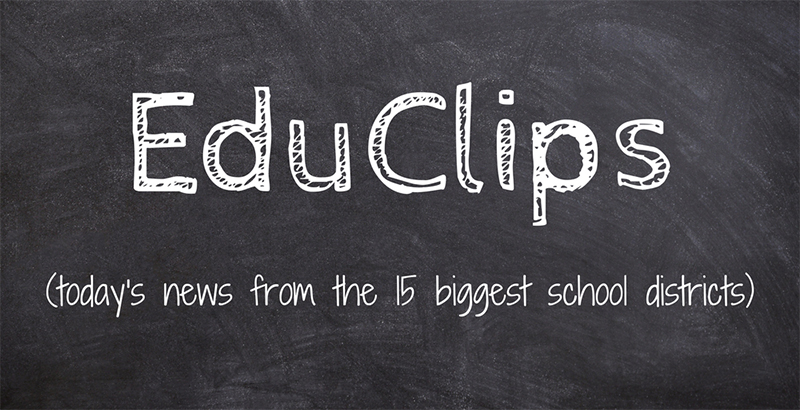 EduClips is a roundup of the day's top education headlines from America's largest school districts, where more than 4 million students across eight states attend class every day. Read previous EduClips installments here. Get the day's top school and policy news delivered straight to your inbox by signing up for the TopSheet Education Newsletter.
Top Story
SUPERINTENDENTS — Nearly everywhere, it seems, new superintendents have been sought recently.
The country's three largest school districts — New York, Los Angeles, and Chicago — have all seen new leaders appointed since the start of the year. School boards in Seattle and Las Vegas just picked new leaders, and the top job in Washington, D.C., has been open since February. Two of the most challenging districts in New Jersey, Newark and Camden, are also on the market.
But that churn, and the oft-cited statistic that superintendents on average stay on the job for only three years, may be an anomaly, according to a new report from the Broad Center released Tuesday. The three-year figure is for superintendents currently on the job, but a survey of all the superintendents who have served in the 100 largest school districts since 2003, including many who have since left, found that they had been in office an average of six years when they departed. (Read at The74Million.org)
National News
GRADUATION CONTROVERSY — Faculty Member Shoves Black Graduates Offstage, and the University of Florida Apologizes (Read at The New York Times)
ELECTION — Two School Choice Champions in Congress Squared Off for a Senate Seat. Both Lost. (Read at Politics K-12)
PHILANTHROPY — Gates, Zuckerberg team up on new education initiative (Read at The Washington Post)*
ROBOTICS — FIRST Robotics Championship Boosts Diversity (Read at U.S. News and World Report)
District and State News
FLORIDA — Did discipline diversion program fail Parkland? Superintendent vows improved policies. (Read at the Miami Herald)
CALIFORNIA — LAUSD reaches contract deal with SEIU, avoids strike (Read at ABC 7)
PENNSYLVANIA — Toxic City: Cleaning up Philly's contaminated schools has a huge price tag | Editorial (Read at the Philadelphia Inquirer)
NEW YORK — Schools Chancellor Richard Carranza gets Twitter support for stance on integration (Read at the New York Daily News)
CALIFORNIA — GOP candidates for governor say California schools need changes, not more funding (Read at EdSource)
NEVADA — Gubernatorial candidates spar over education funding at bipartisan forum (Read at the Las Vegas Sun)
NEW YORK — A $24 million New York City program was supposed to prepare more black and Latino men for college. But a new study found it didn't. (Read at Chalkbeat)
TEXAS — Fort Worth ISD using billboards to recruit Oklahoma teachers (Read at Fox 4 News)
ILLINOIS — Illinois bill looks to expand enrollment at high school (Read at the Seattle Times)
Think Pieces
DUNCAN AND SPELLINGS — What ails education? 'An absence of vision, a failure of will and politics' (Read at The Washington Post)
FIGURE SKATING — Figure Skating Program Transforms Black and Latina Girls From Harlem and Detroit Into Champions on Ice & in School — and Beyoncé's a Fan (Read at The74Million.org)
BOOK CONTROVERSY — Parents Are Divided Over a Book in a Popular Student Reading Program in Oregon (Read at The New York Times)
ABSENTEEISM — Why are these Mississippi students missing so much school? (Read at The Hechinger Report)
TEACHERS — In honor of Teacher Appreciation Week, 8 essays from educators who raised their voices this year (Read at Chalkbeat)
RACISM — The National Memorial for Peace and Justice is a lesson students sorely need (Read at The Hechinger Report)
Quote of the Day
"I was shocked. He literally wrapped his arms around me. I didn't understand what was going on." —Oliver Telusma, a University of Florida graduate, one of several students who was yanked off stage by a faculty marshal after dancing onstage at the school's recent graduation ceremony. (Read at The New York Times)
*Disclosure: The Bill & Melinda Gates Foundation supports The 74.
Want the day's top school and policy news delivered straight to your inbox — for free? Sign up for the TopSheet Daybreak Education Newsletter.
Support The 74's year-end campaign. Make a tax-exempt donation now.