In a Quick Recovery, Mayor Bill de Blasio Appears to Get the NYC Schools Chief He Needed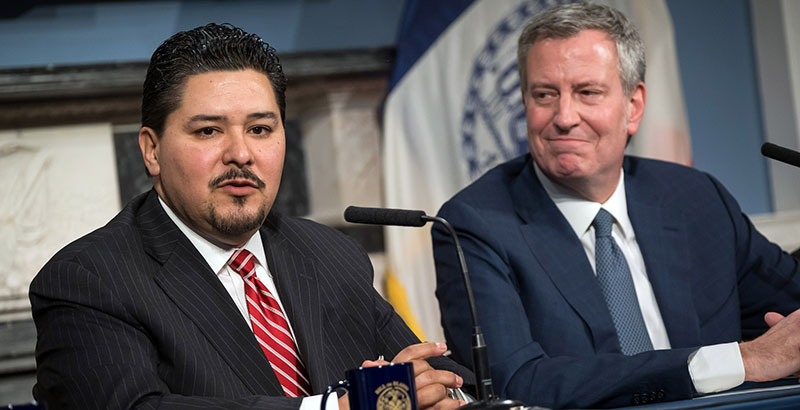 You truly don't get a second chance at a first impression, and Richard Carranza didn't need one.
The announcement by Mayor Bill de Blasio at a Monday afternoon press conference that Carranza would become New York City's next schools chief, coming little more than a weekend after his first choice, Miami Superintendent Alberto Carvalho, backed out on live television, brimmed with goodwill and relief as Carranza pledged to build on the mayor's "equity agenda."
"There is no daylight between Mayor de Blasio and myself in terms of what we believe in, what our aspirations are for the children of New York City," said Carranza, the superintendent of Houston's schools and past district leader in San Francisco, as the mayor looked on with an expression of almost fatherly tenderness.
And why wouldn't he? The administration recovered more quickly than anyone expected it would after Carvalho's embarrassingly public rejection, producing yet another nationally admired educator and giving heft to de Blasio's claim on Friday that "people from coast to coast have been asking to be considered."
Carranza called Houston board members before the news was made public, board president Rhonda Skillern-Jones said at a somber press conference Tuesday afternoon. Carranza took the Houston job 18 months ago and was about halfway through his contract. A mid-year departure — especially amid pressing budget and school management challenges — is slightly unusual for a leader in apparently good standing.
Carranza provided just two weeks' notice, according to Skillern-Jones, a short interval that suggests that internal issues in the district may have been a factor in his decision to leave.
Apart from its affability, which was captured in a photograph that suggested a woke remake of Friends, the announcement was most notable for its promise of smooth continuity in leadership between retiring chancellor Carmen Fariña and Carranza.
Carranza called Fariña "one of my educational heroes," said he was "incredibly honored" that Fariña would help in his transition, and said he looked forward to being "part of this team that will continue to empower teachers as Chancellor Fariña has done, continue to talk about not arming teachers with anything but great professional development and great opportunities."
The Arizona native even promised to consult Fariña, a lifelong Brooklynite, about where to live.
"Rich is like Carmen in that his view of teaching and learning is focused on the idea that teachers and principals and educators do the work," said Joshua Starr, CEO of educators association PDK International and a short-listed candidate for the chancellor position in 2014. Starr, the former schools chief in Montgomery County, Maryland, and Stamford, Connecticut, calls Carranza "one of the good guys" in education.
Carranza will inherit problems in the 1.1 million–student district the de Blasio administration has made little headway against, including high levels of segregation, a large homeless student population, and persistently struggling schools.
His pledge to advance Fariña's work is in line with what de Blasio has said he wanted in a successor since Fariña's retirement was announced in late December: more better Carmen. That he first chose the charismatic Carvalho, who couldn't have been more dissimilar — Pat Riley to her abuela — reflected what many saw as frustration with Fariña's limitations as an advocate. In this view, she was necessary for a first term but not sufficient for a second.
Carranza is generally seen as articulate and likable, able to work effectively across the often-contested landscape of urban districts.
"He'll be a great cheerleader for the system," Starr says.
He may also work more easily with New York City's charter schools than Fariña — or de Blasio — has.
"He didn't just talk the talk, he walked the walk in regard to charters having what they need to be successful," Steve Mancini, director of public affairs for the KIPP Foundation, said of Carranza's efforts in San Francisco.
There was less opportunity in Houston, according to Houston Chronicle education reporter Jacob Carpenter. "Charters are a virtual non-starter on Houston ISD board, so it's just not a fight he waged here," he said in a tweet on Tuesday.
Get stories like these delivered straight to your inbox. Sign up for The 74 Newsletter