Austin Beutner Named Superintendent of L.A. Schools, as Board Turns Focus to Tackling Dire Academic and Fiscal Challenges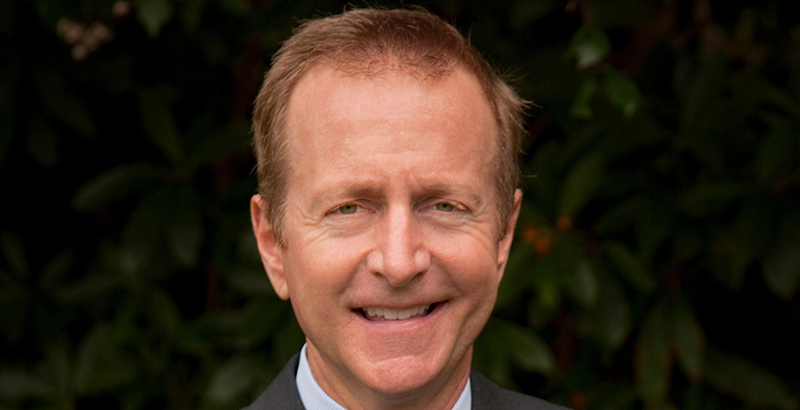 This piece was produced in partnership with LA School Report; see highlights from our Los Angeles series.
The elected leaders of Los Angeles's public schools sent a strong signal Tuesday that the city needs bold leadership, choosing local businessman Austin Beutner as superintendent of schools.
Beutner is both an insider and an outsider. He has deep ties in Los Angeles and a demonstrated commitment to civic service. The former investment banker served as first deputy mayor of Los Angeles, then moved across the street from City Hall to the Los Angeles Times as publisher and CEO. He currently co-leads a task force on LA Unified but does not have an education background, yet he brings financial acumen, political savvy, and negotiation skills.
The choice shows that board members are ready to shake up the district, picking Beutner over Interim Superintendent Vivian Ekchian, who, like her predecessor Michelle King, has spent her career in the district as an educator and administrator. It also reflects an urgent need to improve LA's public schools while staving off weakening finances that could put LA Unified under state control within two years.
Reflecting divisions on the board, the vote was 5–2, with Scott Schmerelson and George McKenna voting against Beutner.
The district released a statement from Beutner: "It is my distinct honor and privilege to take on the responsibility to lead the LA Unified School District; a complex, diverse organization, full of students bursting with potential. These young women and men are the future of our community, and every policy we adopt and every decision we make must be with the sole focus of doing everything we can to provide them with the best education possible. I look forward to working with the school board, parents, employees, labor partners, and the community to build on the progress that has been made at LA Unified, to address the challenges we face, and to deliver on our promise to our students." (Read Austin Beutner's contract here.)
After announcing the vote, board president Mónica García said in an interview, "While we have different views on the 'how,' there are seven people who are deeply committed to the people we serve. The opportunity before us as this process has concluded is to roll up our sleeves and get to work. There are so many needs, we're six weeks away from graduation. LA wants to be the place where we serve all children well. Let's get to work!"
Nick Melvoin, board vice president, said, "I'm confident that Mr. Beutner along with this board and as a partner of this board can bring some innovative thinking to this. If you always do what you've always done, you always get what you always have gotten. The status quo is not good enough for our kids. We don't have the luxury of waiting."
Melvoin said Ekchian will return to her previous role as associate superintendent and said in a statement that he is "deeply grateful" for her "stable leadership."
Board member Kelly Gonez said in an email, "Our financial challenge is real, and it has the potential to devastate this district if we don't take urgent action; Austin Beutner is well prepared to address the fiscal crisis we are facing and put us on a more sustainable path. His limited educational background is a significant issue, and I fully expect him to work with the board and our talented district leaders to fill in those gaps to the extent possible."
Speakers during Tuesday's board meeting reflected deep divisions in LA's education community. Some parents expressed frustration at not being included in the search, while other parents spoke in support of Beutner.
The search was conducted behind closed doors, so candidates were only revealed as they dropped out of the race. The fact that there were only two — former Baltimore superintendent Andrés Alonso and Indianapolis superintendent Lewis Ferebee — indicated there may not have been a large pool to pick from in light of LA's deep challenges and political divisions.
Beutner, 58, a father of four, currently co-leads the LA Unified Advisory Task Force, which was formed last year with community leaders to study and make recommendations on protracted challenges facing the district. Their reports have covered student attendance and chronic absences, increasing transparency and accountability, and the district's lack of a comprehensive strategy to manage its real estate portfolio.
He was born in New York and raised in Grand Rapids, Michigan. He ran unsuccessfully for mayor of Los Angeles in 2012 and serves on the boards of the Los Angeles Fund for Public Education and as chairman of several other philanthropic partnerships. He worked for the U.S. State Department under the Clinton administration, leading a team into Russia to help in the transition from communism to a free-market economy.
He also is founder and chairman of Vision to Learn, a nonprofit that provides free eye exams and glasses to children in low-income communities and that this year contracted with LA Unified. In what could have been last-minute jockeying within the district to scuttle Beutner's chances, the district sent a warning letter, known as a Notice to Cure, to the organization saying it was behind on screening students for eyeglasses. But its executive director refuted the allegations and said the district caused the delay.
Ekchian, 58, received strong support from parents' committees. She has led the district since last fall in the absence of Michelle King, who is fighting cancer and will officially resign by the end of June. She has led the local school district in the northwest San Fernando Valley, headed the human resources department, and also served as lead contract negotiator. She is a former principal and a teacher.
When he officially starts on May 14, at an annual salary of $350,000, Beutner will immediately be dealing with labor negotiations, a school workers union that has already voted to authorize a strike, declining enrollment that is expected to put the district in the red within three years, and ballooning retirement costs that the district so far has declined to significantly address.
The new superintendent will need to have a strong vision for student achievement and improving school quality, especially for the neediest students.
Although students in the district have made academic gains in recent years, far less than half are proficient in math, reading, and writing. Students of color and low-income students continue to lag behind their peers. Last year the number of homeless students at LA Unified grew by 50 percent, to more than 17,000 — the highest number recorded by the district.
LA Unified serves 473,000 students, plus nearly 160,000 students in 281 charter schools authorized by the district. Enrollment has dropped 30 percent since its peak of 750,000 students in 2004, as residents have fled the city's high rents and families have chosen independent charter schools. By the 2020–21 school year, the district is expected to have a budget deficit of $380 million, fueled in large part by the district's unfunded pension liabilities — now up to $15.2 billion. By 2030, nearly half of LA Unified's budget will be spent on retirees' health care and pensions.
"The financial issues are priorities 1 through 100. Everything, unfortunately, has to be looked at through that lens," said Mike Trujillo, an LA Unified graduate and longtime Democratic Party strategist in LA who has worked with Beutner for over a decade. "He's going to get into the minutiae of where every dollar is and make sure every dollar is getting to the neediest kids and the neediest classrooms."
Beutner will need to make "tackling the fiscal crisis of the district" his priority, "which really puts the progress made in the last couple years in jeopardy if that's not taken seriously and bold decisions are not made," said Nadia Diaz Funn, executive director of the Alliance for a Better Community, which serves the Latino community in South and Southeast LA. She said the district has to undergo this "incredibly difficult transformation in order to ensure its long-term sustainability."
"We will partner with him on having more equitable access to high-quality education within our neighborhoods and more resources for higher-needs students," Diaz Funn said.
Maria Brenes, executive director of InnerCity Struggle, cautioned that "the fiscal problem of the district cannot be attempted to be solved on the back of our high-needs students and neighborhoods." She said she believes the board had to make a decision in light of tremendous obstacles, including the student achievement gap, access to college, and equitable school funding.
"There's a fiscal issue, there's an equity issue, there's an achievement issue. We are here to remind the board and the new superintendent that they have to prioritize the needs of the highest-need students," Brenes said.
Trujillo said Beutner "has a lifetime of negotiation skills. Observing him at City Hall and the Los Angeles Times, Austin has a knack for bringing in talented folks to ensure the portfolio of education of LAUSD is top-notch. Good thing there are really smart people already inside the district that know about curriculum, special education, early education, and instructional protocol. What Austin does is shine a brighter light to make sure it all works out financially."
Ben Austin, a longtime education advocate who last year founded Kids Coalition, said, "Austin has the intelligence, independence, experience, and deep roots in Los Angeles to not only save LAUSD from bankruptcy, but also to fundamentally rethink and reimagine how we deliver public education for the children of the 21st century," Austin said in an email. "While he has a non-traditional background, the LAUSD must solve non-traditional problems. Now as we open this new chapter in the history of LAUSD public education, parents and students must organize to partner with the new superintendent and hold him accountable to always put our kids first."
Myrna Castrejón, executive director of Great Public Schools Now, said in a statement, "As a distinguished Angeleno, [Beutner] has a long history of working to improving civic life in Los Angeles, from serving as deputy mayor to advocating for immigrant students through his support of DACA, and bridging philanthropy with the needs of LAUSD students. He is uniquely well-positioned to solve the challenges the district is facing while also helping LA Unified's many successful programs continue to grow."
Robin Lake, director of the Center on Reinventing Public Education at the University of Washington Bothell, said that Beutner "seems strong on local politics, financial acumen. It's harder to know whether he has ideas about how to improve schools and instruction. He'll need a very strong team around him and a great school improvement strategy."
Although some board members had reached out to their communities for input — Kelly Gonez held six community input sessions and conducted an online survey, and Melvoin held five roundtable conversations — the closed search came under repeated attack as speakers came before the board Tuesday.
Lluvia Saenz, a mother of three students at Huntington Park Elementary, said she felt angry at the board members for not considering parents' opinions and said she would have liked Ekchian to fill the position.
"It's not time for the board to play with the decision of choosing a person who has no experience as an educator. They need to stop playing with our kids' future," she said. "Vivian Ekchian was an English learner and has held different positions as an educator in the district. She knows the reality of an LAUSD student."
Other parent groups expressed support for Beutner.
"Our parents have made their priorities clear to the board. We asked the board for a superintendent who would be willing to make bold changes to reform the district, and we believe Austin Beutner has the vision and experience to get the job done," Katie Braude, executive director of Speak UP, said in a statement. "He brings tremendous financial expertise at a time when LAUSD is on the brink of bankruptcy. We're lucky that someone of his caliber is willing to step in at such a critical juncture for LAUSD."
Seth Litt, executive director of Parent Revolution, another parent advocacy organization, said there was no time to waste.
"Parents across Los Angeles are ready to work with the new superintendent, and with board members, on the urgent task of improving Los Angeles's lowest-performing schools. Too many children in Los Angeles attend schools that are not meeting their needs. These students are being denied their right to have opportunities to learn."
Zeyna Faucette, a senior at Hamilton High School who will be attending UCLA in the fall, said by email, "I believe the superintendent needs to listen to the needs of all students; focus on all school communities to ensure that all of us have the same opportunities to flourish and have a college-ready future." Faucette, a student in United Way's Young Civic Leaders Program, which supports young people making positive changes in their schools and communities, added, "It's time we focus on the needs of the students and not take the easy way out of challenges."
Julia Macias, a senior at Grover Cleveland Charter High School Humanities Magnet and president at the Superintendent's Student Advisory Council, said she felt disheartened by the board's choice because she thinks the board is advocating for students' voice but it wasn't included in the decision.
"It really seems that the student voices really didn't matter to the board. We definitely need more student representation taking a role in these big processes," she said outside the board meeting. "We need to make sure every student has a quality teacher and a quality education, and I hope to see that from the new superintendent."
Kathy Kantner, a parent representative of the LAUSD Parent and Community Sunshine Committee and Community Advisory Committee, said in an email, "I hope the Board of Education will clearly communicate why they believe Mr. Beutner is the best choice they could make to lead this district — especially since such a talented, experienced candidate, an educator, has been passed over. I'm hearing the disappointed voices of many stakeholders today. How will Superintendent Beutner work to overcome this divisiveness and work to unify our district for the good of our students and schools?"
Max Arias, executive director of SEIU Local 99, which is preparing for a possible strike, said in an email, "It is our expectation that Mr. Beutner will work with us to avert a strike by recognizing the value of our contributions to student learning.
"As parents of LAUSD students and employees of the school district, we share in Mr. Austin Beutner's goal of closing the achievement gap and achieving greater equity in our schools … and we expect Mr. Beutner to partner with school workers, parents, students, and our communities to address the many issues impacting our children's education."
Go Deeper: See highlights from our Los Angeles series
Get stories like these delivered straight to your inbox. Sign up for The 74 Newsletter