Deal or No Deal? Trump Contradictions on DACA Deal With Democrats Leave Ann Coulter Saying 'You're Fired'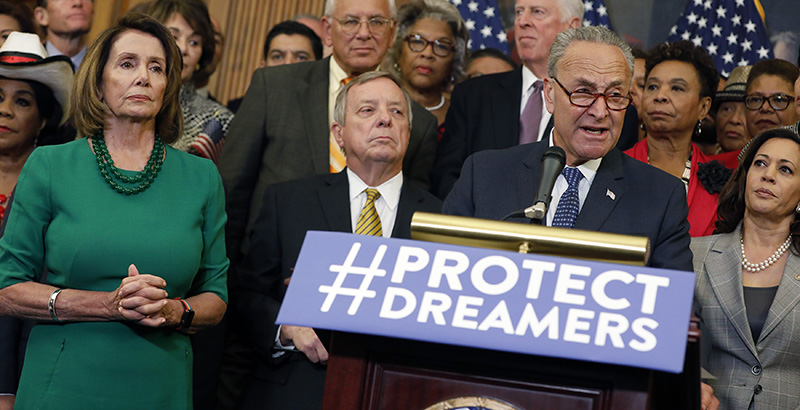 Social media erupted late Wednesday when two leading Democrats, Rep. Nancy Pelosi and Sen. Chuck Schumer, announced in a joint statement that they reached a deal with President Trump to protect Deferred Action for Childhood Arrivals recipients in exchange for heightened border security.
And here's the kicker: The deal didn't include funding for Trump's long-promised wall along the Mexico-U.S. border.
It would've been the second victory in a week for Schumer, of New York, and Pelosi, of California, after Trump agreed — to the astonishment of his fellow Republicans — to a short-term debt ceiling increase to fund the government for three months.
But in a series of early morning tweets Thursday, Trump shot back: No DACA deal, he said, had been struck with the Democrats.
But then, he immediately followed up with sympathy for Dreamers, as DACA recipients are often called.
Those statements — and the news that Trump was willing to negotiate with Democrats to save DACA — drew immediate backlash from some of his closest allies. Take, for example, these tweets Thursday morning from Ann Coulter, author of the book In Trump We Trust.
And this, from Iowa Republican Rep. Steve King, a staunch supporter of strict immigration enforcement:
The administration announced last week that it would rescind DACA in six months. The program, which former president Barack Obama created by executive order in 2012, awarded temporary legal status to some 800,000 immigrants who were brought to this country as children and are either in school or working. That number includes an estimated 365,000 high school students and 20,000 teachers.
During a conference call with some 400 educators Tuesday, former Obama education secretary John King called Trump's decision to rescind DACA "unnecessary, irresponsible, and immoral." Betsy DeVos, Trump's education secretary, said in an interview last week that "my heart is with" Dreamers. "We are a nation of compassion, and we are also a nation of laws," DeVos added.
If Congress cannot reach a deal to save the program through legislation like the long-proposed DREAM Act, Dreamers could face deportation.
On Thursday, a second statement from Pelosi and Schumer said Trump's tweets were "not inconsistent with the agreement reached last night." Although a deal was not finalized, according to the Democrats' second statement, Trump said he would "support enshrining DACA protections into law" and would encourage action from Congress.
"What remains to be negotiated are the details of border security, with a mutual goal of finalizing all details as soon as possible," according to the Thursday statement. "While both sides agreed that the wall would not be any part of this agreement, the president made clear he intends to pursue it at a later time, and we made clear we would continue to oppose it."
In a remark to reporters outside the White House later Thursday morning, Trump confirmed that a deal was, in fact, in progress. "We're working on a plan for DACA," he said, according to The New York Times.
By that point, however, Trump had already angered and alienated many of his closest allies.
Breitbart News, the far-right website led by former White House chief strategist Steve Bannon, referred to Trump in a headline as "Amnesty Don," while Trump supporters criticized the president's statements on Twitter with the hashtag #AmnestyDon. In Bannon's first televised interview since he was ousted from the administration, he predicted "civil war" in the Republican Party should members of the GOP reach a deal to keep DACA intact.
Get stories like these delivered straight to your inbox. Sign up for The 74 Newsletter