'Erasing Their Lives': Education Advocates Slam Trump's Decision to End DACA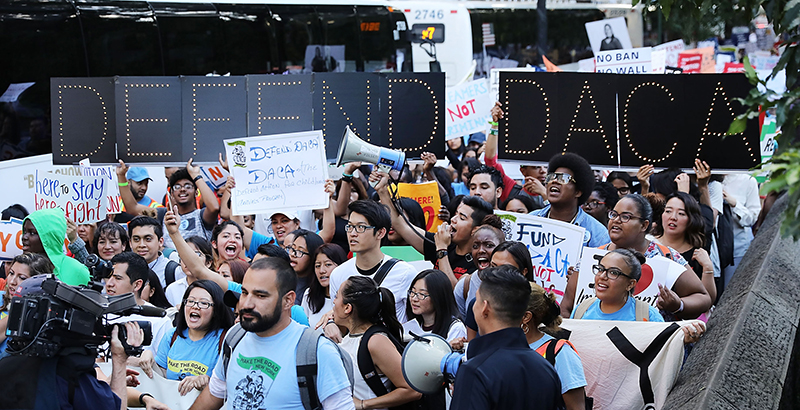 The education world was quick and unsparing in its criticism of President Trump's decision Tuesday to phase out protections for nearly 800,000 undocumented young people through the Deferred Action for Childhood Arrivals program, more commonly known as DACA.
In a press conference Tuesday, Attorney General Jeff Sessions said the Trump administration was rescinding DACA because the "open-ended circumvention of immigration laws was an unconstitutional exercise of authority by the Executive Branch." Then-President Barack Obama approved DACA in 2012 through an executive order. That action, Sessions said, occurred after Congress "specifically refused to authorize" similar protections.
"The effect of this unilateral executive amnesty, among other things, contributed to a surge of minors at the Southern border that yielded terrible humanitarian consequences," Sessions said. "It also denied jobs to hundreds of thousands of Americans by allowing those same illegal aliens to take those jobs."
Although Trump didn't speak during Tuesday's press event, he released a statement that expanded on Sessions' speech. "I do not favor punishing children, most of whom are now adults, for the actions of their parents," Trump said. " But we must also recognize that we are nation of opportunity because we are a nation of laws."
"We will resolve the DACA issue with heart and compassion — but through the lawful democratic process — while at the same time ensuring that any immigration reform we adopt provides enduring benefits for the American citizens we were elected to serve," Trump said. "We must also have heart and compassion for unemployed, struggling, and forgotten Americans."
Under the change, the government will no longer accept new applications. Existing DACA recipients will continue to receive benefits until their exemptions expire. The program required recipients to reapply every two years. New applications and renewal requests that were submitted to the government before Tuesday will be processed, according to the White House, and DACA benefits will begin to expire in six months.
"This is a gradual process, not a sudden phaseout," Trump said. "I am not going to just cut DACA off, but rather provide a window of opportunity for Congress to finally act."
Following years of debate in Washington, Sens. Lindsey Graham, a Republican from South Carolina, and Dick Durbin, a Democrat from Illinois, introduced the Dream Act of 2017 in July which, in essence, codifies DACA into law.
The "wind down process" will give Congress time to act "should it so choose," Sessions said. "We firmly believe this is the responsible path."
Since the election, education leaders across the political spectrum have been largely united in their commitment to protect undocumented students, including the so-called Dreamers granted work permits and protection from deportation under DACA. Per Obama's 2012 executive order, DACA recipients must have arrived in the U.S. before the age of 16, have clean criminal records and be enrolled in or have graduated from high school or have served in the military. In 1982, the Supreme Court ruled all children have a right to a K-12 public education, regardless of immigration status.
Imposing fear and displacing young people who have never known any country other than the U.S. "lacks the expected compassion and humanity that I think we ought to exercise," Miami-Dade Superintendent Alberto Carvalho, who was undocumented when he came to the U.S. with dreams of attending college, told The 74. That fear, he said, extends to all immigrant students, not just those with DACA protections.
"In these close communities, everybody is somebody's brother and somebody's sister, so it is a threat against the immigrant community and it will be interpreted as threatening to communities that are disproportionately immigrants," Carvalho said. "I do think it will send shockwaves through communities like Miami, like New York, like Chicago, like Los Angeles, and in many others."
Jonah Edelman, CEO of the education reform group Stand for Children, called the Trump administration's decision "absolutely shameful" and a "fundamental breach of our national values."
"It just doesn't make common sense, from the standpoint of our economy or our educational system," he added.
Leaders at the Education Trust, currently helmed by former Obama Education Secretary John King, are "disappointed," said Will Del Pilar, the group's vice president for higher education policy and practice.
The decision "takes away pathways for millions of students who have lived here, have gone to school here, have invested in this country and now we're telling them they don't belong here," he said.
Randi Weingarten, president of the American Federation of Teachers, said in a statement that with Tuesday's announcement, Trump is "breaking the promise" to students and educators who thought the president would treat Dreamers with "great heart." "America will not be stronger or more secure when these young people are torn away from the country they love and call their own," she said. "America will be diminished—and the toll will be measured by families ripped apart, people cast into the shadows and into poverty, businesses upended, economies weakened and dreams shattered."
JoAnn Bartoletti, executive director of the National Association of Secondary School Principals, said in a statement that attention must now be turned to Congress for a legislative fix.
"To the young people affected by today's decision: You belong in school," Bartoletti said. "Continue to learn and grow and become your best selves. This nation — your nation — needs every bit of the contribution you will make to our common future."
(The 74: Chiefs for Change Urges Trump to Protect DACA & Immigrant Students, Calling It a 'Moral Issue')
Trump's inflammatory rhetoric on the campaign trail and changes in immigration enforcement policy since his inauguration have had a dramatic impact on schools across America, from the declaration of sanctuary schools and districts to negative psychological impacts on students, even those born in the U.S., to "know your rights" campaigns for students and their families.
(Read The 74's Mark Keierleber's three-part series on how the political climate is affecting immigrant students and their families: Part 1, Part 2, Part 3.)
Rómulo Avélica-González was arrested in February in Los Angeles as he was driving his children to school, a scene his daughter recorded in a now-viral video. He was released on bond Aug. 30.
"Ending the DACA program would be like erasing their lives. All they know, all they do. Going back to their countries would be like being born again, because most of them don't know anything about their home countries. They don't even have some family members there anymore," Avélica-González told LA School Report.
Approximately 270,000 undocumented school-age children live in California, and 750,000 K-12 students have undocumented parents.
Hanseul Kang, state superintendent in Washington, D.C., was herself an undocumented immigrant from South Korea, information she revealed in an op-ed earlier this year.
Though she's now a U.S. citizen, the administration's immigration enforcement actions raised old fears that spurred her to write the piece, she told The 74.
"Feeling that sense of fear in myself, I could only imagine what it was like for people who are currently going through it. I felt like I had a responsibility to speak out and help people understand, to put a real face on this and to share my own story," she said.
The fears in D.C., which is home to about 800 DACA recipients, are even more widespread.
Kang's office oversees child care providers in the nation's capital; some have been working with immigrant families of the very young children they serve to craft powers of attorney or other legal arrangements should one parent be deported, she said.
Carvalho said he had recently seen a DACA recipient who had been in this country since he was a toddler, graduated from Miami schools a few years ago and is now enrolled in college.
"He said, 'I'm doing well today but I live in 24-hour increments, and I really don't know what would happen to me. I don't have family in the country that I could be deported to. … My friends are with me, but if the country turns its back on me, I have no one,'" Carvalho recounted.
(The 74: Q&A: Why Miami's Superintendent, Once an Undocumented Immigrant, Is Banning ICE From His Schools)
A group of higher education and civil rights groups also wrote to the president Thursday urging him to continue DACA, as have business leaders, mayors and other groups. Nearly two-thirds of respondents to an NBC poll conducted in late August said DACA protections should continue.
House Speaker Paul Ryan said Friday that Trump should hold off on a decision and let Congress come up with a legislative solution. Even though Obama didn't have the right to grant the deferrals, thousands of young people brought to the country through no fault of their own are in limbo, he said told a local radio station, according to CNN.
Ending the program will immediately impact relatively few students in K-12 schools. Any child in the country may attend public school, regardless of immigration status, and DACA was generally available only to people beginning at age 15.
But it does dramatically curtail future options not only for students whose protections are revoked, but for younger students who can no longer see a viable pathway to college or a career.
Research shows 49 percent of undocumented students already don't graduate from high school, a number that could rise without the possibilities DACA presents, Del Pilar of Ed Trust said.
"What we see in the literature is a lot of students get very discouraged. They ask the question, 'Why should I continue? What's the point in studying hard and working hard if I can't reap the same benefits?'" he said.
(The 74: Students Fear Trump's Vow to End DACA Could Mean Deportations – and an End to Their College Dreams)
There are also an estimated 20,000 DACA recipients currently serving as teachers.
Teach for America, which counts more than 100 DACA recipients among its corps, will continue to provide financial and legal support to undocumented corps members and alumni, CEO Elisa Villanueva Beard said in a statement.
"Every student has the right to a safe, welcoming classroom and an education that prepares them for success in life. Teach For America remains committed to these principles, and we will continue to fight for them," she added.
Denver was the first district to hire DACA recipients as teachers; ending it would be catastrophic for the district and the city, Superintendent Tom Boasberg said in a release Thursday.
"The DACA program has helped bring wonderfully talented and critically needed teachers to our classrooms and has provided peace of mind and legal status to thousands of immigrant children and families who make our city and schools great," Boasberg said.
The administration was facing a Sept. 5 deadline to end the Obama-era program after the attorneys general of Texas and other states threatened to add it to a pending lawsuit against a companion program granting protections to parents of those young people if the administration didn't kill it first. Similarly, on Monday state officials in New York and Washington threatened the Trump administration with litigation should DACA be rescinded.
Trump was under pressure to delay the move, a win for his hardest-line supporters, on the heels of Hurricane Harvey, which decimated Houston, home to an estimated 575,000 unauthorized immigrants as of 2014. More than 124,000 DACA recipients live in Texas.
A Republican congressman from Colorado has said he'll try a rarely used procedural measure to force a House vote on a bill that would grant similar protections as the DACA program.
"Clearly there's a tremendous urgency for Congress to step up and pass [a legislative fix]. The president has turned his back on Dreamers, but hopefully Congress will not," said Edelman of Stand for Children.
Reporter Esmeralda Fabián Romero contributed to this report.
Support The 74's year-end campaign. Make a tax-exempt donation now.