At Risk Under Decision to Repeal DACA: 20,000 K-12 Teachers — and the Schools Where They Are Teaching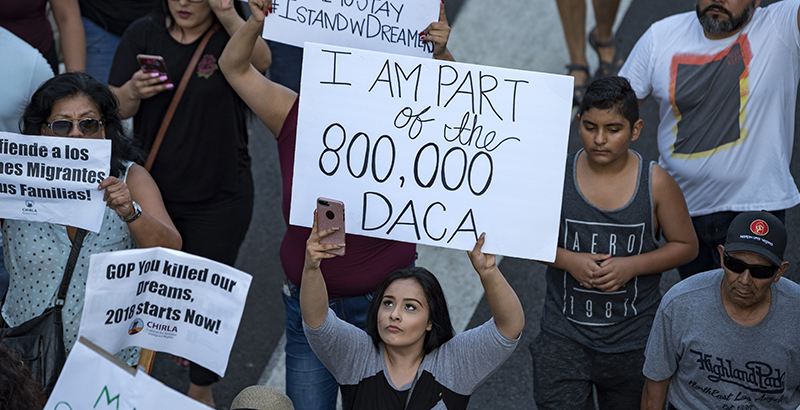 When Viridiana Carrizales was a student in Dallas, she kept her secret close. She was only 12 years old when she escaped a small, violence-stricken town in Mexico, crossing into the U.S. through the Arizona desert in August heat.
She never let on that she was undocumented. "I never felt like I could trust my teachers," Carrizales, now a 30-year-old U.S. citizen and education activist, told The 74. "I was afraid they wouldn't understand and they would judge me and my parents for being undocumented, so I never shared that with any of them."
Today, many undocumented students have teachers whose backgrounds are just like theirs: An estimated 20,000 teachers across the country are undocumented, working legally with permits obtained through the Deferred Action for Childhood Arrivals program, known as DACA.
But the Trump administration's announcement Tuesday that the program is being rescinded in six months has sent waves of fear not only through the ranks of DACA teachers, who find themselves facing potential deportation, but in schools that may have to suddenly scramble to replace educators who are no longer eligible for employment.
Carrizales is managing director of DACA Corps Member Support at Teach for America, a nonprofit that recruits recent college graduates to teach in low-income schools for two years. About 190 TFA teachers and alumni are DACA recipients, she said, serving roughly 10,000 students in 11 states. Reactions to the administration's announcement among DACA teachers she has spoken to range from defiance — feeling empowered to resist and push Congress to pass DACA-like legislation — to immediate, outright dread.
Evan Stone, co-founder and co-CEO of Educators for Excellence, told The 74 that DACA's repeal could result in unexpected teacher shortages, because when DACA recipients were given Social Security numbers, they weren't required to tell employers they were undocumented.
"Many districts might not even know, they might not be able to even predict which classrooms are at risk, which schools are at risk of losing teachers," he said. "So I actually think this causes a lot more chaos and confusion in addition to the fear and anxiety that it provokes for teachers and students."
Saying he hopes the six-month delay will give educators a window to lobby for a permanent solution from Congress — an approach that has failed for years — he called the decision to end DACA "unjust and immoral."
"It's a really dramatic thing for schools to lose teachers, particularly in the middle of the year," Stone said. "Putting a six-month timeline on this — just as schools are launching, just as budgets are being finalized, just as staffing has been completed — and having a change occur in six months would be pretty traumatic for many districts and schools who are employing DACAmented teachers."
The group, which sent a letter to President Trump in March urging him to keep DACA protections in place, will hold a teleconference next Tuesday for teachers who may not know how they or their students will be affected by the repeal. To be held in conjunction with the American Federation of Teachers, Stand for Children, Teach for America, and the Education Trust, the "tele-town hall" will share the stories of "Dreamers," as DACA recipients are often called, to answer questions, share resources, and rally around a legislative fix. Details about that event will be available soon on the Educators for Excellence website.
Support The 74's year-end campaign. Make a tax-exempt donation now.