Congress Postpones DACA Hearing to Focus on Hurricane Relief Efforts as Bannon Predicts GOP 'Civil War'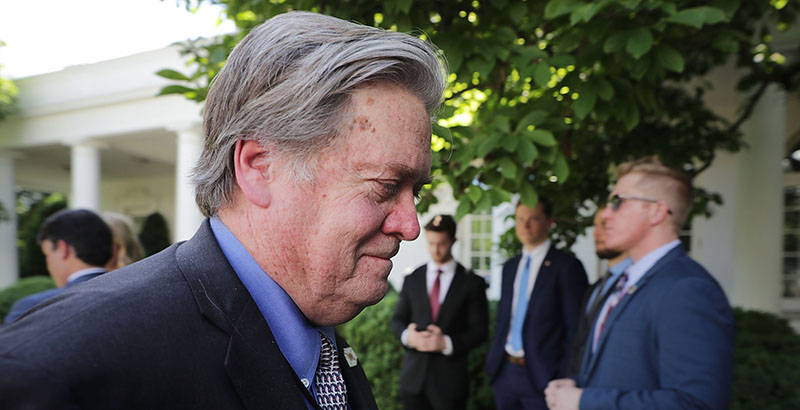 Former White House chief strategist Steve Bannon has an apocalyptic prediction for the Republican Party should GOP lawmakers reach a deal that keeps the Deferred Action for Childhood Arrivals program intact: civil war.
In Bannon's first televised interview since he was ousted from his post in the Trump administration, the Breitbart News executive chairman said failure to repeal the Obama-era program, known as DACA, could cost Republicans control of the House of Representatives in 2018.
"My fear is that with this six months down range, if we have another huge — if this goes all the way down to its logical conclusion, in February and March it will be a civil war inside the Republican Party that will be every bit as vitriolic as 2013," Bannon told CBS anchor Charlie Rose in a 60 Minutes interview that aired Sunday. "And to me, doing that in the springboard of primary season for 2018 is extremely unwise."
Attorney General Jeff Sessions announced last week that the administration would rescind DACA, with a six-month delay because the program, enacted by then-President Barack Obama through executive order in 2012, was an "open-ended circumvention of immigration laws" and an "unconstitutional exercise of authority by the Executive Branch." DACA provided nearly 800,000 immigrants who came to the U.S. as children — often referred to as Dreamers — with work permits and protection from deportation. Nearly half of recipients are enrolled in school.
While lawmakers are deeply divided on how to address the fate of DACA recipients, debate in Congress will have to wait. The Senate Judiciary Committee on Monday postponed a hearing that had been scheduled for Wednesday, according to The Hill, so the Trump administration can focus on hurricane response and recovery efforts. A committee statement did not specify when the hearing will be rescheduled.
Politico reported on Sunday that Bannon and close allies of President Trump are coordinating an effort to challenge Republican incumbents in the primary, launching an "all-out war against Senate Majority Leader Mitch McConnell and the Republican establishment."
Get stories like these delivered straight to your inbox. Sign up for The 74 Newsletter