'Why School Choice Is the Black Choice': In Washington, Black Educators Have the Debate Democratic Presidential Candidates Didn't Want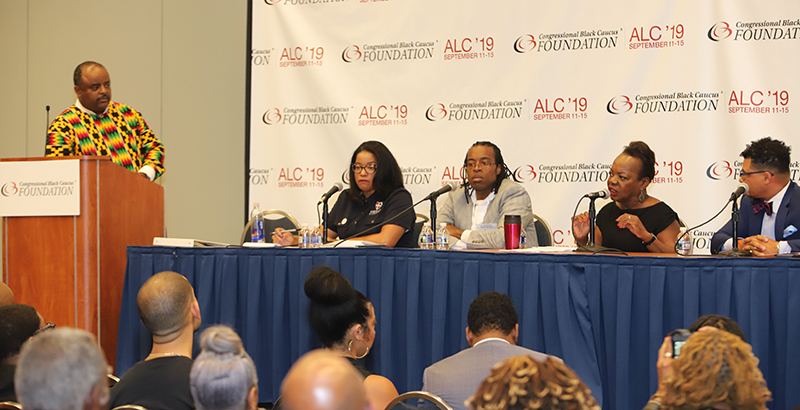 "This is really a conversation about keeping it honest."
So spoke Steve Perry, a magnet school founder and motivational speaker, at a contentious panel discussion last Friday at the Congressional Black Caucus's national legislative conference in Washington, D.C. The session, held at the city's Walter E. Washington Convention Center, gathered prominent black educators to speak frankly about the national debate on charter schools.
The forum, titled "Why School Choice Is the Black Choice," was the latest in a series of discussions co-hosted by journalist Roland Martin and The 74. Previous iterations have been held at Atlanta's Morehouse College and Philadelphia's Mastery Charter School.
In this instance, the setting — at what is perhaps the largest annual meeting of black power brokers in the country — was noteworthy, as black students make up a disproportionate share of national charter school enrollment. The timing of the event, just a day after the latest primary debate between Democratic presidential candidates, was no less so.
The issue of charter schools has recently proved divisive in the Democratic Party. Public polling has shown that just 26 percent of white Democrats view the publicly funded, privately operated schools favorably, while more than half of black and Latino Democrats do. President Trump has worked to keep the debate front and center in the hopes of cutting his opposition off from voters of color.
Martin — a pro-charter education activist — moderated Friday's panel, which included Perry, Washington Teachers' Union President Elizabeth Davis, D.C.-area charter school founder Shawn Hardnett, and Margaret Fortune, CEO of the Sacramento-based Fortune School charter network.
Part of the conversation revolved around the state of the Democratic primary race, which held a three-hour debate the night before. Though a moderator prodded candidates to discuss charter schools, they seemed determined to steer clear of the subject, sticking instead to talking points and encomiums on the importance of public schools.
Friday's town hall delivered the substantive clash the previous night hadn't, including exchanges on school choice and black families that will likely not be replicated in prime time anytime soon. Fortune, who chairs the California Charter Schools Association, laid into one of the perceived victors in Thursday's debate, former vice president Joe Biden, who suggested that disadvantaged families should boost their children's literacy by "[making] sure you have the record player on at night … [making] sure that kids hear words."
While many took the reference to old-school tech as a mark of the front-runner's age, Fortune said it smacked of condescension directed at a key segment of his electoral base, black voters.
"We cannot allow, as a black community, the leading presidential candidate to say, 'What the problem is … is that they don't really understand how to take care of their own children, so we need to teach them better,'" she said. "We should all be outraged about that. The takeaway from that comment is not that [Biden's] out of touch because of the record player. It's that he's out of touch because of the characterization of black parents. He may very well be the best candidate to beat Trump — and trust me, I'm all about that — but whoever has access to him in this room needs to correct him on that."
Perry also framed the question of charters in partisan terms, lacerating national Democratic leaders for what he deemed their lack of support for black students. In solidly blue states like California and New Jersey, progressive lawmakers have lobbied for moratoriums on further charter school growth, often citing the strain on school district finances.
"I find it troubling to watch our friends who are Democrats … fight for a woman's right to choose whether or not to have a child, but not where to send that child to school," he said. "They fight for universal health care with choice, but no choice as to where you send your child to school."
He was joined in rhetorical combat by Davis, who herself advocated for a pause on charter openings in Washington. To make the case, the union head lamented the rapid proliferation of charters in the poorer areas of the city, where, she said, they seemed almost designed to siphon students and funding from traditional public schools. In an exchange with Hardnett, she raised the question of the sector's alleged lack of transparency; local lawmakers have recently pushed to require the city's charter school board to report freedom of information requests and publish employee names and salaries.
She finally warned of the prospect of "privatization," pointing to the rapid conversion of New Orleans's schools to charters.
"We should be concerned about that," she said. "As an African-American educator, I'm well informed on the history of public education in this country. Well informed on it. And I want to say this: Sometimes what we cite as problems are just a symptom of the greatest problem."
Perry hit back with a stinging rebuke of teachers unions, which he accused of clamping down on charter growth to preserve their jobs. His voice rising, he provoked loud jeers from some in the audience.
"When we're gonna have a conversation, let's have the real conversation. If someone were to say, 'Hey man, can y'all just make sure that you make your schools unionized so we can collect these dues off of these kids' backs?,' I would say, 'Let's have that conversation.' Because we ain't playing around; these are real black children's lives. If it is what it is, let's call it what it is."
It sometimes fell to Fortune, one of the most prominent black charter founders in the country, to play peacemaker. While she enumerated the transparency and academic standards that charter schools are subject to in California, she urged panelists to avoid attacking one another from entrenched ideological camps. Listing the lengthy number of black education policymakers in her home state, she complained that students there would nevertheless be left disadvantaged by an acrimonious debate around motives. Education experts and California politicos alike argued strenuously this summer over a package of reform bills that would have dramatically restricted the growth of charters. Although a compromise was reached late last month, the battle revealed the extent to which school choice has emerged as a wedge issue among Democrats.
"We have a black chair of the board of the California Charter Schools Association — that's me," she said. "We have a black superintendent of public instruction. We have a black chair of the state board of education. We have a black president of the California Teachers Association. We have a black executive director of the California School Boards Association. If we stay in our institutional positions, I guarantee you that black kids will not be served. Because they haven't been served yet with our institutional positions."
Support The 74's year-end campaign. Make a tax-exempt donation now.