'Is School Choice the Black Choice?': Roland Martin's Education Town Hall in Atlanta Spotlights the Need for a Black Student Agenda and Unity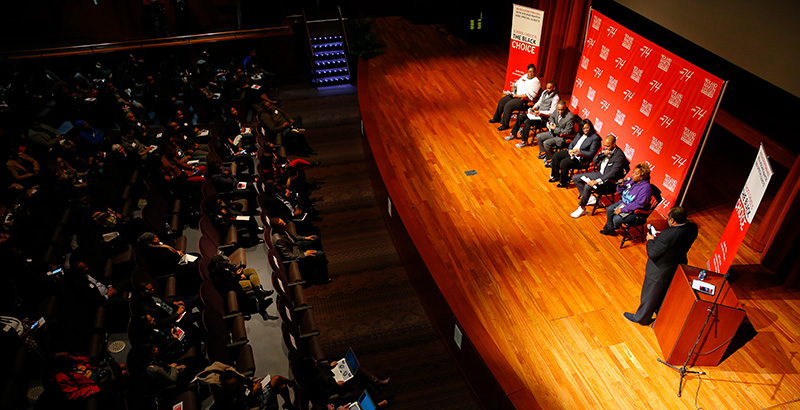 Atlanta, Georgia
"We are on the same side."
That was the resounding takeaway from Atlanta charter school founder Gavin Samms Friday night, despite an impassioned discussion on school choice that shook a Morehouse College auditorium and brought several attendees to their feet.
Approximately 300 families and community advocates attended "Is School Choice the Black Choice?"— an education town hall led by broadcast journalist Roland Martin at the historically black college in Atlanta. The event was the second in a 10-city tour hosted by Martin and The 74. The gatherings seek to engage black families and stakeholders on issues of educational equity, student achievement, and parent involvement. (You can replay the full livestream from Atlanta; we've also rounded up the most notable reactions from the event.) The inaugural event was held in Indianapolis in December. 
And while the fiery debate may have offered the contentious narrative that the black community is battling itself on school choice, Samms said it was quite the opposite, and that the African-American community must work together to set a specific agenda for their children.
"We do need to measure what our kids know, but when the score itself becomes the thing, we will do whatever it takes to get the score," said Samms, whose Genesis Innovation Academy operates two, separate girls- and boys-only schools.  "And while we do that, the rest of the world has moved on. We have to think about what we really want for our kids. By the time we get better at testing, everyone else would've been better at languages, at thinking, and everything else. We need an agenda that determines what we teach our kids separate from other communities because there is a different need."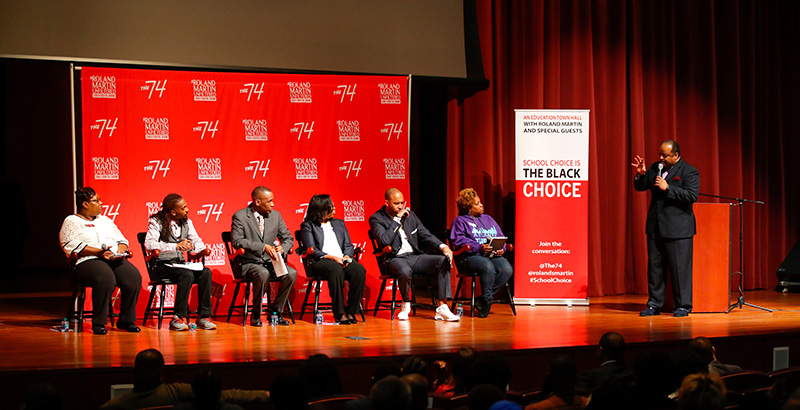 This is an issue that is too important for town hall attendees to walk away as adversaries, said Curtis Valentine, deputy director for the Progressive Policy Institute's Reinventing America's Schools project.
Also on the panel were Atlanta Thrive parent organizer Aretta Baldon, EdConnect CEO Danielle LeSure, educator and blogger Jason Allen, and Democratic Georgia state Rep. Valencia Stovall.
Although charter system enrollment in Georgia fell by 1.3 percent between the 2017-18 and 2018-19 school years, it has grown by more than 2,000 percent over the past decade. And state lawmakers last spring increased funding for state charter schools.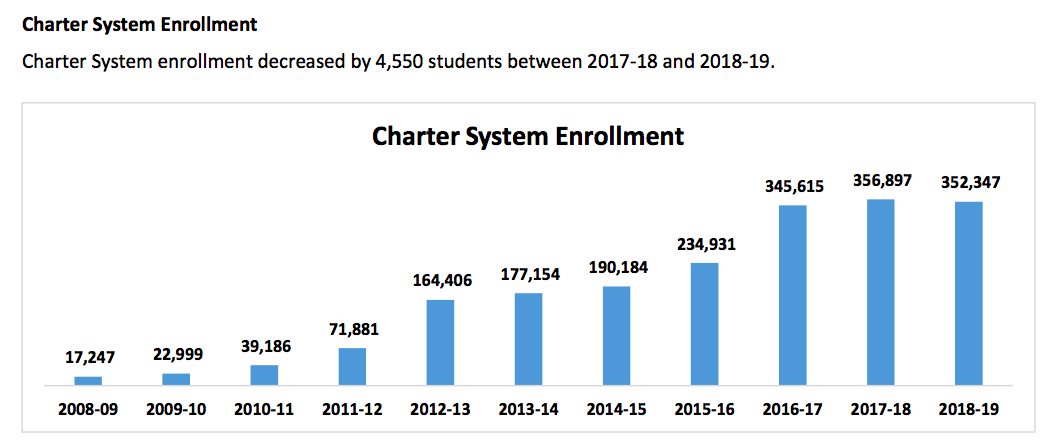 Georgia's charter landscape earned another window of growth opportunity in 2012, when voters gave a state-level agency — the State Charter Schools Commission — the power to authorize schools that don't make the cut at the district level. In 2015, Atlanta was ranked the ninth-best city in the country for school choice by the Fordham Institute. And Atlanta Public Schools last year narrowly gave KIPP, the city's largest charter school operator, the green light to add 1,100 seats.
"When elephants fight, the grass suffers. These children are waiting for us to get our stuff together. They can't wait," said Valentine, himself a graduate of Morehouse and the Harvard Kennedy School of Government. "We have to leave here with the determination to fight for them together."
Three-quarters of Atlanta Public Schools' 52,000 students are black. Despite their enrollment majority, black students performed poorly on the 2017 National Assessment of Educational Progress compared to their white peers, who comprise only 15 percent of the district's student population. White APS students outscored black and Hispanic students by about 50 points on the exam, also known as the Nation's Report Card — marking a greater racial achievement gap than any urban school district in the U.S. other than Washington, D.C.'s.
"Clearly, APS is doing something well" with white students, Dana Rickman, director of policy and research for the Georgia Partnership for Excellence in Education, told the Atlanta Journal Constitution. "But it doesn't translate across race and ethnicity, and that's alarming."
That's where school choice advocates are hoping charter and non-traditional school options can fit in — to offer alternative methods of education for black students where the 20th century model isn't working. And a key piece of that is to push for more black educators and policy leaders, Samms said.
"Nobody does what we do to compete and hurt the community," Samms said. "I have sacrificed time, energy, and income to work with my community's kids. I have kids in the fifth grade who cannot read and came to me that way. We have tested eight kids in the last four months for special ed because somebody missed that. These babies can't function … We do this because we believe in our community and our kids that look like me that came from the neighborhood."
It's also important for black families to know the black leaders are educating their children according to their needs and "in a way that works for us," LeSure said.
"It's not about people and foundations setting the agenda for us. It's about parents," she said. "There are people who get paid to sit and think about what to do to us — not what to do with us."
Atlanta's charter system also mirrors the greater public student population by overwhelmingly serving black students and children from low-income families. More than three-quarters of Atlanta's charter school students qualify for free or reduced-price lunch, and black students comprise 75.6 percent of the city's charter student population, according to data from the Georgia Department of Education. Across the state as a whole, 60 percent of charter school students qualify for free or reduced-price lunch and black students make up a much smaller share of the charter school population at 38 percent.
In 2015, 80 percent of Atlanta's black children lived in poverty-dense neighborhoods, compared with just 6 percent of white children and 29 percent of Asians, according to a report by the Annie E. Casey Foundation.
But 68 percent of school board members in America don't have children in the district that they represent, Valentine said. And with the advancements made in recent years across sectors and globally, the competition for jobs is no longer just with those at home, but with those around the world.
"And if you are not moving at a speed that is comparable or faster, and you wonder what happened? Because we were moving too slow and we were too busy thinking about how adults felt about themselves and not about the kids, who we knew were going to be tomorrow's employers and employees," Valentine said. "We have to have that conversation where we're talking about, let's put leadership and people who are going to have to deal with this — not just at school board meetings, not just at city council meetings, not just at state legislative meetings, but you have to come home with it. You've got to wake up with it in the morning and say, 'Are you going to educate my baby the way I want her educated? Because if you're not, then I'm going to have to make some changes.'"
National partners for the event include the American Federation for Children, EdChoice, ExcelinEd, J. Hood & Associates, the National Alliance for Public Charter Schools, Progressive Policy Institute, UNCF, and the Walton Family Foundation.
Disclosure: The Walton Family Foundation provides financial support to The 74.
Support The 74's year-end campaign. Make a tax-exempt donation now.