Inside the Perfect Political Storm: From California to New Jersey, Why More Democrats are Calling to End Charter School Growth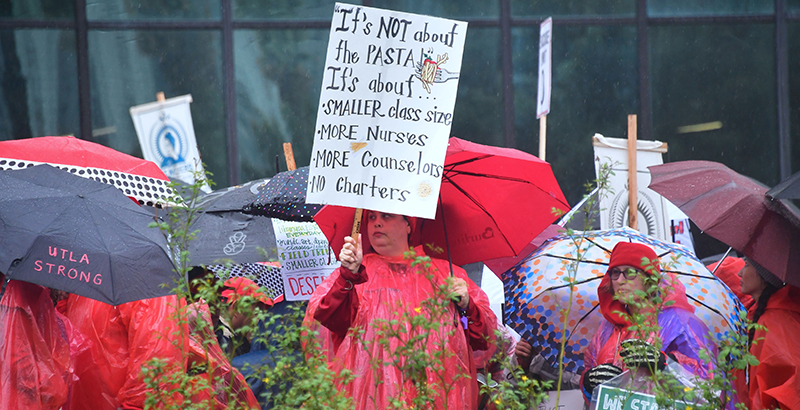 Updated June 18
Over the past 25 years, California has experimented with public school choice on a gargantuan scale, opening 1,300 charter schools to educate more than 10 percent of its K-12 students. The scope of the sector has been matched only by the pace of its growth, with huge numbers of new schools opening each year under charter-friendly governors like Arnold Schwarzenegger and Jerry Brown. In the past five years alone, 100,000 new students enrolled in California charter schools.
For a few weeks this spring, however, the state considered dramatically cutting off further expansion. Two bills under consideration in the state legislature would have either set a cap on the number of charters statewide or simply imposed a two-year moratorium on any new charters.
Both bills failed to achieve majorities, though charter opponents have made significant inroads in California by any measure. Another proposal, which would give school districts more power to reject new charters, is still awaiting a vote in the state Senate, and members of both houses can consider the charter moratorium again in the next legislative session. At the same time, a task force headed by state Superintendent Tony Thurmond recently circulated recommendations for state lawmakers, including allowing districts to consider factors like charter saturation when making their determination and limiting charters' options for appeal if their applications are rejected.
The fight over whether to forbid new charter growth, in the middle of the largest charter sector in the country, is evidence of both a years-long clash in education politics and the emergence of a new theater of combat. Charters have always had their detractors, including some in the Democratic Party. But the terms of the school choice debate over the past few decades have generally hinged on how quickly to expand charter schools, and even whether to go further by using government funds to pay for private school tuition.
That status quo is no longer operative in several states, especially ones where Democrats hold the upper hand politically. Charter slowdowns, or outright stoppages, are increasingly being mentioned in blue states like California and New Jersey, or swing states like Nevada and Wisconsin, as necessary measures to address the enrollment and financial difficulties of traditional public schools.
Michael Petrilli, head of the right-leaning Thomas B. Fordham Institute, lamented the reversal in political fortunes, noting that education reformers at the state level have failed to make the case for charters as a valid, high-quality educational option.
"This is the problem with playing defense," he said. "If all you're doing is playing defense, you're not going to lose the war, but you're going to give up some ground. It would be helpful if we were playing offense in some of these states."
Democratic presidential contenders weigh in
While most of the dispute around charter schools plays out in states, some of its effects are beginning to be felt in presidential politics as well. Education is almost never listed among the most important issues by voters in national elections, and its lack of a partisan valence has historically allowed the cause of education reform to enjoy a broad swath of supporters from both ends of the political spectrum. But as views on testing, school funding and school choice have gained greater local prominence, they've become a litmus test for national office holders.
Case in point: When Bernie Sanders released his education plan in May, he proposed banning for-profit charter schools — a comparatively small segment of the national charter picture, and one Democrats previously criticized in their 2016 party platform — and ending federal funding for new charters of any kind.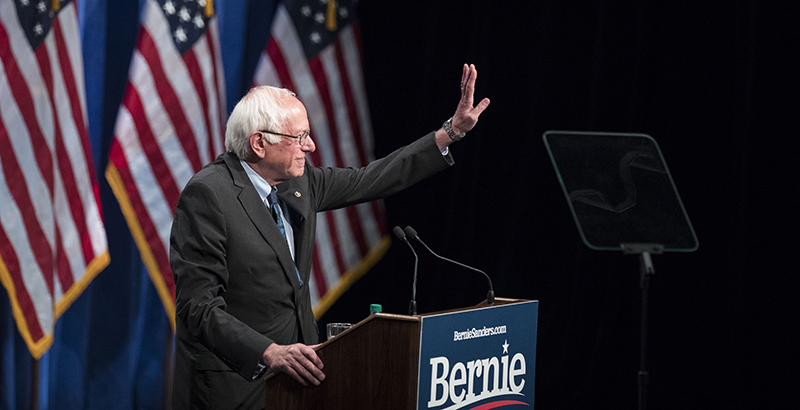 A few other candidates have offered more tentative attacks on for-profit charters, including front-runners such as Elizabeth Warren and Joe Biden. Several have expressed approval for striking teachers in Los Angeles and Oakland, who openly called for a cessation of new charter openings. Even New Jersey Sen. Cory Booker, who presided over a massive charter expansion as mayor of Newark, is seen as attempting to repair his relationship with teachers unions in the early stages of the Democratic primary.
Booker, who has loudly supported charters in the past and affiliated himself with an advocacy group led by Betsy DeVos, has adjusted his stance in recent campaign appearances, including one in which he described loose charter laws in some states as "offensive."
The politics around school choice have never been simple for Democrats, but significant leftward movement on the issue has been in evidence for at least the past few years. The NAACP issued the first major demand for a charter moratorium in 2016; while several of its California chapters recently stated their opposition to that move, the national leadership has held the line, and teachers unions sometimes cite the revered civil rights organization when making their own case against charters.
Michael Hartney, a professor of political science at Boston College, said that an increasingly left-leaning Democratic base wasn't inclined to reward candidates who stood out from the crowd in loudly supporting charters. With the sector increasingly associated with President Trump and Education Secretary DeVos, he said, a more skeptical stance would likely be the safer play.
"The party elites are polarized, and the voters who are going to be choosing the Democratic candidate are not moderates," he said. "This isn't 1992, and the Democratic primary nominees aren't looking for a 'Sister Souljah moment.' There's nothing to be gained by showing that you'll take a stand against your party's conventional position."
If anything, Hartney added, he expected the Democratic debate around school choice to mirror the abrupt and decisive turn of Republican hopefuls against the Common Core academic standards ahead of their 2016 presidential primary. Particularly when tallying supporters in early primary states like Iowa and New Hampshire, it is crucial for candidates to develop strong relationships with union members, who form a dedicated army of door-to-door volunteers, donors and voters. Without offering them solid commitments on the issues that matter most, he said, it would be difficult to count on their support.
"If you want to be the Democratic nominee, you need people willing to stand for hours … in your caucus meetings, and that's going to be someone who feels passionately about you. I don't think you're going to get teachers standing out there at a caucus for hours for a candidate they think is wishy-washy on charters or merit pay."
But others believe that candidates courting unions will go only so far to win their backing. Fordham's Petrilli, even while voicing pessimism about the state of education reform, said that he didn't expect other national candidates to adopt Sanders's policy maximalism.
"It's all very discouraging, I don't want to sugarcoat it," he said. "It's not helpful to have any prominent candidate take such an extreme position against charter schools. What gives me some solace is that you don't see the other candidates racing to join him, as you have on things like the Green New Deal or Medicare for All … I'm hopeful that nobody's going to get to Bernie's left on this subject."
'You have to fly a flag for a team'
For Sarah Reckhow, the increasingly bitter struggle to either welcome or forbid the arrival of new charter schools is a dispiriting sign of the times.
A professor of political science at Michigan State University, Reckhow helped conduct a research study in 2014 on changing attitudes toward charter schools in Michigan. Even while charters enjoyed the support of political elites in both parties, she and her co-authors found that respondents became much more divided on the issue once they were presented with ideological arguments about teachers unions and for-profit operators.
In the process of writing a book on outside money influencing local school board races, Reckhow said she found that national political imperatives were increasingly squeezing the ambiguity out of the charter discussion. While both unions and well-heeled supporters of school choice have worked to elevate the hard distinction between either supporting or opposing new charters, local voters are more often caught in the middle.
"What's interesting and kind of disappointing — this is the way politics is shifting — is that, from the local and candidate-level perspective, people do have somewhat nuanced positions," she said. "It's not always the case that someone who's supportive of charter schools is supportive of charters anytime, anywhere. And similarly, people who might be characterized as 'anti-charter' are not necessarily opposed to charters in all circumstances. What the outside money seems to have heightened, as we see in lots of instances of polarization in the U.S., is that you have to fly a flag for a team."
Charter moratoriums have also picked up momentum over the past few years as teachers unions have turned to increased political activism, she said. While the #RedForEd movement began as an appeal for increased public school funding, particularly to augment teacher salaries, organizing energy has long since turned toward charters, which union leaders like Randi Weingarten and Lily Eskelsen García argue draw funding away from traditional public schools.
"Unions are having a lot of other issues coming up that are leading to political mobilization and strikes, and charters are becoming part of the mix of issues alongside other grievances," she said. "And it's an opportune moment to bring charter schools into that agenda."
Powered by the surge in organizing, charter foes have proposed several straightforward measures to circumscribe further expansion. In Nevada, as in California, Democratic legislators floated a two-year moratorium on new charters, with some backers calling the sector a "separate and unequal" education system. The provision died in April, but it was seen as an expression of changing political winds, as newly inaugurated Gov. Steve Sisolak replaced charter ally Gov. Brian Sandoval to give Democrats unified control over state government.
In deep-blue New Jersey, Gov. Phil Murphy, a Democrat, instituted a "comprehensive review" of the state's charter sector in 2018, complete with a statewide listening tour to assess the impact of charter school competition on local districts. That year, the state's education commissioner rejected a slew of new charter school applications, accepting just one.
Murphy was elected in 2017 with the strong backing of the New Jersey Education Association, perhaps the single biggest political organizing force in the state. NJEA sided with Murphy against Democratic rival and state Senate President Steve Sweeney, who has been seen as charter-friendly. The union is now militating for an outright charter moratorium.
In Wisconsin, Gov. Tony Evers — a longtime former state superintendent who defeated incumbent Republican Scott Walker last year — proposed a freeze on new charter openings as part of his first budget. Saddled with strong Republican majorities in both houses of the state legislature, Evers is unlikely to get his wish. But proposing such a rollback offers a strong signal that aggressive expansion of school choice is likely a thing of the past in a critical 2020 swing state.
Get stories like these delivered straight to your inbox. Sign up for The 74 Newsletter