Leery of Charter Talk, Democratic Candidates Wade into Teacher Pay, College Debt, the Next Ed Secretary — Almost Any Other School Issue — During Thursday Debate-a-Thon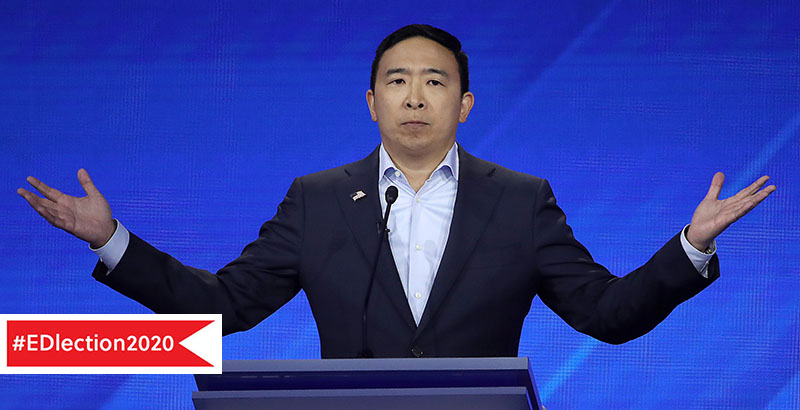 Call it the education question that wasn't.
More than two hours into Thursday night's Democratic debate-a-thon, ed watchers' ears perked up: finally, a question about K-12. But it was ultimately a letdown, with eight of the candidates on stage taking a "try a lot and see what sticks" approach to ed policy rather than discussing any one issue with real depth.
They seemed particularly wary of charters, the actual jumping-off point for the questions and the most divisive K-12 issue among the Democratic field right now.
Moderator Linsey Davis asked longshot candidate Andrew Yang, whom she called "the most vocal proponent on this stage for charter schools," to explain his support, particularly in light of school budget cuts in host city Houston, which she attributed to lost enrollment to charters.
Yang didn't take the bait. Instead, he declared he's "pro-good school," and pivoted to advocate raising teacher pay and "lightening the emphasis" on standardized tests.
Those grab-bag, glancing references to what would be complex policies to implement are nothing new in the campaign so far (see: the candidates' calls for universal pre-K.) Nor would they be unusual for the rest of the debate.
When asked to respond to Yang's comments, five other candidates — Pete Buttigieg, Elizabeth Warren, Kamala Harris, Bernie Sanders and Joe Biden — talked about seemingly any education issue besides charter schools. They talked about raising teacher salaries and "elevating the profession," qualifications for a future education secretary, increasing federal Title I funding, universal early learning and canceling student debt.
Though grateful for the issue's presence in a forum where education often gets little airtime, advocates said candidates need to dig deeper to have a real conversation on education.
"It's good that there's some discussion of issues," said Scott Sargrad, vice president for K-12 policy at the Center for American Progress, a liberal think tank. But overall, he said, "it was not full of big, bold ideas on how to improve schools and advance educational equity."
Mike Magee, CEO of Chiefs for Change, a reform-minded network of state and district leaders, praised candidates for bringing up other education issues during the choice discussion, particularly segregation.
"I was glad to see that it didn't begin and end with who supports charter schools and who doesn't," he said.
Magee's group, spurred by debates in state legislatures and discussion on the campaign trail, released a statement Wednesday calling on policymakers to "end the destructive debates about public charter schools," particularly calls for caps and moratoriums.
Yet even Sanders, who kicked off the campaign this spring with a call for a federal moratorium on charters, didn't take the bait Thursday. In fact, though eight of the 10 candidates got the question, only two, former San Antonio mayor and Housing Secretary Julian Castro and Sen. Cory Booker, who previously served as mayor of Newark, discussed charters at all.
Castro said it's "a myth that charter schools are better than public schools," adding that he's "not categorically against" charters but would require more "transparency and accountability" than is required now.
Booker, meanwhile, defended his education record during his tenure in Newark, something he's generally shied away from on the campaign trail.
"Yeah, we closed poor-performing charter schools, but, dagnabbit, we expanded high-performing charter schools," he said, extolling the "local solutions" that helped build top schools for low-income students.
But even Castro and Booker fell victim to the "just try out everything" approach to ed policy. Castro hit on teacher diversity and out-of-school needs like adult education and health care, while Booker brought up segregation, lead poisoning, and increased funding for special education, among others.
As the campaign drags on and the debates continue, there should be a way to have a more balanced debate about charters, Sargrad said.
"That's where I hope the debate goes, if charters are going to be part of the conversation: not talking about extreme positions on either side but talking about how charters can be a strategy to give every student a great seat in a great school," he said. "Given how contentious it's been, it's easy for it to fall into the polarized extremes."
The conversation around school choice ultimately has to be deeper, Magee said.
It's fruitless to argue that there isn't school choice in America: Wealthy families already have it, with the option to pay private school tuition or move to a high-performing public district, he said. Instead, candidates should be asked whether America should have a public education system that provides choice to only some children.
"Had the question been asked that way, we might have gotten a very different and perhaps more productive set of answers from the candidates," he said.
Get stories like these delivered straight to your inbox. Sign up for The 74 Newsletter