For Democrats, Race Plays a Key Role in Support of Charter Schools, New Polling Shows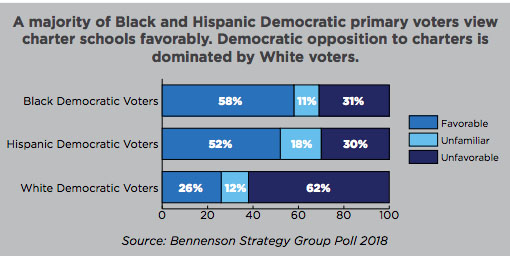 A poll released Friday by the advocacy organization Democrats for Education Reform casts new light on how race aligns with support for charter schools inside the party.
More than half of both black and Latino Democratic primary voters view charter schools favorably, according to the poll, which was conducted by the Benenson Strategy Group. But only 26 percent of white Democratic primary voters agree. On average, just over one-third of Democratic voters support charter schooling, and about half do not.
Those racial gaps also exist among millennials, according to a GenForward poll DFER included in its report. Findings suggest that millennial voters as a whole support charter schools, but they also report that over 75 percent think boosting teacher pay would do more to improve public education than creating more charters.
To Charles Barone, chief policy officer for DFER, those results aren't surprising. "Both things are important. We have 6 percent of students [nationwide] enrolled in charters … In some ways, raising salaries for teachers naturally is more impactful," he says.
Majority support for charter schools among black and Latino Democrats has remained relatively consistent, Barone said, but opposition from white Democrats has ticked up slightly in recent years. The polling research doesn't explain what is contributing to the racial divide, but data in the past have shown that black and brown children are more likely to attend low-performing schools and their families are less likely to be satisfied with traditional public schools.
The results come at a time of heightened attention on Democratic candidates and their position on charter schools in the lead-up to the 2020 presidential campaign. As the report notes, among those who voted for president in 2016, supporters of public charter schools outnumbered opposers by 22 percentage points. So far, few Democratic primary contenders have expressed detailed policy positions on charter schooling.

The most notable exception is Sen. Cory Booker, who pushed to invest in charter schools and school choice in Newark, New Jersey, during his tenure as mayor. He continues to support that work today.
Former congressman Beto O'Rourke has also praised charter schools — and his wife founded one — but unlike Booker, he has been noticeably quieter on the subject since declaring his candidacy. Like most Democrats, O'Rourke is courting support from teachers unions, which have generally been critical of charter schools. These privately run public schools typically aren't unionized.
Historically, charters schools have had stronger bipartisan support, says Sarah Reckhow, associate professor of political science at Michigan State University, noting steadily rising favorability through the Clinton, Bush and Obama administrations. But political orientation on a more liberal-conservative spectrum may be starting to exert a stronger influence on public opinion.
"What seems to be happening with charter schools is the beginning of that process of polarization," she says.
The Benenson poll DFER commissioned surveyed 1,004 Democratic primary voters nationally over the phone between May 31 and June 7, 2018. The GenForward survey included 1,910 adults ages 18-34 between July 26 and Aug. 13, 2018. The margin of error for both samples is plus or minus 3.8 percent at a 95 percent level of confidence. The polls are tied to DFER's second edition of its Democratic Guide to Public Charter Schools, which comes out next week.
Overall, the findings offer one path candidates may follow in their effort to appeal to voters of color. It also presents a potential counter-narrative to the idea that support for charter schools is absent from the Democratic party.
"Our polling indicates it depends on who you're talking about," says Barone.
Support The 74's year-end campaign. Make a tax-exempt donation now.