Trump Expected to Stick to Twin Themes of Reopening and Private School Choice at This Week's Republican National Convention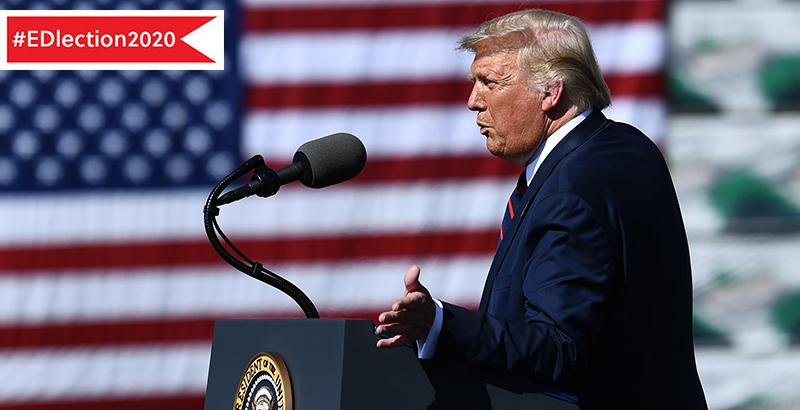 Updated August 25
The Republicans were supposed to be rallying at the Vystar Veterans Memorial Arena in Jacksonville, Florida, about now, and Gov. Ron DeSantis was going to ensure that schools across the state reopened in response to President Donald Trump's all-caps tweets.
Instead, Trump is expected to give his acceptance speech for the semi-virtual Republican National Convention from the Oval Office. Some official convention proceedings will take place in Charlotte, North Carolina. And DeSantis has lost the latest round in a legal battle with the Florida teachers union over his reopening mandate.
One thing that's not changing, however, is Trump's steady drumbeat for private school choice — a platform that includes his administration's "freedom scholarships" proposal and a Republican relief bill, the School Choice Now Act, that would provide emergency funding for state-level scholarship organizations. Such policies have proved irresistible to his base, but they haven't garnered much support in Congress.
"I think they are going to try to really key in on private school scholarships and vouchers and their vision of the choice agenda," said Danny Carlson, the director of policy and advocacy for the National Association of Elementary School Principals. "Elections are about a lot of things, but they're really about getting out your base."
School choice is half of the education section in a proposed second-term agenda Trump unveiled Sunday, along with "teach American exceptionalism." Carlson predicted that Trump will likely "remind people of the win in the Espinoza case," referring to the U.S. Supreme Court's June decision overturning a Montana rule that excluded religious schools from a tax-credit scholarship program.
The inclusion of Sen. Tim Scott, R-S.C., on the RNC agenda could suggest the campaign wants to hammer on Trump's push for tax-credit-funded scholarships. Scott is co-sponsoring the school choice bill with Tennessee Sen. Lamar Alexander. The organizations would provide scholarships for private schools as well as to families that want to homeschool — a segment of voters that could be growing because of frustrations over school reopening.
Trump will make daily appearances. To the extent he addresses education, observers don't expect him to stray from his recent positions on reopening schools and increasing private school choice.
"I'd like to see the money follow the student," Trump said Aug. 12 at his second White House event urging schools to reopen. "We're having a hard time with the Democrats. They want the money to follow the union."
The U.S. Department of Education also followed up last week with a webinar titled "School Choice During COVID-19 and the Impact on Families as Schools Reopen," which featured a school choice advocate in Ohio, a family participating in the federally funded D.C. Opportunity Scholarship Program, and the leader of a Christian school in Richmond, Virginia.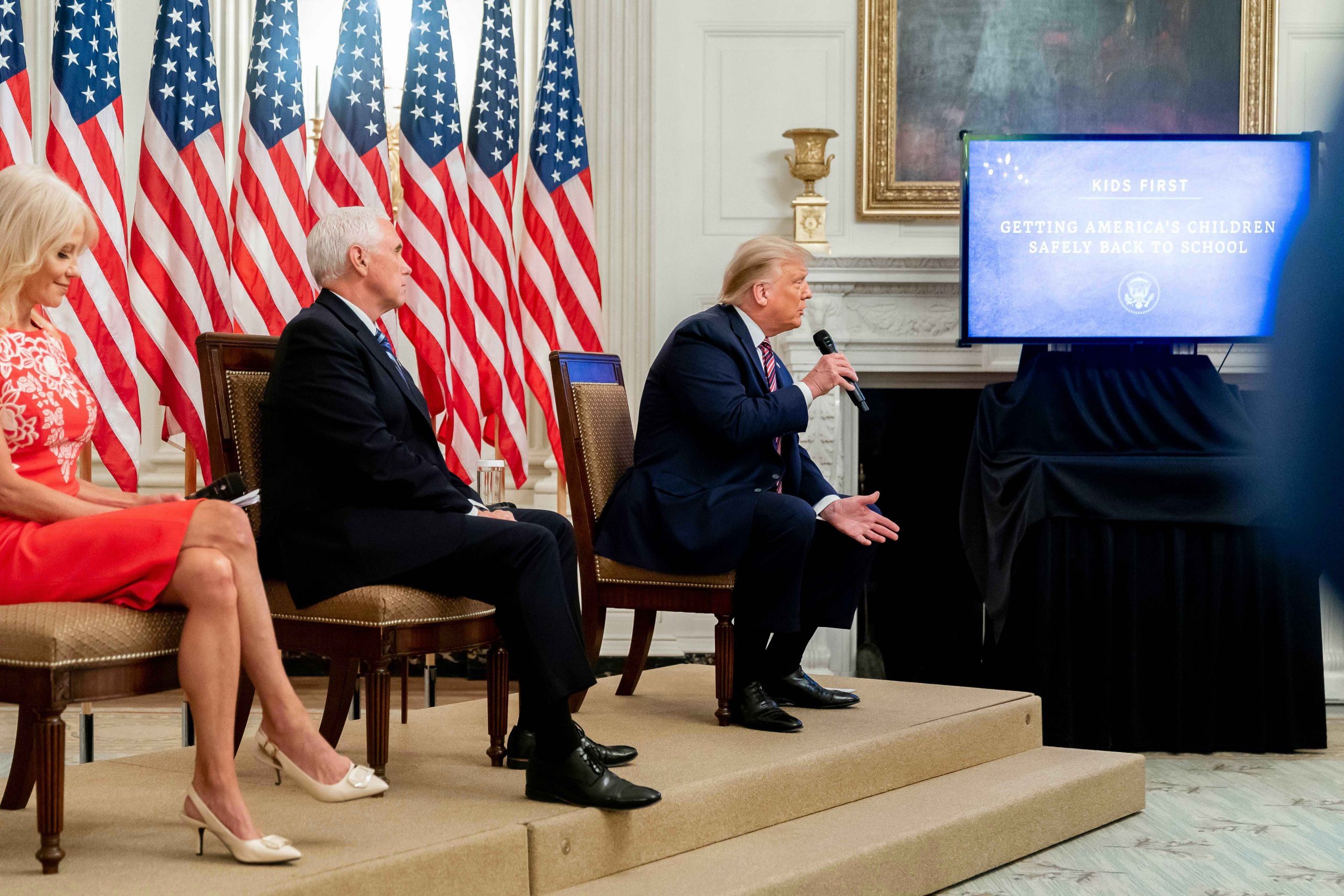 'State of polarization'
There are some signs that pandemic desperation has made some of the administration's core education priorities more palatable to many who would not have embraced them prior to the coronavirus. Families who probably never viewed themselves as potential homeschoolers are among those breaking away from their school districts or teaming up with other families to form homeschool pods.
Recent polling from organizations — albeit those that support school choice — show increasing interest in homeschooling among Black and Hispanic families. A RealClear Opinion Research survey of more than 600 parents in May showed that almost 41 percent said they would be more likely to homeschool after the lockdowns, with half of Black parents and more than a third of Hispanic parents giving that response. In addition, a June survey from EdChoice and Morning Consult showed that more than 60 percent of 557 parents said they feel somewhat or much more favorable toward homeschooling since the outbreak of the virus.
For families "suddenly embracing" school choice or homeschooling, his message about funding following students probably resonates, said Rick Hess, an education policy expert at the conservative American Enterprise Institute. In addition, for those parents eager to get their children back in school, Trump's "big megaphone" on school reopening has offered a counterargument to the unions' position that it's not safe to return to in-person classes, he said.
If Trump gains some points among minority voters over school choice issues, he might lose their support over the reopening issue. Only a fifth of Black voters support a return to in-person learning for students and teachers before a vaccine is available, according to new polling data from Education Reform Now Advocacy, a project of Democrats for Education Reform.
"Trump is out of step with the desires of Black voters and, more importantly, is jeopardizing the health of students and teachers," said Shavar Jeffries, president of the reform group.
Hess added that Trump might have swayed more voters if he had handled the COVID-19 crisis with "some veneer of statesmanship," but that hasn't been the public's general perception.
Ultimately, with the nation in a "state of polarization," Hess said, Trump supporters are unlikely to change their vote to Democratic nominee Joe Biden even if they agree with keeping learning remote. Likewise, Biden supporters likely won't turn to Trump just because they want their children back in school.
Small, but passionate 
For past Republican presidents, education has been more of a bridge issue. That was initially the case with No Child Left Behind under President George W. Bush and continued during the Obama administration with the Every Student Succeeds Act.
But that's clearly not Trump's style, said David Campbell, a political science professor at the University of Notre Dame. The president uses education to appeal to a "small, but very passionate group," he said. He added that although the general population might not be as familiar with tax-credit scholarship programs as they are other types of school choice, like vouchers and charter schools, such policies are well-known to the "constituents that care."
One problem for Trump, however, is that some of those voters aren't particularly happy with his record on school choice either. DeVos and the administration have been unsuccessful in getting significant congressional support for their $5 billion tax-credit proposal. It's also unclear whether the Senate Republicans' plan for emergency tax-credit programs in the states will make it into the next pandemic relief package.
"We would like them to actually deliver on their early promises for the tax-credit proposals that they have talked about since the last campaign," said Dale McDonald, the director of public policy for the National Catholic Education Association. "NCEA will certainly continue to push for assistance to parents to choose schools, but not seeing any major breakthrough just yet."
A 'battle-hardened' DeVos 
Secretary of Education Betsy DeVos isn't scheduled to make a convention appearance this week, but whether she would join Trump for another four years if he wins is still up for grabs.
Presidential advisor and Catholic school supporter Kellyanne Conway, who is scheduled to speak Wednesday, frequently communicates the administration's priorities regarding education and led much of the discussion at the April 12 school reopening event. 
"We, as a nation, can philosophically and politically differ on many issues," Conway said, addressing Trump and Vice President Mike Pence. "But I've never, ever heard a very compelling and persuasive, memorable reason why people oppose the kind of school choice that the two of you are fighting for."
Conway announced Sunday that she is leaving the White House at the end of the month.
Some, such as Fordham Institute President Michael Petrilli, don't expect DeVos to hang around for a second term. Jason Botel, who served in the department until 2018 as an assistant secretary, said she might prefer to return to the philanthropic sector and focus on expanding school choice for children in low-income families that way.
But having outlasted so many other members of Trump's cabinet, DeVos is "much more battle-hardened now" and "plays well with the base," Hess said. "The people who give to Republican campaigns feel like she has been unfairly slandered and smeared."
Whether she would remain for a second term might be "her call," he added.
If Trump wins a second term and DeVos moves on, Botel suggests the administration's efforts to appeal to the religious right will continue. Trump could also choose someone from the higher education sector who is a "champion of the faith community."
A DeVos replacement at the department could also take on other initiatives, Botel said, as long as they don't overshadow Trump's primary goal — pushing "education-related policies that have the support of faith communities."
Support The 74's year-end campaign. Make a tax-exempt donation now.