NYC Teachers Union Issues New School Safety Checklist and Coronavirus Testing Demands, Warns Nation's Top District Not Ready to Reopen on Schedule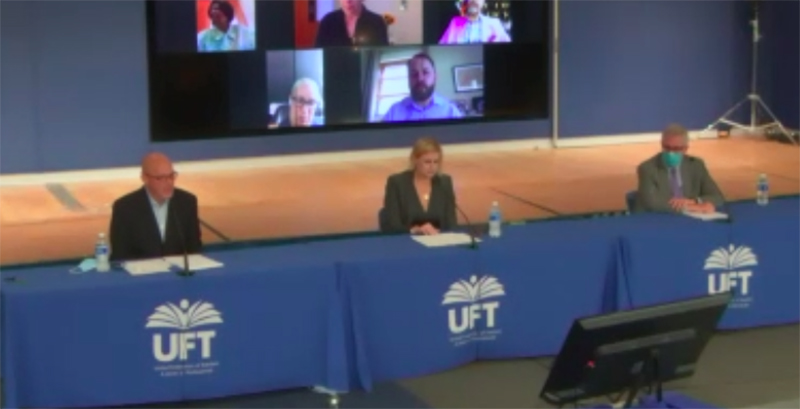 Updated Aug. 20
The United Federation of Teachers announced a new school reopening safety checklist Wednesday that New York City schools must satisfy before teachers are comfortable returning to the classroom. The union also called for antibody and COVID-19 testing for staff and students.
Union president Michael Mulgrew said any school that doesn't pass the criteria and complete the new "health and safety" report, which spotlights 13 key areas of classroom and campus operations, must open remotely. He then warned that if the city tries to impose in-person learning at any school deemed unsafe by the UFT, the union may move forward with suing the city or authorizing its members to strike. (Under the state's "Taylor Law," a strike could lead to the fining of teachers as well as Mulgrew's imprisonment.)
Mulgrew also said he sees no way that America's largest school district will be ready to reopen as scheduled in 22 days.
"We don't believe it is possible for schools to open on September 10th," he said in response to a question about the feasibility of testing all students and staff for either antibodies or COVID-19 prior to the start of school.
"Even without the testing piece, it is our judgment at this point — as well as the principals union — if you open schools on September 10th, it might be one of the biggest debacles in the history of the city."
The new safety checklist was created with input from medical experts and community stakeholders, who appeared with Mulgrew during Wednesday's livestreamed press conference.
"We cannot turn our schools into a biological research facility, where we are asked to expose our children to dangers we cannot measure at this time," said human rights activist Rev. Kirsten John Foy. "It is time for us to assess where we are, building by building, facility by facility. It is time to instill in parents the confidence that they need, with data and a plan of action."
Other panelists included the deputy chief medical officer of Northwell Health; Michael Mina, assistant professor of epidemiology at Harvard School of Public Health; Hazel Dukes, the president of the NAACP New York State Conference; Gloria Corsino, co-president of the Citywide Council on Special Education, Randi Weingarten, AFT president; and New York City Comptroller Scott Stringer.
Click below to see the full checklist: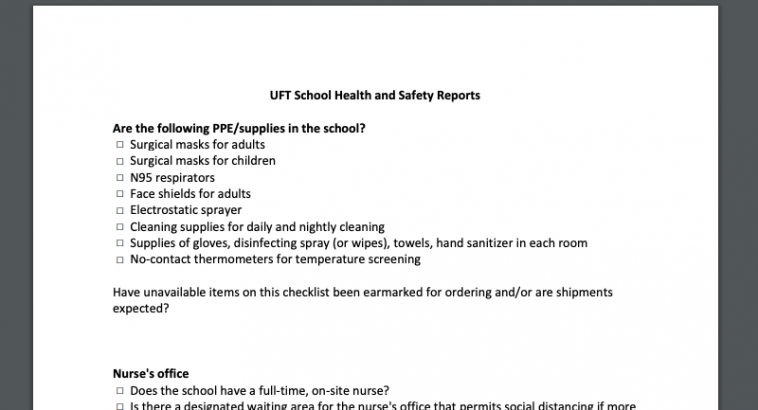 The health and safety report outlines three phases that each principal must tackle. The first, "Supplies," addresses whether the school's ventilation mitigates the risk of spread and whether the school has sufficient PPE and cleaning supplies to keep staff and students safe.
The second phase, "Procedures," dives into whether or not the school has a "building response team," composed of a school nurse, a custodial engineer and school safety agents. It also asks whether entry and dismissal protocols have been established for staff and students, about visitor protocols for parents, deliveries and contractors, and about dining protocols.
Third, the plan addresses testing and screening protocols. Each school community should participate in intermittent, random testing, after all staff and students are initially tested for COVID-19 or antibodies.
New York City Council Speaker Corey Johnson attended Wednesday's press conference and said he supported the union's proposal. "The sounds of nonstop ambulance sirens are still fresh in the minds of many New Yorkers," he said. "Safety must come first, and that means delaying in-person schooling until appropriate safety measures are not just talked about but are actually implemented.
"This is about getting to a place to open schools, not about throwing up obstacles. My hope is that New York City will be a model for the rest of the country to show folks that we can do this safely."
Later in the day, Mayor Bill De Blasio's press secretary tweeted video of his reaction to the UFT announcement during a school visit. "We care more about kids and parents than these games," de Blasio said, deriding Mulgrew's press conference as a "provocation." He also appeared to remain adamant about the reopening timeline for the city's schools: "We've been working in good faith with the unions for months … We are [going to] keep moving forward to get schools ready for our kids."

Support The 74's year-end campaign. Make a tax-exempt donation now.