The Veepstakes Is Taking Over, But the Education World Wants to Know: Who Will Replace DeVos?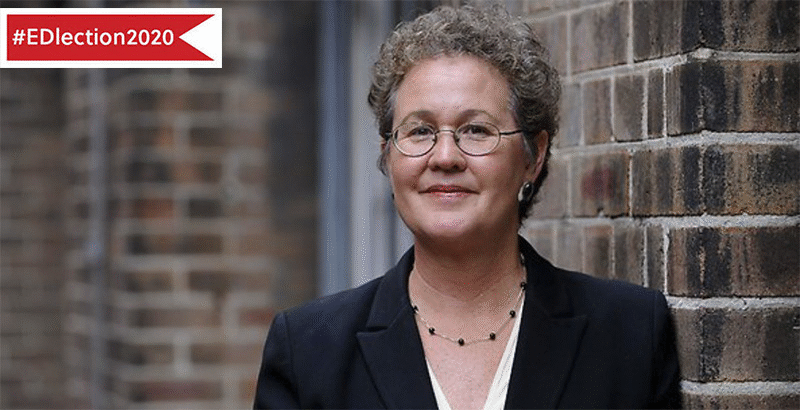 With the 2020 presidential election less than six months away, the political media are collectively fixating on the topic of running mates. Joe Biden's very public process for selecting a vice president has generated buzz around contenders like Sen. Kamala Harris and Rep. Val Demings, while some have already begun to wonder whether President Trump might replace Mike Pence on the ticket this fall.
But the future White House lineup is full of blank spaces that extend far beyond the search for a Number Two. And after four hectic years of the Betsy DeVos era, there may be no appointment more variable than the future secretary of education. The debate around who might replace DeVos, who might not return even if Trump wins re-election, exposes deep divides both between and within the parties on questions of qualification, philosophy and political faction.
It's difficult to overstate the degree to which Biden and Trump differ with respect to school choice, K-12 funding, student loans and campus sexual assault, among numerous other considerations. But even after one nominee claims victory in November, his transition team will have to navigate significant uncertainty in the following weeks. Before his presidency begins, Biden may be forced to engage in a policy battle that has simmered for years between education reformers and their detractors. If Trump prevails, the question will be whether anyone but he knows what he wants in an education secretary — and whether any potential applicant for that job can deliver on those expectations.
Even experts on federal education policy, some of whom have previously served in high-level roles at the Department of Education, were hard-pressed to construct a short list in interviews with The 74, though a few likely candidates were batted about. For Trump, the possibilities include legislators like Virginia Foxx and Ben Sasse, along with big-name Republican stars Sarah Palin, Mitch Daniels and even Ivanka Trump. For Biden, no name was mentioned as often as that of influential academic Linda Darling-Hammond — though in an email to The 74, she denied having interest in the role.
Over three years ago, DeVos's nomination was viewed as coming out of left field. A partisan über-donor with no government experience, she attracted more opposition than any other successful cabinet appointee in history (though she has ironically held onto her job longer than most of the president's original team). The secretary's tenure saw her become a hated figure on the left, even as some of the administration's most prominent education goals went unfulfilled. But according to Nina Rees, head of the National Alliance for Public Charter Schools, the position should still be regarded as a major prize.
"It's not as high-profile as some of the other agencies, of course, and it's not in the succession process as much as other cabinet departments," she said. "It's a smaller agency, but I still think it's significant, and there's a lot of good you could do there."
If Trump wins
The possibility of a second Trump term will raise the immediate question of whether Secretary DeVos will be asked to stay in her post.
As of yet, she hasn't been explicit about her intentions following the election. Although she sounded doubtful about the prospect last year when interviewed before a crowd of education journalists, she also recently told the Washington Examiner that she would "never say never" to additional years of service. Cabinet-level officers often turn over even after successful re-election bids, and the idea of returning to her home state of Michigan, where DeVos's family holds enormous political sway and her battered public image could recover, holds obvious appeal.
"I think DeVos almost certainly steps down, and she's indicated that that's likely," said Michael Petrilli, the president of the right-leaning Thomas B. Fordham Institute and a former Education Department staffer under President George W. Bush.
In the event of her departure, several experts suggested that President Trump would look for a successor who brings the same assets — namely, a high profile within the Christian right and a willingness to shake up the federal bureaucracy. Jason Botel, who served under DeVos until 2018 as an assistant secretary of education, noted that the president "thinks strategically about maintaining his coalition of support" when making appointments.
"If he were re-elected, there's every reason to think that he would continue to look for someone with strong support from the faith community and who is looking to really change some things about the way the Department of Education has historically approached its mission," said Botel.
Thomas Toch, who leads Georgetown University's FutureEd think tank, agreed that a second Trump term was likely to produce another outsider secretary and offered a candidate from Trump's favored domain of conservative media and politics.
"You would likely get something similar in a new secretary, someone who checks the boxes that [DeVos] checked, someone who's a movement conservative, and not necessarily someone with expertise on education," he said. "I think someone like Sarah Palin, someone who has aspirations and hasn't served in Washington, could serve in that role."
Palin, who helped legitimize Trump during the 2016 Republican primary, hasn't served in office since 2009 and seems to have drifted from the spotlight in recent years. But more than one source told The 74 that the president's willingness to make a splash could lead him to a high-profile selection who already holds a position in the White House: Ivanka Trump.
Vic Klatt, a principal at the lobbying group Penn Hill, called the possibility "a wild card," but noted that the First Daughter serves on the White House's National Council for the American Worker, which has some overlap with the workforce initiatives run out of the Education Department.
"She is very involved in education and workforce issues right now in the White House. You know he'd be comfortable with her. She works on issues related to this already, and she could be looking for something new."
Rees poured some cold water on the idea, noting that Ivanka Trump's current job as a kind of minister-without-portfolio and senior adviser likely offers greater scope and fewer demands. Although a cabinet job might seem attractive, it comes with serious drawbacks that only begin with a tough confirmation process.
"You have to really care about the issue," she said. "These appear like sexy jobs, but they all entail long hours of work and dealing with a whole host of issues. [Ivanka's] job is not as well defined at the White House as it would be at the Department of Education, and she'd be under a lot of scrutiny from the department's IG and all the bureaucrats that populate that building."
One likely consideration that was mentioned frequently was the issue of legislative experience. Though Trump and DeVos have spent the past four years advocating for the administration's school choice agenda, their most prominent proposal — a massive tax-credit program subsidizing private school tuition or other education costs — has gone nowhere on Capitol Hill. Botel noted that a successful education secretary had to balance the president's imperatives with the priorities of congressional members.
"I think it would be really helpful if the next secretary had some experience with legislative advocacy and working with legislative bodies. We have a legislature that, broadly speaking, has challenges and doesn't function well, and the fact is that the Department of Education relies a lot on what comes out of Congress."
Trump has a pronounced tendency to elevate current or former House Republicans to cabinet-level positions, including Secretary of State Mike Pompeo, Chief of Staff Mark Meadows and Director of National Intelligence John Ratcliffe. Among current members with a focus on education, several experts mentioned North Carolina Rep. Virginia Foxx, who serves as the ranking member of the House Committee on Education and the Workforce. Petrilli said that Nebraska Sen. Ben Sasse, a former university president, would make "a fantastic pick," but said that his past clashes with the president could eliminate him from consideration.
Another possibility from within the party is former Purdue University president Mitch Daniels, who has earned Trump's praise by vowing to reopen the college with in-person instruction this fall. But Daniels, a former Indiana governor, has consistently disclaimed any interest in higher office, and he previously blasted the administration's move to bar refugees from entering the United States — a move that might cause friction with the notoriously criticism-averse president.
"There could be reasons why he and Mitch don't exactly fit perfectly, but if he were off in some cordoned-off area like education, it could be a fit," Klatt said. "I just don't think Mitch would even consider it."
If Biden wins
A Biden presidency would present an entirely different challenge. As several sources observed, the policy bench on the left side of the aisle is much deeper than on the right, packed with wonks and activists who have spent decades working on the issue.
"On the Republican side, there are various folks who the president might touch base with before making this pick, but not really hardcore constituencies," said Klatt. "On the Democratic side, the unions matter a ton. A lot of higher education folks matter a ton. Interest groups like the Center for American Progress matter a ton. It's a much more complicated choice that could get him either a lot of praise or a lot of criticism."
There's also the underlying divide between those in the education reform movement, who enjoyed years of influence in the Obama White House, and an ascendant education left that has become exercised in recent years around teacher pay and issues of school equity. New evidence of that faction's strength emerged in May, when the Democrats formed a "unity task force" on education that included a scathing critic of reform, two teachers union presidents and no representatives from the reform movement.
"The two camps don't talk to each other; they have different meetings, different sets of foundation fundings," Toch said. "It's really quite astonishing. When Barack Obama was elected and building an infrastructure in the education department in 2008, it was the centrist reformers, represented by Arne Duncan, who prevailed."
But Duncan, who served as education secretary for nearly the entire Obama presidency, had to get past a formidable rival first: Linda Darling-Hammond, a widely admired education professor at Stanford. As she was a fervent critic of some aspects of the education reform movement, most notably the Teach for America program, some education observers were surprised when she was tapped to lead the Obama transition team's education policy group.
Though she was ultimately passed over for a place in the administration, Darling-Hammond has only seen her influence grow in the nation's largest state. In 2019, California Gov. Gavin Newsom appointed her to head the state's 11-member Board of Education. Now she is perceived as the consensus favorite of the left if Biden pulls off a win in November.
"There was some pretty fierce, hand-to-hand combat over who was going to be secretary [in 2008]," said Toch. "This time around, Linda's profile is, if anything, higher than it was then."
Reached for comment, Darling-Hammond said in an email that she had "given little thought" to the question of who might succeed DeVos, especially amid the unfolding COVID crisis. She added: "It's not a role to which I would aspire, just in case that was one of your questions."
Botel, who has led advocacy groups in the education reform space, said it wasn't out of the question for a President Biden to follow in Obama's footsteps by selecting a secretary with experience leading a school district and dealing with organized labor.
"If you think about someone like Secretary Duncan, he was someone who'd led a large urban district, worked with strong teachers unions and gotten some results — and also was supportive of charter schools and other types of reform. I think that profile would be attractive to Biden as well if he were to be elected."
But others argued that Biden might be better served by stepping outside the Democratic combat zone in K-12 schooling and instead choosing a candidate from the world of higher education. As many have noted, Secretary DeVos has acted with far greater latitude when addressing issues like Title IX on college campuses, and the hundreds of billions of dollars the department spends annually on university research and student aid makes it perhaps the most powerful player in the country.
"One safe way of approaching this is by picking a current or former college president who can speak to the higher education side of the ledger," Rees said. "It's important to keep in mind that the U.S. Department of Education's job isn't exclusively K-12; it's mainly higher education."
Petrilli gave odds of 50-50 that a Biden White House would select a current or former university president, noting that "it's a great way to avoid the whole union-versus-reformer problem." He specifically cited Freeman A. Hrabowski III, the longtime president of the University of Maryland, Baltimore County, which has earned acclaim for helping low-income and first-generation college students earn their degrees. Hrabowski was seen as a likely contender for the position if Hillary Clinton had won the presidency in 2016.
"You could imagine the president of an HBCU [Historically Black Colleges and Universities] or a Hispanic-serving institution, someplace that's done a great job getting poor kids to and through college," Petrilli said. "A respected former university president type who can convene college presidents and collaborate on responding to the carnage that is this COVID crisis."
If Biden sought a candidate who mingled education expertise with some years in Washington, he might turn to Janet Napolitano, a former Arizona governor and homeland security secretary who now leads the gargantuan University of California system. Few would bring the diversity of experience that Napolitano can boast, though as Petrilli noted, a return to the cabinet might not seem like a promotion at this stage.
"Would she really want to come back to Washington? She's making way more money doing what she's doing now."
Support The 74's year-end campaign. Make a tax-exempt donation now.