The Week in COVID & Education Policy: FDA, CDC Prioritize Teachers For Boosters, New Testing Model Aims to Eliminate Need for Student Quarantines & More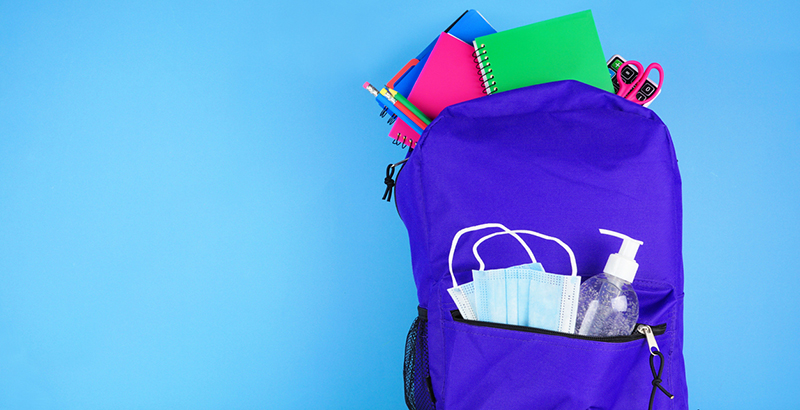 This is our weekly briefing on how the pandemic is shaping schools and education policy, vetted, as always, by AEI Visiting Fellow John Bailey. Click here to see the full archive. Get this weekly roundup, as well as rolling daily updates, delivered straight to your inbox — sign up for The 74 Newsletter.
Updated Sept. 24
FDA, CDC Prioritize Teachers for Pfizer-BioNTech COVID Vaccine Boosters:
A replay of what happened over the past week:
The FDA announced Wednesday: "'After considering the totality of the available scientific evidence and the deliberations of our advisory committee of independent, external experts, the FDA amended the [emergency use authorization] for the Pfizer-BioNTech COVID-19 vaccine to allow for a booster dose in certain populations such as health care workers, teachers and day care staff, grocery workers and those in homeless shelters or prisons, among others,' said Acting FDA Commissioner Janet Woodcock, M.D."
But: A panel of scientific advisors to the Centers for Control and Prevention voted Thursday to exclude teachers and other essential workers from its recommendations for who should receive boosters.
Finally: CDC Director Rochelle Walensky on Friday overruled the panel, deciding to include workers at risk because of their occupations, including educators.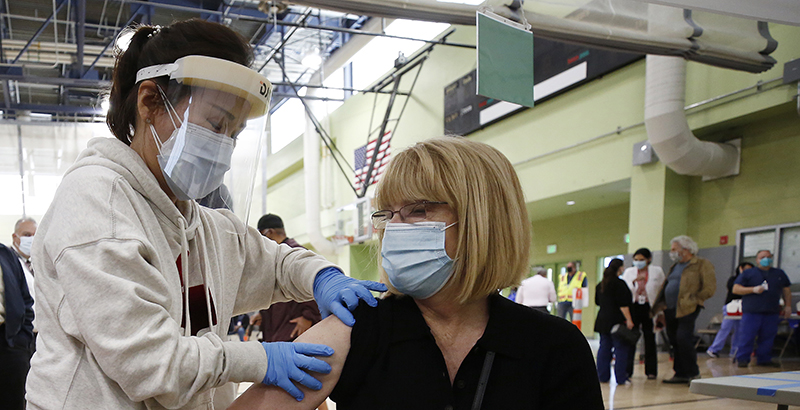 Sept. 24, 2021 — The Big Three
Pfizer Data Suggest Vaccine Safely Protects Kids 5 to 11: The shot "has been shown to be safe and highly effective in young children aged 5 to 11 years." (Read the press release)
"The children who got the vaccine produced a strong immune response, comparable to the levels of antibodies seen in the earlier trials of participants aged 16 to 25 years. But children in the 5- to 11-year-old group achieved this response with 10 micrograms of the vaccine, a third of the dose given to older children and adults."
"The study isn't large enough to detect any extremely rare side effects, such as the heart inflammation that sometimes occurs after the second dose, mostly in young men. The FDA's [chief Dr. Peter] Marks said the pediatric studies should be large enough to rule out any higher risk to young children."
The New York Times reports that "if the regulatory review goes as smoothly as it did for older children and adults, millions of elementary school students could be inoculated before Halloween."
"Trial results for children younger than 5 are not expected till the fourth quarter of this year at the earliest, according to Dr. Bill Gruber, a senior vice president at Pfizer and a pediatrician."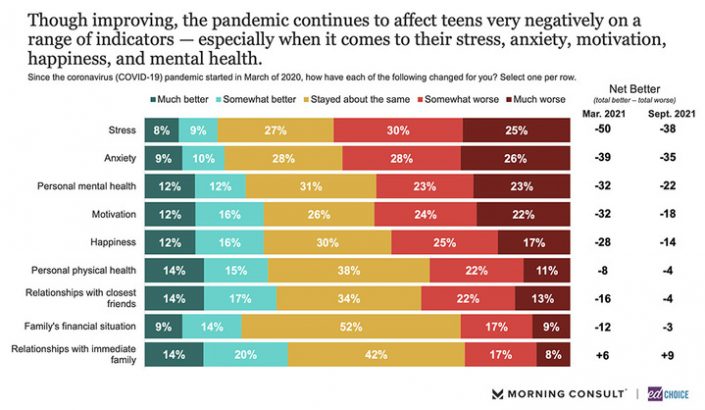 Teens Have Mixed Emotions about Returning to School: Some important insights from a recent EdChoice/Morning Consult survey of teens.
"Teens are still reporting negative impacts of the pandemic on their mental health and overall well-being."
"Half of teens say they have received the COVID-19 vaccine, while about a quarter aren't vaccinated and don't plan to get the vaccine in the future."
Some of the top words students used to describe their feelings about back-to-school were stressed, good, excited, excited, happy and boring.
How Five Schools Reopened Without Sparking a COVID Outbreak: Great long piece from MIT Technology Review. Some of the takeaways:
Collaboration with the public health department is key
Community partnerships can fill gaps in school services
Communication with parents should be preemptive and constant
Require masks, and model good masking for kids
Regular testing can prevent cases from turning into outbreaks
Improve ventilation and hold classes outside where possible
Schools may still be focusing too much on cleaning
Give agency to parents and teachers in protecting their kids
We need more granular data to drive school policies
Invest in school staff and invite their contributions to safety strategies
Federal Updates
Institute of Education Sciences: Is conducting a nationwide survey of 1,200 schools to further gauge the impact of COVID-19 on students and teachers
Department of Labor: Appointed 29 members to the newly reinstated Advisory Committee on Apprenticeship
City & State News
D.C.: Mayor Muriel Bowser: "All DCPS, charter, private school and day care staff will be required to be vaccinated by Nov. 1. There will no longer be a test-out option for them. This includes before- and afterschool staff, bus drivers, security staff, coaches and more."
Florida: Florida's new surgeon general, Dr. Joseph Ladapo, issued an emergency rule Wednesday that states parents must be the ones to decide whether their asymptomatic children need to quarantine if they have been exposed to someone who tested positive for the coronavirus.
Georgia: Atlanta-area school districts report a sharp decline in COVID cases. A researcher says strong mitigation measures such as masks and virtual learning likely caused the drop.
Illinois:
Massachusetts:
Massachusetts Comprehensive Assessment System test results (and data here):

46 percent of students in grades 3 to 8 scored as "meeting expectations" or higher in English language arts, while 33 percent scored the same in math. Both represent a drop compared with 2019, when 52 percent of students were "meeting expectations" or higher in English language arts and 49 percent did so in math.
In 10th-grade English language arts, 64 percent of students scored as "meeting expectations" or higher, compared with 61 percent in 2019. In math, 52 percent of students scored as "meeting expectations" or higher, compared with 59 percent in 2019.
New York: New York City is ramping up COVID-19 testing at schools and relaxing quarantine rules
Oregon: 'Upset and frustrated': Parents navigate COVID quarantines
South Carolina: SC READY results:
Language arts scores fell about 2.9 percent, from 45.4 percent in 2019 to 42.6 percent in 2021.
Language arts scores for African-American students fell even more, about 4.3 percent, from 26.4 percent in 2019 to 22.1 percent in 2021, the largest percentage drop of any student group in that subject when broken down by race or ethnicity.
Language arts scores for Hispanic students decreased about 4 percent, from 36.6 percent in 2019 to 32.6 percent in 2021.
Tennessee: "A federal judge has again blocked Gov. Bill Lee from allowing parents to opt out of school mask requirements aimed at limiting coronavirus infections in Shelby County."
Texas: U.S. Education Department announced an inquiry days after the Texas Education Agency quietly updated its guidance to say school districts can't require masks.
Virginia: A $257 million CDC grant funds Virginia's K-12 COVID testing program. Most public school districts haven't opted in.
COVID-19 Research
Johnson & Johnson: Announced promising COVID-19 booster data, delays on kids' vaccine trial (press release)
"Promising booster data showed 94 percent efficacy for its COVID-19 vaccine when given after six months of the initial dose."
The initial dose of the vaccine continued to provide consistent protection against the virus, including against the Delta variant."

"The news puts the vaccine in stark contrast to mRNA vaccines, which have shown waning immunity over time."

Trials with children will start later in the year, J&J's global head of research and development said.
States Bracing for Confusion about Booster Rollout: State health officials spoke of the "difficulty in messaging, difficulty in telling people to be patient yet again — yet another challenging and confusing message that doesn't universally apply."
"Some states, such as Virginia, anticipating the interest in boosters, have posted online notices urging residents to be patient and to wait for further guidance once final recommendations have been provided by the federal government."
A New COVID Testing Model Aims to Spare Students from Quarantine: From The New York Times — "More school districts are embracing 'test-to-stay' protocols that allow uninfected close contacts to remain in the classroom."
"At this time, we do not recommend or endorse a test-to-stay program," the CDC said in a statement to The New York Times."
But: "A new study, which was published last week in The Lancet, suggests that the test-to-stay approach can be safe. The randomized controlled trial included more than 150 schools in Britain and found that case rates were not significantly higher at schools that allowed close contacts of infected students or staff members to remain in class with daily testing than at those that required at-home quarantines."
What's strange is that the original story contained an error related to the CDC guidance. It was fixed, but there's no mention of the correction — just an acknowledgement on the author's Twitter account.
Daily Testing for Contacts of Individuals with SARS-CoV-2 Infection: New study out of the UK — "Daily contact testing is a safe alternative to home isolation in school-based contacts and should be considered an alternative to routine isolation of close contacts following school-based exposures."
Children and COVID-19: Latest state data report from the American Academy of Pediatrics
Schools Need Better Data to Grade COVID-19 Impact and Risk: Via Johns Hopkins University — The Coronavirus Resource Center last week launched a new section that provides state-by-state breakdowns of cases, deaths, tests and vaccinations by the demographic categories of age, race and ethnicity, and sex and gender.
Racial Disparities in COVID-19 Impacts and Vaccinations for Children: Via Kaiser Family Foundation — "White children had higher vaccination rates than Black children in all seven reporting states, although the size of these differences varied widely across states."
Viewpoints
UK: More than 122,000 children were absent with confirmed or suspected infections last week – the highest number for England during the pandemic. (More here)
Charter School Growth: Charter schools experienced more growth in 2020-21 than they've seen in the past six years. (Read the report; more from Axios)
"In contrast to traditional public schools, which saw a significant, 1.4 million drop in student enrollment during the tumultuous year, charter schools in 39 states saw an influx of 240,000 new students — a 7 percent increase over last year."
Controversy and Consensus: Perspectives on Race, Religion and COVID-19 in Public Schools: New survey from AEI with a bunch of timely, useful data. A few COVID nuggets:
63 percent of the public says schools should require universal masking — that is, masks for all students, teachers and staff, regardless of their vaccination status.
Compared to routine childhood illness vaccination requirements, support for COVID-19 vaccination requirements in schools is markedly lower. More than 6 in 10 (61 percent) Americans favor requiring all public school students age 12 and up to be vaccinated for COVID-19 before they can attend class in person. Thirty-eight percent of the public opposes COVID-19 vaccination requirements for eligible students.
From Paying Parents to Transport Their Kids to School to Calling Out the National Guard — Innovating in the Face of a Bus Driver Shortage: Good piece via Chad Aldeman and Marguerite Roza in The 74.
Side note: Arizona has also been ahead of the curve on this issue — going so far as to hold a grant competition to experiment with solutions.
Tutoring Quality Improvement System: Via the National Student Support Accelerator
Future of Testing in Education: Artificial Intelligence: Great report from Center for American Progress
Congress Must Extend This Critical Measure to Keep Kids Connected to Learning: Argue Sal Khan and Jim Steyer in The Hill.
"Congress must use the budget reconciliation package to extend funding for the Emergency Connectivity Fund to keep kids learning, support equitable access to education and ensure communities are resilient in the face of crisis."
Parent Waivers, Test Kit Shortages and Learning in Quarantine: Latest analysis from the Center on Reinventing Public Education, via The 74:
"Of the districts we track, 94 offer some sort of online learning option to at least some students — up from 79 a month ago and more than twice the number when we started tracking reopening plans in July."
"Nearly a third (31) of the districts we reviewed require all staff to be vaccinated, an addition of just one district (Nevada's Clark County) since we updated our data last week."
"Most (79) exempt vaccinated students from quarantine, while 28 exempt masked students, 33 exempt students who recently recovered from COVID-19 and 37 shorten quarantines for students who test negative for the virus."
…And on a Lighter Note
This Is What Happens: When her big brothers come home from school.
View this post on Instagram
ICYMI @The74
Weekend Reads: In case you missed them, our top five stories of the week:
Disclosure: John Bailey is an adviser to the Walton Family Foundation, which provides financial support to The 74.
Support The 74's year-end campaign. Make a tax-exempt donation now.