As the Pandemic Set In, Charter Schools Saw Their Highest Enrollment Growth Since 2015, 42-State Analysis Shows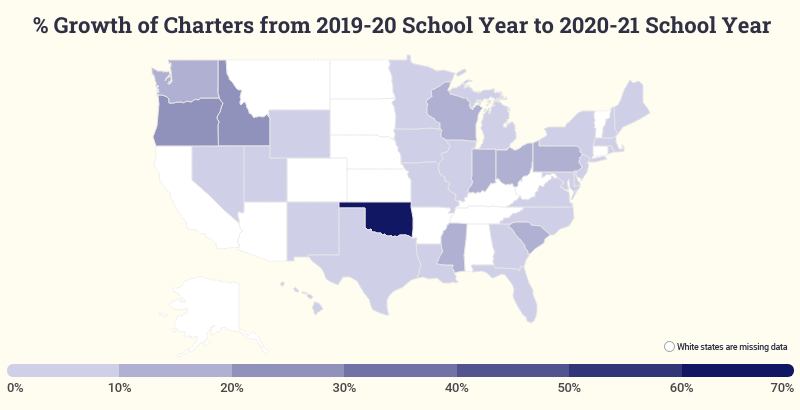 Support The 74's year-end campaign. Make a tax-exempt donation now.
Charter schools experienced more growth in 2020-21 — the first full year of the pandemic— than they've seen in the past six years, according to preliminary data released Wednesday from the National Alliance for Public Charter Schools.
In contrast to traditional public schools, which saw a significant, 1.4 million drop in student enrollment during the tumultuous year, charter schools in 39 states saw an influx of 240,000 new students — a 7 percent increase over last year, the Alliance's review showed.
Of the 42 states covered in the report, only Illinois, Iowa and Wyoming saw declines in the charter school population. While ​​Tennessee, Kansas, Puerto Rico and Guam also have charters, data was unavailable for those states and territories.
The analysis further confirms that a large segment of the nation's students changed where they attended school last year, prompted by school closures, job loss and dissatisfaction with remote learning. Parents looking for in-person learning, however, weren't the only ones driving the shift toward charters. In a few states, such as Oklahoma, enrollment increases in full-time virtual schools — those that operated remotely even before the pandemic — accounted for much of the nearly 78 percent growth.
It's too soon to know whether some families have returned to traditional public schools this year, but Nina Rees, president and CEO of the Alliance, predicted the trend is not a blip.
"Families are sending a clear message. They want more public school options," she said. "From the Pacific Northwest to the Deep South, the pandemic forced families to rethink where and how education could be delivered to their children. And now that they know what's available, why would they go back to an option that never really worked for them in the first place?"
Growth in the charter sector ranged from less than 1 percent in Washington, D.C. and Louisiana — cities that already have a strong charter presence — to the 78 percent jump in Oklahoma. Alabama saw a 65 percent jump in enrollment. The state only had five charter schools in the 2020-21 school year, one of which was new, enrolling 413 students and increasing charter enrollment from 1,115 students in 2019-20 to 1,841.
The report, however, doesn't offer further details on whether overall growth nationally was due to students leaving district schools or new schools opening. Some, such as Gem Prep in Idaho, added more grade levels, which contributed to a 24 percent increase in that state.
The authors, who draw on data from state education agencies, also provided some additional context from a few states, such as Arizona, where 20 percent of public school students now attend charters, and California, which saw growth in charter enrollment among nearly all racial and ethnic groups.
In 2019, the state passed a law — considered a compromise between charters and the teachers union — that gave local districts the authority to consider whether the opening of a new charter would negatively impact their own schools. Lawmakers attempted earlier this year to impose additional financial and enrollment restrictions on virtual charters in California — known as nonclassroom-based — but parents lobbied against the bill and the sponsor withdrew it. There is already a moratorium on new virtual charters in the state.
Navigator Schools, with 1,405 students at three sites in central California, is among those that saw growth at the network's newest campus in Watsonville last year. The others were already at capacity, with waiting lists. Kirsten Carr, director of engagement and partnerships, believes the on-site distance learning program — for families that didn't have internet service and needed child care — was one feature contributing to the growth. The schools serve a large farmworker community.
"Our families went back to work before a lot of other industries," Carr said. "They had to have a place for their kids to go to school."
She added, however, that growth for charters can be a "double-edged sword."
"We do have pressure from our families to grow," she said, but added that districts, which have lost enrollment, are increasing efforts to hold on to their students.
Some charters might have experienced growth last year even without the pandemic. In the Seattle area, Rainier Valley Leadership Academy — formerly part of Green Dot Public Schools network — has done an "about-face" since 2020, said CEO Baionne Coleman. The school has gone from a predominantly white leadership team under Green Dot to having a mostly Black administration and a racially diverse teaching staff as an independent charter. Its target enrollment for 2020-21 was 125 students; they hit 159 and are now at 176.
"Families were actually coming from all across Seattle, some as far as Olympia," she said. "They were looking for teachers who looked like their kids, being able to learn their own histories along with the history of America."
'Didn't have much choice'
Parents have generally given charter schools — which are publicly funded, but independently run — higher marks than district schools during the pandemic. One analysis showed charters were quicker than district schools to set up a regular class schedule during school closures and stay in close contact with students and parents. A recent Education Next poll found that charter school parents were less likely to report negative effects of COVID-19 mitigation measures on their children's education.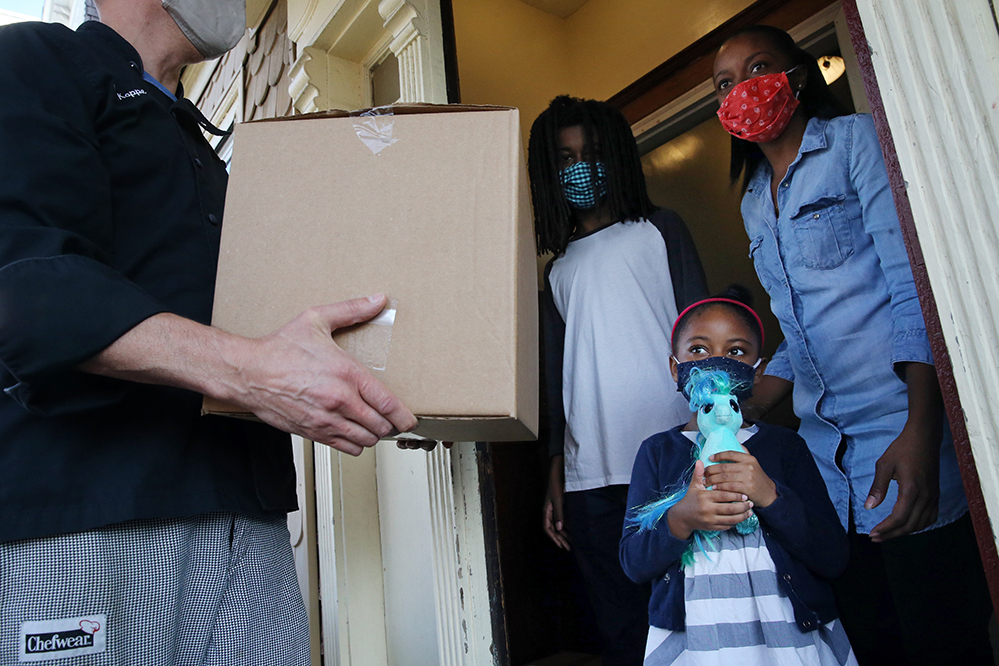 Parent satisfaction, however, seems to contrast with data in that poll showing declining public support for charter schools — from 48 percent in 2019 to 41 percent now. Brian Gill, a senior fellow with Mathematica who has conducted research on charter schools, said both can be true.
"The fact that [parents] have a more favorable impression is consistent with the well-known finding from polling that people give their own community's schools better reviews than they give to schools nationwide," he said, adding that school quality doesn't necessarily influence opinions about charter schools. "Opposition to charter schools usually is motivated less by concerns about their quality than by concerns about whether their existence and growth might harm conventional public schools and the students and communities they serve."
Some observers suggest that when given the choice between a virtual charter and a district school shifting to online teaching for the first time, many parents opted for schools with an established virtual program.
"Parents looking for remote learning options didn't have much choice in big chunks of the country," said Michael Petrilli, president of the conservative Thomas B. Fordham Institute. "Despite the low quality of a lot of virtual charter schools, at least they had experience in providing remote instruction and weren't figuring it out on the fly."
Virtual charters, many of which operate as for-profits, have suffered from scandals over enrollment and financial practices in the past, with students faring worse academically than their counterparts in district schools. But one survey of over 10,000 parents published in January this year showed strong satisfaction with how virtual charters responded at the onset of the pandemic, and some charter school supporters argue states and local charter authorizers should support virtual charters instead of seeking to cap their number.
Petrilli said he suspects many of the families who opted for virtual charter schools will find their way back to district schools — "once things return to 'normal,' whenever the heck that is."
Support The 74's year-end campaign. Make a tax-exempt donation now.