The Texas Story: Climbing Out of a Pandemic, With 15 Years Until the State's Bicentennial, How Well Are Students Being Prepared for the Workforce?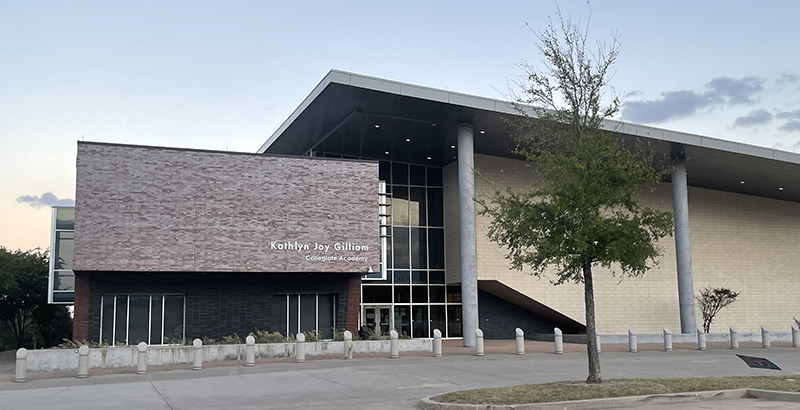 Support The 74's year-end campaign. Make a tax-exempt donation now.
This piece is part of "The Texas Story," a four-week series produced in partnership with the George W. Bush Institute examining how well Texas students are being prepared for the workforce as the country recovers from the pandemic. Read all the pieces in this series as they are published here. Read our previous accountability series here and here.
Texas is more than swagger and 270,000 square miles. It is home to more than 29 million diverse residents. According to the 2020 Census, Texas gained the most citizens of any state since 2010. That growth was driven by people of color. Whites and Hispanics each make up 40 percent of the state's population, followed by Black and Asian Texans, at nearly 12 percent and 5 percent, respectively.
As the story of Texas plays out between now and 2036, when the state observes its bicentennial, the ability of Texas' PreK-16 schools and institutions to prepare young people for their next step will have enormous influence. Will the Texas economic miracle sustain itself? And will all Texans have access to that prosperity?
Gains happened in Texas in the 1990s and 2000s, as measured by the National Assessment of Education Progress, but that progress largely tapered off in the 2010s. Texas now has strong A-F accountability ratings in place, thanks to HB 22 passed in 2017 by the Texas Legislature. Strong education laws passed again in 2019 and 2021 to strengthen instruction, reward strong teachers, and help districts mitigate the impact of Covid-19. The policy ingredients for improvement are in place.
There are more than 7 million Texans under 18 today who need the skills to enjoy a successful career, find purpose in their work, and contribute to the state's economy. Will young Texans entering school between now and 2036 be offered the fundamentals of a quality education that puts them on a path to opportunity and a decent living? Will the state enjoy the fruits of these students' ingenuity, knowledge, and leadership?
To better answer those questions, we spent several months speaking with community and school leaders, policy experts, and, most importantly, students in Houston, Dallas and Austin. We also looked at outcome data, mapping third-grade reading scores, high school graduation rates, and higher education attainment and wages.
That data is sobering. The charts below illustrate the challenge facing three of Texas' largest counties — Dallas, Harris (Houston), and Travis (Austin). Third-grade reading scores show gaps by race and ethnicity – gaps that appear to be largely eliminated when we consider high school graduation rates across those same racial groups. Maddeningly, however, those gaps reappear across higher education attainment and wage measures.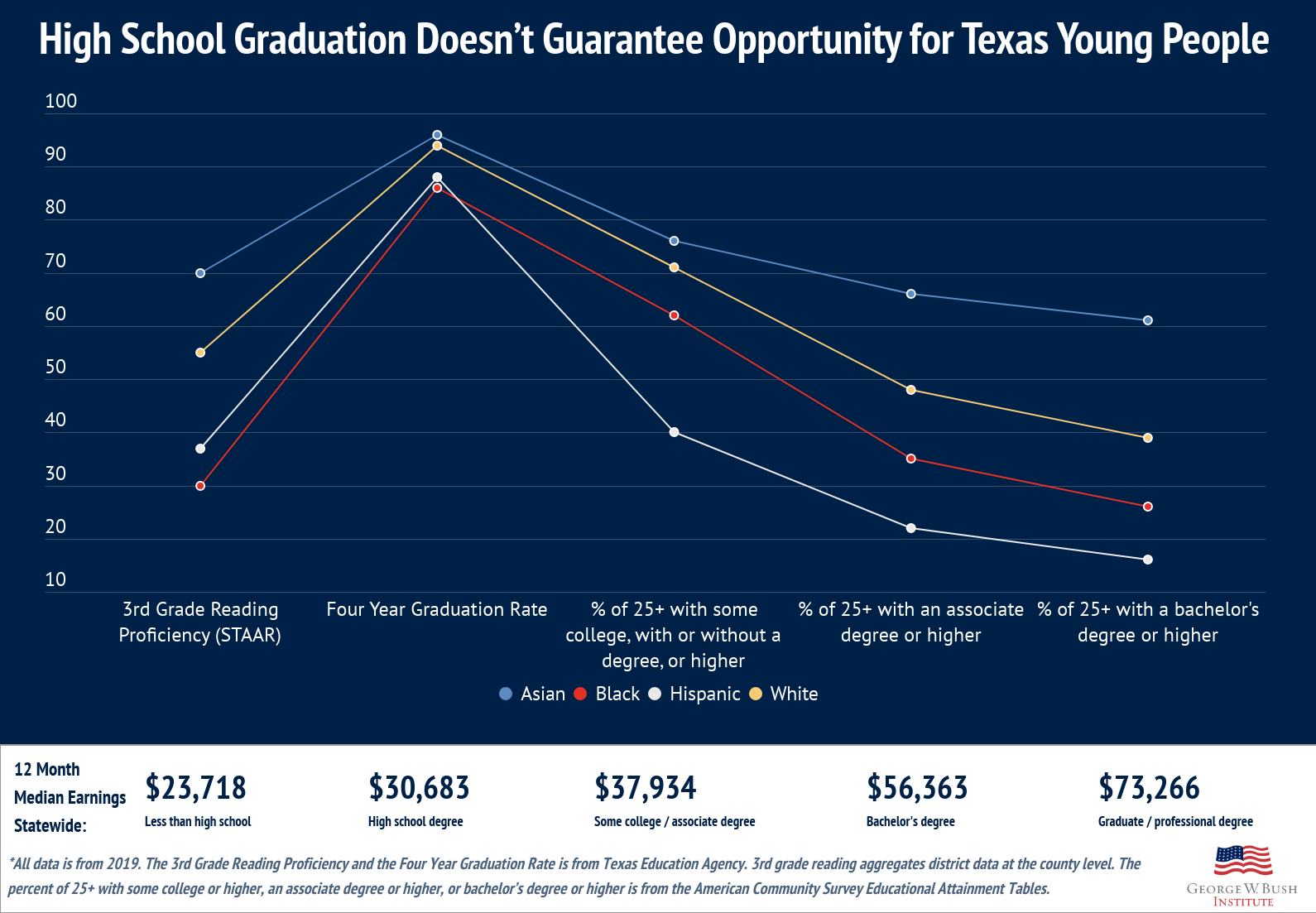 If you are having trouble viewing the charts, click here
The below proxy graduate profile shows that many students were well behind on reading in third grade and math in eighth grade, but a high percentage of students graduated from high school. This begs the question, were they truly prepared for opportunity and their next step, or did we set them up to fail by passing them along in the system?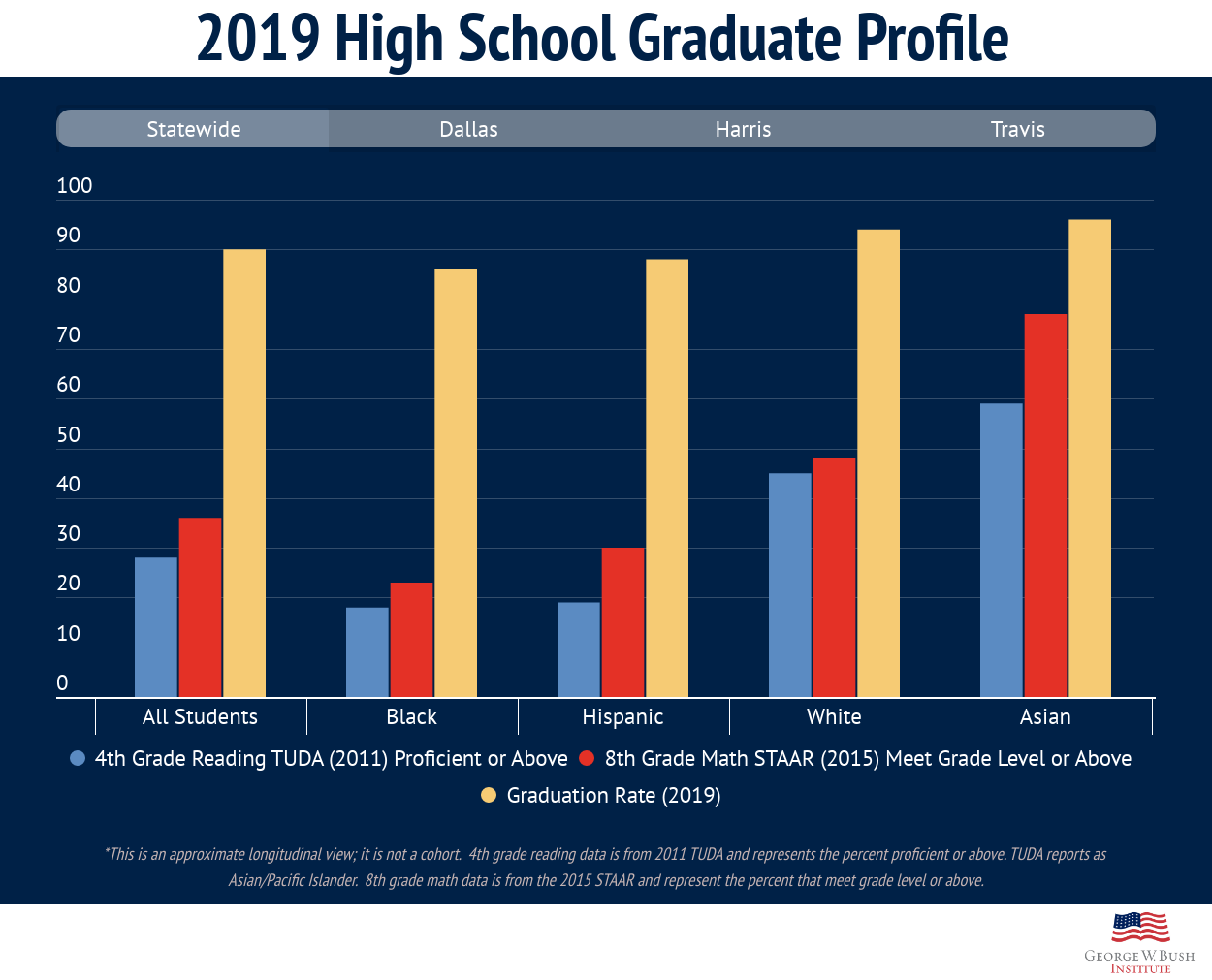 If you are having trouble viewing the chart, click here
One measure of why this matters is the connection between the level of educational attainment and annual earnings. More educational attainment translates into higher salaries. Money, of course, is not the sole determinant of a meaningful life. But a greater earning ability often correlates with a greater ability to make choices, more access to opportunity, and greater ability to adapt during severe economic downturns. Texas' success depends on its people's success.
Preparing young people for futures in which they have agency and opportunity is not just the responsibility of the largest school district in a region or county. Instead, it requires a common understanding that adult choices have significant impact on outcomes for young people. Our research focused on three elements that should work together in service of young people – ecosystem, governance, and innovation. We considered the ways those elements are driving (or possibly inhibiting) progress.
We define "ecosystem" as the broad coalition of organizations and community leaders focused on education and workforce outcomes across a city or region. We define governance as both the actions of the school board and the opportunistic use of legislation and public policy. Finally, we define innovation as the use of strong practice, sometimes new and sometimes not, with the goal of improving student outcomes.
In part two of this series, we will dive deeply into ecosystem and governance, two elements that are distinct but intertwined. We will explore innovation in each region in part three. Finally, we will share recommendations for leaders in Dallas, Houston, Austin and beyond in part four.
Large sets of outcome data are essential tools to understand the big picture. But behind each of these data points are young people, each with distinct experiences and insights. We can't design strong policy or interventions without also listening to young Texans like Ángel García Donjuán, Cole Harrison, Kiara Kabbara, Vanessa Larez, and Gissel Peña, who share their perspectives on high school and college in Dallas, Houston, and Austin.
Follow this four-week series here.
Anne Wicks is the Ann Kimball Johnson Director of the George W. Bush Institute's Education Reform Initiative. William McKenzie is senior editorial advisor for the George W. Bush Institute.
Research support provided by Justine Taylor Raymond and Alex Dowdy.
Support The 74's year-end campaign. Make a tax-exempt donation now.