The Texas Story Student Q&A: Cole Harrison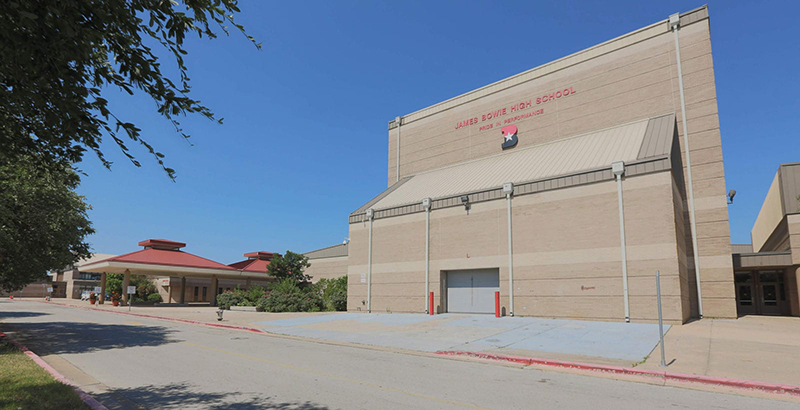 Get stories like these delivered straight to your inbox. Sign up for The 74 Newsletter
This piece is part of "The Texas Story," a four-week series produced in partnership with the George W. Bush Institute examining how well Texas students are being prepared for the workforce as the country recovers from the pandemic. Read all the pieces in this series as they are published here. Read our previous accountability series here and here.
Cole Harrison graduated from James Bowie High School in Austin ISD in 2021. He is now a student at Ohio State University, and he is majoring in finance and political science. He entered OSU this fall with over 30 credit hours from his AP classes at Bowie. The Bush Institute's Justine Taylor-Raymond sat down with Cole this fall to discuss how his high school experience shaped him.
The following interview excerpt has been edited for clarity and length.
JTR: How did your high school experience successfully support your needs and post-graduation academic goals?
CH: The most valuable part of high school is the push to take the most advanced classes, go as far as you can and see where your limits really are. Our school did a great job proving we don't really know our limits. I was always getting support from teachers and Mr. Robinson (principal) to take the most advanced classes possible, to go as far as possible, because it pays off. I see now it has.
I am going in the ranking of a sophomore with 30-plus credits. Because of that, I can double major in two fantastic majors in four years. I am already ahead of the game, and I don't need to worry about general education as much. I can go straight to what I am interested in because it's saving me a whole year of just pushing through classes I don't care to take.
I had taken the SAT, and I did OK, but I ended up doing much better later. First time I took it, I knew I could do so much better. I was kind of hesitant about doing prep because they said we could get hundreds of points of improvement with a little bit of studying. I was skeptical. But I went after school for a few days, only 30 minutes to an hour. And next time I took the SAT, I scored something like 140 points better with only 10 hours of studying. Those SAT scores really helped my college search and gave me access to upper-tier colleges.
Justine Taylor-Raymond is senior program manager for education reform at the George W. Bush Institute.
Get stories like these delivered straight to your inbox. Sign up for The 74 Newsletter