The Texas Story Student Q&A: Ángel García Donjuán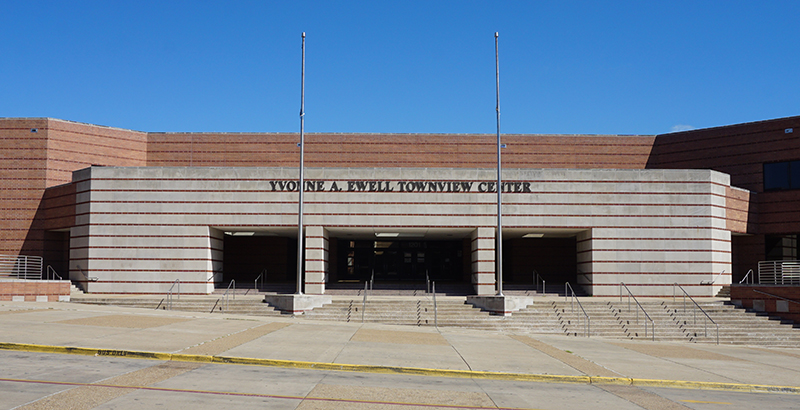 Get stories like these delivered straight to your inbox. Sign up for The 74 Newsletter
This piece is part of "The Texas Story," a four-week series produced in partnership with the George W. Bush Institute examining how well Texas students are being prepared for the workforce as the country recovers from the pandemic. Read all the pieces in this series as they are published here. Read our previous accountability series here and here.
Ángel García Donjuán graduated from the Judge Barefoot Sanders Law Magnet at Yvonne A. Ewell Townview Magnet Center in Dallas ISD in 2021. His three older brothers also attended magnet schools, two also graduating from Townview, and one from New Tech High School. His youngest brother currently attends Sudie L. Williams Talented and Gifted Academy. Ángel recently moved to Germany with the Congress-Bundestag Vocational Youth Exchange Program. The Bush Institute's Justine Taylor-Raymond sat down with Ángel this fall to discuss how his high school experience shaped him.
The following interview excerpt has been edited for clarity and length.
JTR: Why did you choose a magnet school?
AGD: I chose a magnet school, and my mom wanted us to go to a magnet school, because we had seen other family members go to our neighborhood school. My cousin was brought in to gang violence and gun violence and just general violence at that school. My mom – and all of us – didn't want that for ourselves. But we felt a lot of that could be avoided it we went to magnet school, even if it meant my mom had to drive rather than letting us a walk down the street. I guess we all felt it was a sacrifice worth making.
You said before that "there is stark difference between what you can expect from Townview and L.G. Pinkston High School. You shouldn't have to apply to a magnet school because your neighborhood school doesn't give you what you need." Can you say more about that?
Some of my peers didn't get into the high school they wanted, and they ended up just going to their neighborhood school in ninth grade. And I've met up with some of them now, and they feel like they didn't do enough because they didn't get into Townview. And now they are not getting into the college they want to attend. I feel like it shouldn't be the case that, because in the eighth grade you didn't get into the right high school, that you shouldn't be able to get into the university you want to attend.
I feel like magnet schools should be a temporary thing. I can see the worth of a magnet school helping with equity and racial equity in urban school districts. Why not just fund every neighborhood school well? Why can't the same resources found at a magnet school be transferred over to every neighborhood school?
It shouldn't be the case that, in eighth grade, you are fighting to get the resources that you want to make sure you get to where you need to be.
Follow this four-week series here.
Justine Taylor-Raymond is senior program manager for education reform at the George W. Bush Institute.
Get stories like these delivered straight to your inbox. Sign up for The 74 Newsletter