The 11 Best Education Articles From September: Texas's Unrelenting Special Education Crisis, Empowering Teachers in Picking Textbooks, When Elite Schools Fail Students & More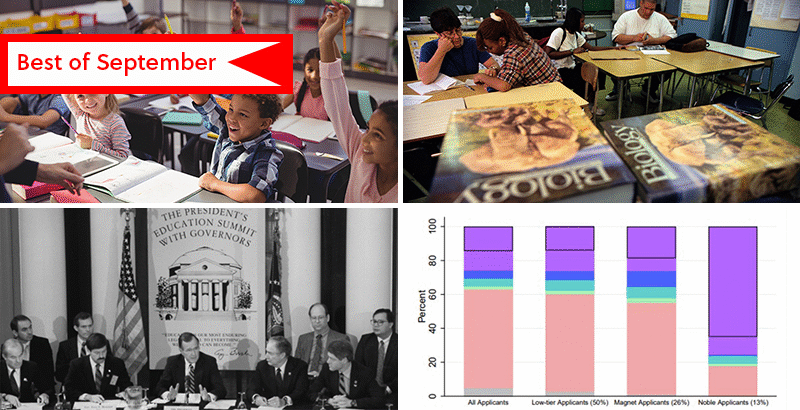 Every month, we round up our most popular and buzzed-about articles from the past four weeks. (Go deeper: See our top highlights from August, July and beyond right here)
It was a month of eye-opening investigations and surprising studies here at The 74, from Beth Hawkins's deep dive into Texas's special education crisis to Taylor Swaak's coverage of California's rethinking of school suspensions and a new study showing that elite schools may actually harm disadvantaged students more than they help. More details on the month's most buzzed-about stories below. (You can always get our top news and analysis delivered straight to your inbox by signing up for The 74 Newsletter)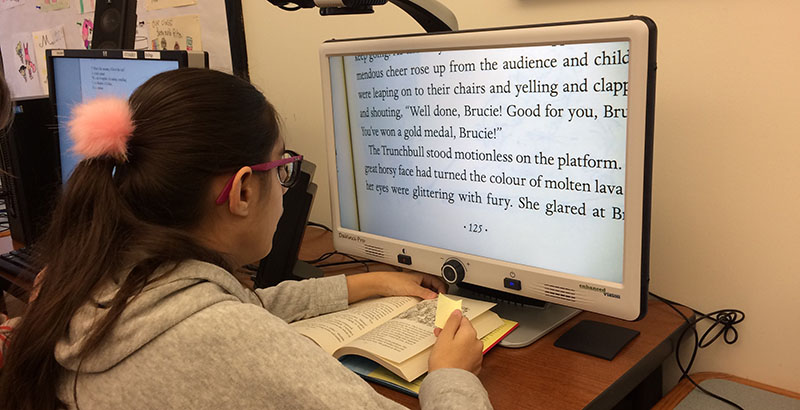 250,000 Kids. $277 Million in Fines. It's Been 3 Years Since Feds Ordered a Special Ed Reboot in Texas — Why Are Students Still Being Denied?
Special Education: Sophia Salehi is blind, until recently unable to navigate the hallways at school, let alone her neighborhood. Her parents tried for 11 years to get her Houston-area schools to provide the special education services she was entitled to. But not even a series of court victories convinced officials to budge. She now goes to school in Massachusetts. Jaivyn Mauldin reads in the 99th percentile, but his severe dysgraphia means he can't write. His Austin-area schools said he was too smart for special education and assigned him handwriting drills as discipline. His family moved to Oregon to get him help. Angela Smith was a special education evaluator in Dallas — who couldn't get her own son evaluated. When the U.S. Education Department confirmed a 2016 bombshell report by the Houston Chronicle, disability advocates and parents learned, to their shock, that Texas had secretly placed an illegal cap 12 years before on the number of children with disabilities who could get special education services in schools. An estimated 250,000 students were languishing, unable to get the help they were entitled to. Orders from Washington notwithstanding, today — three years after the nation's second-largest state pledged to reverse course — advocates say precious little has changed. And if Texas can get away with defying federal law, what's to stop other states from following suit? (Read the full investigation)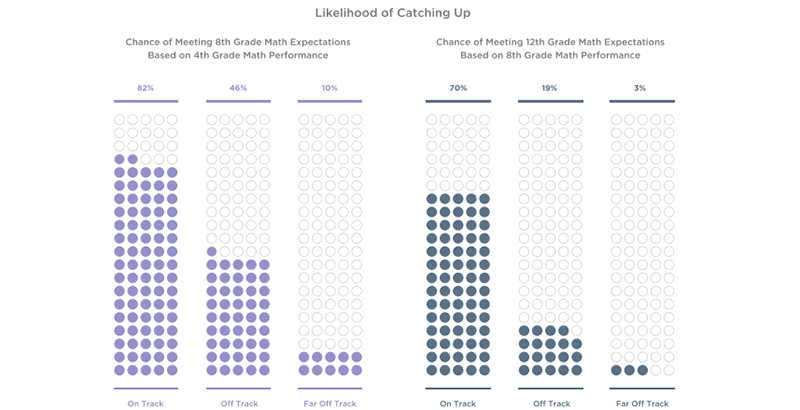 Do Kids Fall Behind in Math Because There Isn't Enough Grade-Level Material, or Because There's Too Much? It's Both
Analysis: Walk into almost any classroom, and you'll find at least some students who've fallen behind the academic standards for their grade. Helping these students get back on the path to grade-level proficiency is one of the most urgent challenges teachers face, but it's a challenge few schools have a real strategy to meet. Research from TNTP has found that students who start the year behind academically are the least likely to have grade-appropriate assignments, even when they are capable of succeeding on them, making it nearly impossible for them to ever catch up to their peers. But new research from New Classrooms Innovation Partners finds that an exclusive focus on grade-level material can hinder students' progress in math, especially when they have unfinished learning from prior years. So, ask contributors Joel Rose and Daniel Weisberg, which is it? Are kids being held back because of a lack of access to grade-level material, or because of an exclusive focus on grade-level material? Their answer: It's both. (Read the full analysis)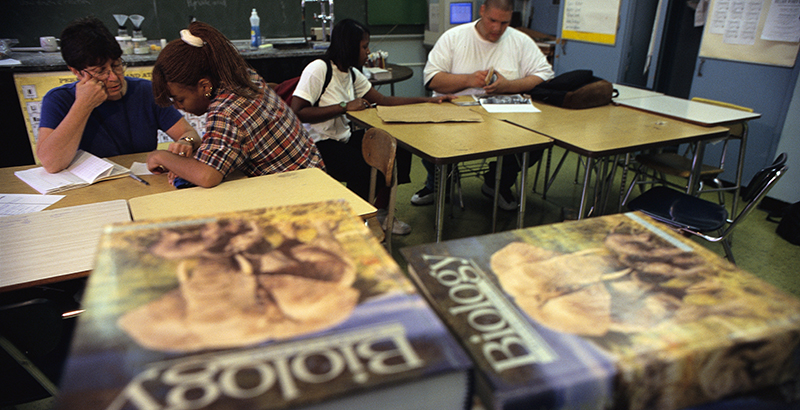 Textbook Adoption Was Once About 'Going to the Right Dinner' With Publishers. Now EdReports Is Disrupting the $8 Billion Industry by Putting Teachers in Charge
Curriculum: For years, textbook publishing companies wined and dined state and district administrators in order to influence which curricular materials they bought. In the absence of expert, independent reviews of their materials, these dinners were persuasive. Then came the Common Core standards and an increased focus on alignment (and the lack thereof) between standards and textbooks, and in 2014, the nonprofit EdReports launched with the goal of providing teacher-driven reviews of curricular materials and helping districts make informed decisions. Almost five years later, the organization is reshaping the $8 billion textbook industry. Brendan Lowe explains. (Read the full report)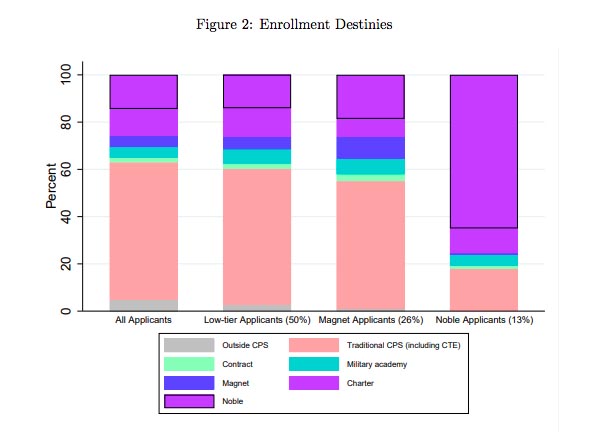 Elite Schools, Prized by Parents and Politicians Alike, May Actually Hurt Disadvantaged Students More Than They Help, New Research Shows
Big Picture: Especially strong students in major cities have always enjoyed a unique form of school choice: selective enrollment high schools (sometimes known as exam schools), elite public academies that admit applicants based on grades and test scores. Recently, reformers have harshly criticized selective high schools for enrolling comparatively few low-income and minority students, and a major effort is underway in New York City to diversify enrollment at storied institutions like Stuyvesant High School and Bronx High School of Science. But new studies from Chicago suggest that reserving slots at elite schools for disadvantaged students might hurt more than it helps. One even shows that the worst-off students at selective high schools are actually less likely to enroll in selective universities than their peers of similar socioeconomic status. (Read the full report)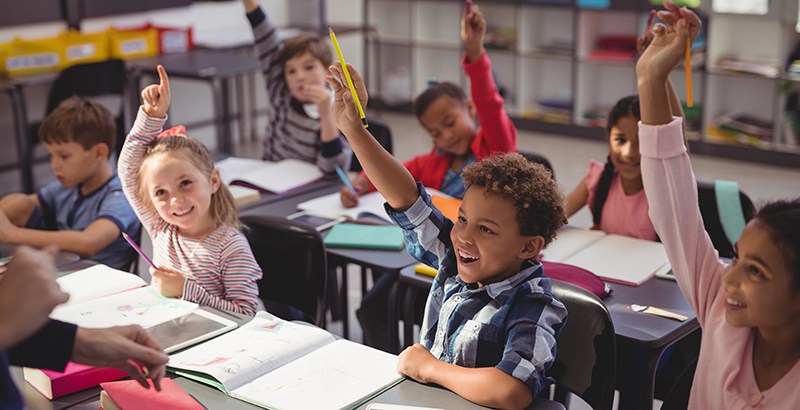 Equity Does Not Mean Everyone Gets Nothing: There's a Better Way to Address New York City's Gifted Gap
Keeping It 100: When contributor Colin Seale was in first grade, he got in trouble a lot. He would race through assignments at his neighborhood school in Brooklyn, get bored and then start fooling around with his classmates. This changed when he was identified for gifted and talented testing and enrolled at another school in a self-contained classroom of gifted students — all of them low-income children of color. He would go on to be one of the few black students at Bronx High School of Science. These experiences, Seale says, deepened his understanding that genius is distributed equally, but opportunity is not. Eliminating New York City's gifted and talented programs and replacing them with magnet schools and enrichment for all, he writes in this Keeping It 100 essay, is not the answer to addressing the inherent inequity of a system where 70 percent of students are black and Hispanic, yet 75 percent of students in gifted and talented programs are white and Asian. But expanding and improving access to gifted and talented programs could be, including developing talent as part of the city's universal pre-K program, implementing universal screening, and training all middle and high school teachers in gifted education strategies that go beyond offering advanced classes to high achievers. (Read the full essay)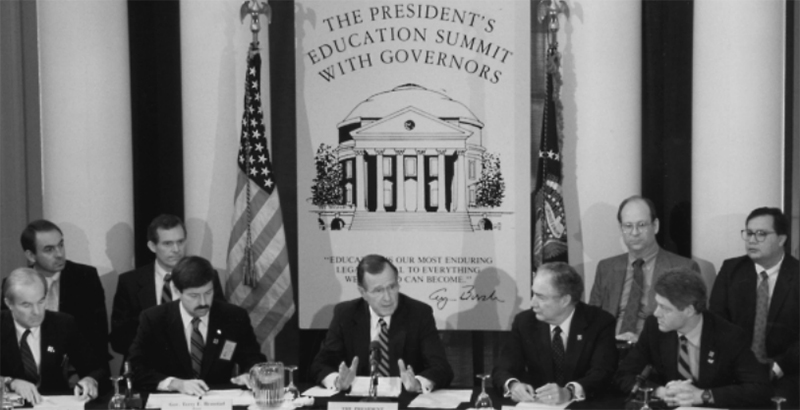 In 1989, 49 Governors Came Together at a Historic Summit to Reform Education. We Need the Same Type of Leadership Today
Anniversary: 30 years ago, 49 governors made education history. In 1989, in a rare and remarkable display of bipartisanship, 49 of the nation's 50 governors met to work on a single issue — education — marking only the third time in American history this has occurred. What happened at this event, known as the Charlottesville summit, would set the course for the next three decades of American education. Today, with a new generation of leaders striving to fulfill the promise of public education, we bring you eight exclusive Q&A's, moderated by Aspen Institute Education & Society Program Vice President Ross Wiener, with politicians, educators and equity advocates interpreting the legacy of the 1989 summit and framing a vision for policy that further advances educational excellence and equity. (Read the full introduction)
Some notable highlights from the conversation series:
—Former governor Jeb Bush: On creating aspirations and why our education system doesn't work for today's world (Read the full interview)
—Gov. Tony Evers: On the good and bad of testing and what equity really means (Read the full interview)
—Former D.C. Schools chancellor Kaya Henderson: On student-level accountability and why schools can't close the achievement gap alone (Read the full interview)
—Sen. Lamar Alexander: On leadership, the Every Student Succeeds Act and how politics is like kindergarten (Read the full interview)
—Go Deeper: Read our full series on the Charlottesville Education Summit, 30 Years Later
As California Expands Ban on 'Willful Defiance' Suspensions, Lessons From L.A. Schools, Which Barred Them Six Years Ago
Los Angeles: California recently voted to expand a ban on suspending students for defiant behavior from K-3 up through eighth grade. The new state law, adopted amid some controversy, offered a chance for the Los Angeles community to reflect on the outcomes of L.A. Unified School District's own ban, an even more extensive policy for K-12 that passed six years ago. While advocates tout that measure as a huge step forward in reforming school discipline — overall suspensions dropped more than fivefold between 2011-12 and 2017-18 alone, keeping far more kids in class — they acknowledged remaining shortcomings. A disproportionate number of marginalized students are still being suspended, for example, and the district continues to spend more on school police than restorative justice efforts. Taylor Swaak has the story. (Read the full report)
Who You Know — 3 Ways Schools Can Foster Competency-Based Education by Focusing on Student Relationships
Analysis: In her recent book, Who You Know, contributor Julia Freeland Fisher focuses on the transformative role that networks play in expanding opportunity. She argues that schools need to become far more intentional brokers of deep and diverse relationships for students, and she suggests that one of the best ways to build a more networked school is to pursue a competency-based model. Put simply, competency-based approaches don't just open up time, space and flexibility for learning, she writes; designed with the right intentions, they can do the same for connecting. As a result, competency-based systems can yield not merely richer academic outcomes but more robust networks as well. Here are three ways schools can foster competency-based education by focusing on student relationships. (Read the full analysis)
5 Things We Learned From New Federal Study: Massive Growth of Charters, No Difference in Student Performance From Traditional Schools
Study: A newly released federal report finds that the percentage of American students in traditional district schools dropped significantly between 1999 and 2016, as more students attended charter schools and engaged in homeschooling. But even as the number of students attending charter schools has risen rapidly, the report found no difference in achievement between those schools and traditional district options. The report, from the National Center for Education Statistics, also looked at parental satisfaction and achievement in different school options. Carolyn Phenicie breaks down five of the top findings. (Read the full summary)
A School Data Breakthrough in Dallas: How an Innovative School Model Is Proving That Data Can Help Teachers Shape Individualized Instruction — and Achieve Impressive Student Growth
Texas: Some critics contend that a robust focus on data takes time away from the fundamentals of education, such as teaching a child how to enjoy reading. But the Dallas Independent School District's ACE model shows that data-informed instruction need not be at war with the fundamentals. Instead, it helps to make sure that students and teachers receive the supports they need. And data-driven instruction can lead to greater student achievement. In every subject and every grade, students as a whole at Martin Luther King Jr. Learning Center, an ACE campus, made double-digit gains in the 2018-19 school year. (Read the full feature)
Today Show Hosts Take Over as Teachers at Newark's North Star Academy and Can't Quite Believe What They See
Newark: You can almost hear the morning show producers: "Wouldn't it be fun to send Savannah, Hoda, Al, Carson and Craig into an elementary school and turn them into teachers for a day for a Back to School segment?" Harder to say is whose idea it was to send them to Newark's North Star Academy, except that the hosts made it clear when they introduced the Sept. 12 segment that they were going to pay a visit to a school that had gone from struggling to one of the highest-achieving in the state. Turns out it was fun to watch Guthrie coach the debate team, Roker create clouds in a bottle in science class and Kotb lead an entire cafeteria in a "Today is going to be a great day!" chant. North Star's Alexander Street Elementary School is also a school where 74 contributor and author Richard Whitmire has spent some time, reporting on its singular transformation. In larger looks, Whitmire has chronicled the beating-the-odds track record of Uncommon Schools, the network that runs North Star, in getting its mostly low-income, minority students to and through college. Craig Melvin cited those college-going rates at the close of the segment as his co-hosts gushed about what they had seen. "I don't think I've ever been more impressed by walking into a school," said Carson Daly. (Watch the segment, and read more about the school)
Support The 74's year-end campaign. Make a tax-exempt donation now.