Today Show Hosts Take Over as Teachers at Newark's North Star Academy and Can't Quite Believe What They See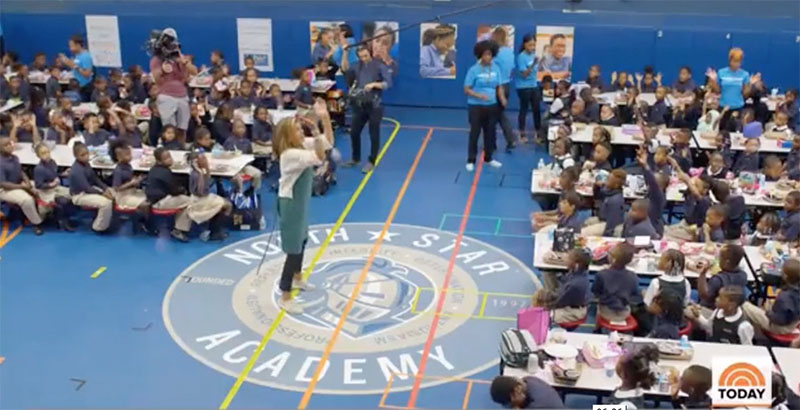 When the Today show hosts decided to be teachers for a day for this year's Back to School feature, they swept into the classrooms — and the playground and cafeteria — of a school that has seen a remarkable academic turnaround.
"A few years ago, it was one of the schools that was faltering. Many of the kids there were struggling to read, struggling to write," co-host Craig Melvin says, opening the Sept. 12 segment.
"That's right, but in 2014, it was taken over by the charter school network Uncommon Schools," Al Roker chimes in, "and today, North Star is one of the highest-performing schools in the entire state."
The school they visited — where Roker took over a science class, Melvin oversaw a gym class, Savannah Guthrie coached the debate team, Carson Daly led an orchestra and Hoda Kotb became the happiest lunch lady in America — was Newark's Alexander Street Elementary School.
The Today show stars and their crew and producers spent two and a half days in the school filming. Principal Na'Jee Carter said the kids didn't quite get the magnitude of the star power in their midst — although they were excited to have them as teachers — but the adults definitely knew Al Roker was in the hallway. What was most exciting, though, he said, was seeing Guthrie and the rest bring "so much great energy — they brought love and joy, and that's what our teachers bring every day."
"These famous TV hosts … got to see what we do every day and why we love it so much," Carter told The 74. "There was a moment when Savannah made a reference to "our kids," and that's how we feel. They're all our kids and we love them all."
The 74's Richard Whitmire has also spent some time in Alexander Street, first reporting on the school's transformation in 2016 and then returning in 2017 to delve deeper after Carter became principal.
Whitmire noted that Alexander Street had gone from having 28 percent of its students score proficient in math and 22 percent in English in 2014 to 80 percent scoring proficient in math and 77 percent in English in 2017 — way ahead of the statewide average and even better than New Jersey's affluent districts. By that point, Alexander Street was sharing its reading curriculum with district schools in Newark, and Uncommon Schools had decided to try its turnaround strategy at a failing school in nearby Camden.
Uncommon's North Star Academy encompasses 14 elementary, middle and high schools in Newark that are known for their high performance, strict behavior expectations and college-going culture. The Today show hosts came away a little amazed.
"I couldn't believe how they could take, like, a raucous room full of kids in the cafeteria and literally the principal walked in there and went like this — clap, clap — and you could have heard a pin drop," Kotb said. "I'd never seen anything like that before."
"I've got kids in school — and no knock on their schools — but I don't think I've ever been more impressed by walking into a school," Daly said.
Hearing those accolades on national TV reverberated throughout the school, Carter said.
"It was so rewarding for our teachers and our staff and everyone in our building — from the janitor to the nurse to the front office. They were all filled with so much pride and joy to hear them speak so highly of the work they do every single day," he said. "That moment was really special."
So was the moment when all the students and staff gathered in the cafeteria at lunchtime Thursday to watch the segment — they were in class when it aired. Carter said he wasn't prepared for how ecstatic the kids would be, screaming at the first mention of North Star, leaping out of their seats at the opening shot of the building and pretty much losing their minds at seeing themselves on the screen.
In closing the segment, Melvin touched on another aspect of Alexander Street and the Uncommon network.
"We should also point out that, by the way, that school has one of the highest college graduation rates of any school out there," he said. "They pride themselves on getting kids — largely low-income — to college."
Julie Jackson became president of the Uncommon network, which runs 54 schools in three states, in July after overseeing their K-8 schools for four years.
"We loved seeing the Today hosts celebrating what they saw at our school, and especially calling out our students' college graduation success," Jackson said in an email. "The college graduation rate for students in the lowest income quartile is only 13 percent, compared to 54 percent for Uncommon's alums. It's great to have a national television program honor that. Students from low-income neighborhoods can and deserve to succeed in college. It is vital to our nation's future."
In his book published earlier this year, The B.A. Breakthrough: How Ending Diplomas Disparities Can Change the Face of America, Whitmire reports extensively on Uncommon's success in getting its low-income students of color to and through college.
"At Uncommon Schools, the software program that tracks the progress of their alumni through college predicts that within six years, 70 percent of Uncommon graduates will likely earn a bachelor's degree," Whitmire writes. "That exceeds by several points the national college graduation rate for well-off students."
Support The 74's year-end campaign. Make a tax-exempt donation now.