Charlottesville Summit, 30 Years Later: Jeb Bush on the Governors' Gathering That Changed Education, Creating Aspirations & Why the System Doesn't Work for Today's World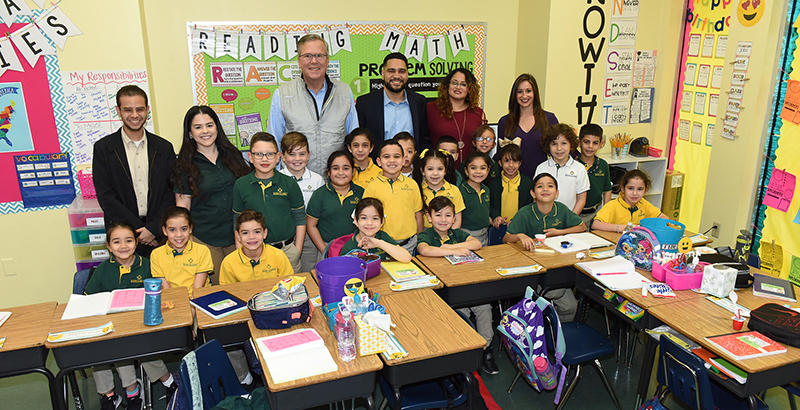 To commemorate the 1989 Education Summit in Charlottesville, Virginia, that convened 49 of the nation's 50 governors to discuss a single policy issue — the education of America's children — the Aspen Institute's Education & Society Program is partnering with The 74 to produce a series of Q&A's with distinguished leaders across politics, education and advocacy to reflect on the legacy of the summit and what lies ahead for public education. The interviews were conducted over the telephone, transcribed and edited for clarity and length. Participants were asked some of the same questions but also queried specifically about their careers and backgrounds. These leaders share their thoughts on why the summit was a groundbreaking event, the strengths and shortcomings of education policy, and what is required for propelling further gains for students. You can see all the interviews here.
Jeb Bush, who served as governor of Florida from 1999 to 2007, is one of education reform's most passionate and aggressive advocates. His interest is natural, given the Bush family's prominence in education leadership. As president, his father, George H.W. Bush, convened the 1989 Education Summit and set forth the America 2000 strategy outlining six ambitious national goals for raise student achievement. His brother George W. Bush championed education reform as governor of Texas and signed the No Child Left Behind law when he was president, expanding the federal government's role in holding schools accountable for student success.
When Jeb Bush began his tenure as Florida governor, nearly half of the state's fourth-graders read well below grade level. Twenty years later, in part due to the A+ Plan for Education he introduced, Florida's fourth-graders are now ranked fifth in the nation for reading achievement.
Bush looks back at the legacy of his father's summit, why he's become "radicalized" by what he sees as the irrelevance of the American educational system and his belief that bipartisanship is not a relic of the past.
What are the greatest accomplishments that arose from the 1989 Education Summit?
I'd say two principal things from the policy perspective. The accountability movement, which has waned a bit, in my mind, in the last few years, was spawned by the summit. There was a bipartisan consensus that it was important to do. States embraced that in different ways. No Child Left Behind took it to a new level in terms of accountability. The data shows that when fully implemented, there was a significant improvement in learning, in reading and math, particularly for low-income kids. That's a meaningful legacy, for sure.
The second one was that it's a lesson in civility and bipartisanship. Not so much in the states, but in Washington: when people agree they can't agree. It's reached a point of ridiculousness. Here's an example of 49 governors and a president reaching consensus on what the goals should be and continuing to work on it. It'd be nice to see that happen once in a while in Washington.
How did the framework of standards-based reform influence your leadership as governor of Florida? What were the most important things that you saw as the governor's role or the state's role in improving education?
First of all, it's policies driven by the states. It's never been otherwise. Clearly, Washington's role ebbs and flows, but it's always been secondary.
The idea of standards-based reform — not necessarily national standards, but high standards that are assessed faithfully where there's a consequence that's different between failure, mediocrity, improvement and excellence — there weren't many states to emulate in 1998 when I ran.
We took the work that Jim Hunt did in North Carolina and my brother did in Texas. I proposed the A+ Plan in 1998 as a candidate and then implemented it in 1999.
The ideas that were discussed in Charlottesville, states took different approaches. But the ones that I think pushed the envelope the most were North Carolina, led by a Democrat, and Texas, led by a Republican. We took it and put it on steroids, but the ideas of how to put standards and accountability into policy were modeled after Texas and North Carolina.
What are the negative lessons that you've taken away, or are there unintended consequences that we can see more clearly in hindsight?
Again, the Charlottesville initiative created a national awareness, similar to A Nation at Risk. It created aspirations for raising student achievement and focused on the achievement gap that continues to persist. I think it's important that policy is state-driven, implemented locally and empowered by parents. But it's a national priority — that doesn't mean the federal government has to have an overarching role in this. I think the Charlottesville experience was important because it heightened the awareness of the need for education improvement, and the only way to do that is to reform.
I think the lesson learned is you've got to create an aspiration. It's got to be a high priority. That's the positive. I don't see much negative in creating goals. I'd say as it relates to accountability, and standards, and testing, and all that, there's lessons learned, for sure. Tests need to be diagnostic as much as accountability tools. Parents need to be aware of where their child stands, in terms of how they're doing. The tests should be easy to understand. There ought to be feedback given to the next year's teacher. You shouldn't have to test to prepare for the test.
---
"I think the system we have is inappropriate for the world we live in. It's not yielding lifelong learners. The idea that we have silos of pre-K, K-12, community college, university, to me, it's increasingly irrelevant. We should turn the system on its head and make it student-centered."
---
This whole idea of teaching to the test and all the drills, there's no evidence that that actually improves results. But that seems to be what many school districts have implemented. I would argue we should probably limit that by state policy changes. Testing ought to be something that is a really useful tool for a parent over the summertime to say, "Here's where my child has deficiencies. Here's how I can help." They ought to be empowered with that information, given tools to continue to be the first teacher of their child. The next year's teacher ought to have this information as well. There are very few places where that exists today. I think the lesson is that you have to embed it, make it more relevant for improvement, rather than just measuring where a child is at a particular time.
If we could convene a similar summit today, what are the issues that need the most attention to propel gains in the next 30 years?
I've become a little more radicalized about this. I think the system we have is inappropriate for the world we live in. It's not yielding lifelong learners. The idea that we have silos of pre-K, K-12, community college, university, to me, it's increasingly irrelevant. We should turn the system on its head and make it student-centered. If I was convening a group of 50 governors, I would ask, "How do we get to a point where every child reaches their God-given abilities," rather than "How do we increase the graduation rate?"
We've had big gains in graduation. I'm not critical of it, but the reality is that most students graduating from high school are not career-ready. They haven't earned a certificate that they could have easily earned if we changed the system that gave the world a signal that this person was capable of an entry-level job that would lead to a meaningful wage. They're not college-ready, either. We lower the standards for graduation. We lower the standards for entering college.
The result of this is, a full-time student is 12 credit hours rather than 15. We measure four-year degree completions in six years. This is the world of reacting to a governance model that is no longer relevant. I think we should stop organizing ourselves the way we did in 1950 and maybe try a different approach that is focused on lifelong learning, making learning relevant, making sure that children are not just socially promoted year after year and making sure that kids could learn faster and learn more meaningful things, given the access to do it.
If 25 percent of all juniors in high school are capable of taking college-level work and only 2 percent do, why? Why do we do that? Why do we allow that to happen? If a third of our kids are truly college- and/or career-ready, why do we accept that?
I think we need to have a bigger conversation about governance today, because I think the system we have today, 13,000 politicized and unionized government-run school districts, is probably not the best governance model.
A handful of Southern governors from both parties forged the path that the 1989 Education Summit coalesced around. Which states are now the trendsetters?

Florida is definitely one. Utah does a lot of innovation. Colorado under [Gov. John] Hickenlooper was pretty forward-leaning in connecting schools to industry credentials. Massachusetts has the highest standards and has maintained them, which is pretty important. Mississippi is now showing significant improvement in learning gains because they've begun to transform their system. I'd say Tennessee's a great example under Gov. [Bill] Haslam, as it relates to teacher preparation.
But there's not one place that you could look at and say, "Wow, this is what the world's going to look like in 2029."
It makes me wonder whether after these three decades of increasingly proactive and prescriptive federal leadership, what it's going to take to have really visionary state leadership around improvement come forward.
The leaders have to be passionate about it. If you have a big idea in education and you want to implement it, there's a lot of ways for people to oppose it and there's a lot of misinformation.
If you're a governor who wants to transform your education system, you've got to be all in. You have to be willing to lose your election. It has to be your highest priority, because the system won't change. Monopolies don't go quietly into the night. They just don't go away saying, "OK, I think you're right. Maybe we ought to move to a different system." That's not how they operate. You have to use whatever political power you have and have the dogged determination to implement something that's going to take more than a year. It's going to take more than one election cycle.
The lesson in Florida is that we've had governors who have embraced the reform agenda and legislatures that have done the same, with stops and starts. It's certainly not perfect.
There's a climate for reform, but reform is not transformation. It'd be great to have a president that could redirect resources from Washington to advance the reforms, rather than just have all these silos that people get in line to get money from without much meaning behind it.
We're living in a very polarized time, and that politicization has entered education policy debates. What is your advice to governors about how to rekindle the bipartisan spirit of the summit within education policy?
I think there is more bipartisanship, if you will, in the state capitals, depending on the makeup of the legislatures and who the governor is. One of the things that requires some consensus-oriented political activity is the requirement of a balanced budget. You can't leave without doing that one thing every year. That forces the conversation toward compromise and building consensus.
The forces that push people apart in Washington don't seem as strong at the state level. There are rewards for getting things done at the state level, whereas in Washington, temporarily at least, it doesn't appear like that's really relevant. It's more how you push back against someone else who disagrees with you where you're rewarded.
I'm more optimistic about what's going on in the state capitals. If you look at the approval ratings of governors, they're rewarded. [Maryland] Gov. [Larry] Hogan is rewarded for acting with civility, and trying to forge consensus, and working in a bipartisan way. Gov. [Charlie] Baker in Massachusetts is lights-out popular. They're doing this in states where their party isn't in power in the legislature.
I'm not sure how Washington changes, but it requires the kind of leadership where you're as inclusive as possible. You don't personalize everything. You don't demonize people who disagree with you. It might be they're just wrong, but that doesn't mean they're bad people. That attitude right now is not in vogue in Washington, and it's dangerous for our democracy. But outside Washington, it's not nearly as bad.
Ross Wiener is vice president and executive director of the Aspen Institute's Education and Society Program.
Support The 74's year-end campaign. Make a tax-exempt donation now.