Analysis: In 1989, 49 Governors Came Together at a Historic Summit to Reform Education. We Need the Same Type of Leadership Today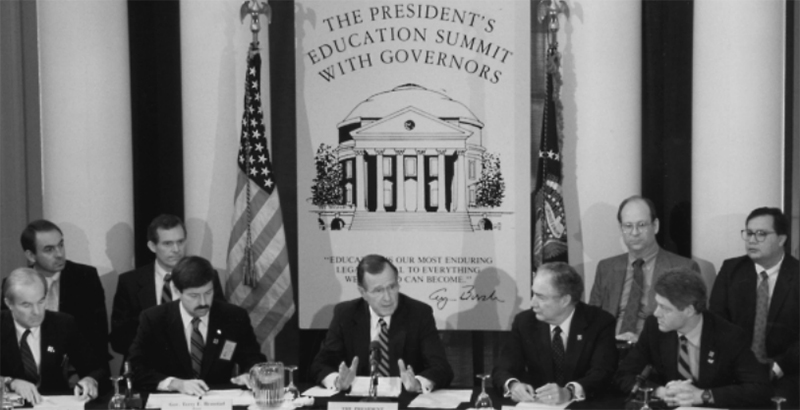 Thirty years ago, in a rare and remarkable display of bipartisanship, 49 of the nation's 50 governors met to work on a single issue, marking only the third time in American history this has occurred. What happened at this event would set the course for the next three decades of American education.
As a new generation of leaders strives to fulfill the promise of public education, we would be wise to celebrate successes and learn lessons from this history. To this end, the Aspen Institute Education & Society Program has engaged politicians, educators and equity advocates to interpret the legacy of the 1989 summit and to frame a future vision for state policy that advances educational excellence and equity. All Americans are involved in what comes next, and we hope you will build on these reflections to share your own ideas.
The 1989 Education Summit, held in Charlottesville, Virginia, was ground zero for standards-based reform. The summit was, in part, formed as a response to A Nation at Risk, the watershed 1983 report that warned that American education was lagging behind international peers and imperiling the nation's economic security. Hosted by then-President George H.W. Bush and by Bill Clinton, governor of Arkansas and chair of the National Governors Association, the September 27-28 gathering at the University of Virginia sought to provoke concerted action on education standards. The leaders assembled there dared to insist that the nation needed measurable goals and accountability, but they placed responsibility for this system squarely in the hands of state leaders.
High stakes meant high ambitions.
The goals of the Charlottesville summit were intentionally lofty — too lofty, some critics contend — but it was these big goals set by state leaders that enabled many students of color to no longer be condemned to the dungeons of low expectations where for too long the floor was the ceiling.
Today, many more students acquire fundamental numeracy and literacy skills than they used to. In 1992, more than two-thirds of black fourth-graders scored at or below basic in reading on the National Assessment of Educational Progress, and 78 percent of black eighth-graders scored below basic in math. In 2017, these figures had been reduced to 49 percent of fourth-graders and 53 percent of eighth-graders. Latino students made similar progress, decreasing the proportion scoring below basic dramatically over this time period. High school graduation rates are higher than ever, in every part of the country and for every group of students.
These achievements underscore that when political leaders commit to action in American education, real progress occurs. The clarity and focus created by standards-based reform supported teachers, principals and students to achieve more than was once thought possible.
While these achievements are real, persistent inequities squander precious human potential. There are missteps from which to learn and much left to be done. Aspirations for student achievement are now intertwined with vital questions of identity, access and civic discourse that were not in the room three decades ago. The gains public schools have made can serve as a foundation for even more progress, but doing better necessitates more state leadership.
The anniversary of the 1989 Education Summit arrives at an opportune juncture: State leadership in education policy is ascendant in a way it has not been in recent memory. States primarily led the push for standards through the 1980s and 1990s, but federal influence increased dramatically through No Child Left Behind and Race to the Top. With the Every Student Succeeds Act of 2015, there was a political consensus to empower state and local leadership while maintaining the infrastructure of standards-based reform: annual testing of all students in reading and math, public reporting of disaggregated results and accountability systems. States have more latitude now, and there are fewer mechanisms for the federal government to dictate specific courses of action.
Given that shift, and the disengagement in education policy by the current administration, states will set the course for the future of public education. The landscape looks very different than it did in 1989: Students of color now comprise the majority of public school students, and most public school students receive free or reduced-price meals because of low family income. Many students experience adverse conditions and trauma outside of school; across income levels, students are reporting heightened levels of anxiety, depression and suicidal thoughts. There has been an explosion in brain science and research on how learning happens, leading to new attention paid to social and emotional development and whole-child approaches. There has been a major shift in school governance with the advent of charters and school choice.
To seize this opportunity, state leaders must learn from the past and define the future. We at Aspen Education have asked an eminent group of educational and political leaders — Lamar Alexander, Jeb Bush, Tony Evers, Kaya Henderson, Jim Hunt, Janice Jackson, Janet Murguía and Brittany Packnett — to share their perspectives: What are the greatest accomplishments of standards-based reform? What are the lessons of the past 30 years? What are the dynamics that warrant the most attention to fuel even more progress in the years to come? (You can search and share all eight interviews right here)
We began with leaders who, by virtue of working across politics, advocacy, legislation and civil rights, on top of education, have a vast expanse of knowledge that few can match. We hope you take as much away from their insights as we did. And we recognize that many others have valuable perspectives on what should come next. We encourage everyone to join this conversation with all the urgency and importance assigned to it in 1989.
The 1989 summit prompted politicians to check their partisanship at the door to work toward a common purpose of doing right by children across the nation. We are living in a time when Americans are suffering for leadership that inspires people instead of exacerbating their divisions. In education, this leadership is going to come from the state leaders who must forge a new education compact. To do so, they would do well to look at two days in September, 30 years ago, when such leadership was on full display.
Ross Wiener is vice president at the Aspen Institute and executive director of its Education & Society Program. Previously, he was vice president for program and policy at the Education Trust and a trial attorney in the U.S. Department of Justice, Civil Rights Division, Educational Opportunities Section.
Get stories like these delivered straight to your inbox. Sign up for The 74 Newsletter