The 10 Best Education Articles from November: Fears Over Disengaged Students Dropping Out, 48 Election Night Verdicts That May Reshape Education, 455 Times DeVos Has Been Sued & More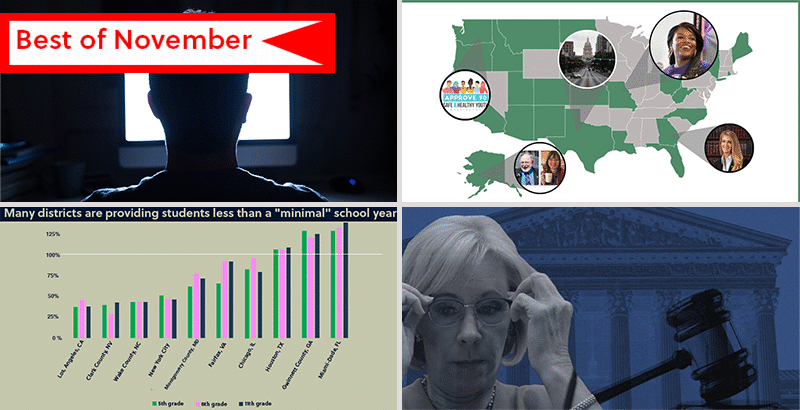 Every month, we round up our most popular and shared articles from the past four weeks. (Go deeper: See our top highlights from October, September, August and beyond right here)
It was an unprecedented Election Day to match this unprecedented school year. Our coverage in November centered around 48 key candidates, votes and ballot propositions across the country that could reshape education policy and the complications surrounding remote learning which is now becoming even more pervasive as campuses close once again due to skyrocketing coronavirus numbers.
Beyond the pandemic, we also took stock of Betsy DeVos's tenure as education secretary, surveyed the latest 12th-grade results on the nation's report card and continued our tracking of school discipline reform in Minnesota, where the promise to break ties with local police departments has created a whole new host of problems regarding who should be hired to protest classrooms and the consequences of using technology to better surveil students COVID closures.
Here are our 10 most-shared articles from November; follow our ongoing coverage of the pandemic, school reopenings and concerns about student learning loss at The74Million.org/PANDEMIC. (You can also get alerts about our latest exclusives and analysis by signing up for The 74 Newsletter)

DeVos on the Docket: With 455 Lawsuits Against Her Department and Counting, Education Secretary is Left to Defend Much of Her Agenda in Court
Education Department: No education secretary has ever been sued as much as Betsy DeVos. In four years, over 455 lawsuits have been filed against either DeVos or the U.S. Department of Education, according to The 74's analysis of court filings and opinions. Many of the cases, involving multiple states and advocacy organizations, were filed in response to Trump administration moves to reverse Obama-era rules in the areas of civil rights and protections for student loan borrowers. DeVos has always been outspoken about lightening Washington's footprint in education. But in her department's effort to grab what one education attorney called "quick political wins," judges — even Trump appointees — are finding flaws in its approach. One exception might be the revised Title IX policy, which has already sparked four lawsuits, but might be hard for a future administration to tear down. Linda Jacobson has the story.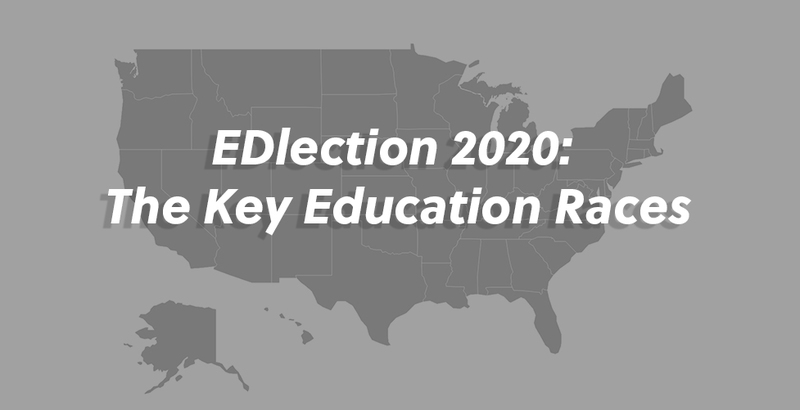 A 2020 EDlection Cheat Sheet: Recapping the 48 Key Races, Winners and Campaign Issues That Could Reshape America's Schools and Education Policy
EDlection 2020: A first-ever ballot proposition on sex education in Washington state that critics decried as "school porn" but voters approved. A school board election in New Orleans, in part a referendum on closing failing schools, that remains largely undecided. A victory by former Colorado Gov. John Hickenlooper, whose education background runs deep and who is one of the few Democrats to unseat a GOP incumbent for U.S. Senate. While a historic presidential race — and a test of our democracy — fixated the nation, education was on the ballot this unprecedented election cycle. Elected officials, particularly at the state level, will play a pivotal role in steering schools through the public health and economic crises of the pandemic. That's why we've curated 48 federal, state and local races with key implications for students, teachers and families. Here's the full rundown of the 2020 votes that mattered most to education, plus a full archive of our Election Week livechat, which included rolling updates on candidates, votes and the national conversation.
Some notable highlights from the 2020 EDlection map: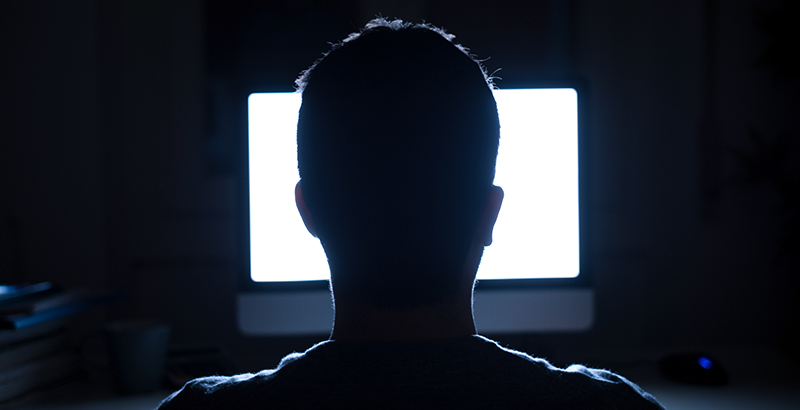 'Don't Get Gaggled': Minneapolis School District Spends Big on Student Surveillance Tool, Raising Ire After Terminating Its Police Contract
School Safety: After George Floyd died at the hands of a Minneapolis officer in May, the school district cut ties with the city police department and launched reforms that officials said would build trust between adults and students. But since COVID-19 closed schools in March in favor of online classes, the district has shelled out more than $355,000 for a digital surveillance tool called Gaggle, according to contracts obtained by The 74. The platform, used in hundreds of districts across the U.S., relies on artificial intelligence and a team of moderators to scan student emails, chat messages, files and Google Classroom tools for references to sex, drugs, self-harm, depression and violence. The company says its tool is crucial for protecting students, but civil rights groups are worried, and in Minneapolis, the revelation was met with backlash. "My concern was that they would replace physical policing with technological policing, which appears to be something like Gaggle," said local activist Marika Pfefferkorn. The tool, she said, "has the potential to further criminalize students." Read more from The 74's Mark Keierleber.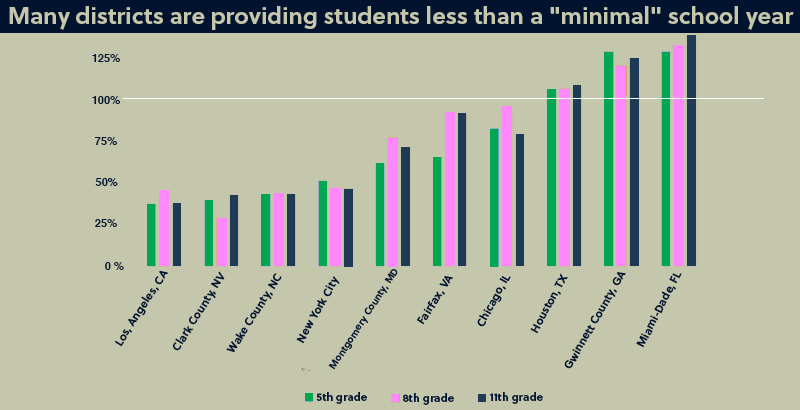 Aldeman: How Much Learning Time Are Students Getting? In 7 Large School Districts, Less Than Normal — and in 3, They're Getting More
Instruction: Back in August, contributor Chad Aldeman calculated that the remote learning schedule for his local public school district of Fairfax, Virginia, was offering less than half of a typical school year to his first-grade son. This trend is not unique to Fairfax: The majority of American students are experiencing either a partial school day or week, or fully virtual classes. While Aldeman doesn't question the logic of district decisions in this regard, he wondered — collectively, how much learning time will these policies cost students? To find out, he compared the number of hours of live instruction planned this year for 5th-, 8th- and 11th-graders in 10 large districts with their state's requirement for the amount of school time students should normally receive. Seven of the 10 — Los Angeles; Clark County, Nevada; Wake County, North Carolina; New York City; Montgomery Country, Maryland; Fairfax; and Chicago — are planning to deliver far less instructional time to students than normal. But Houston; Gwinnett County, Georgia; and Miami-Dade, Florida, are on track to surpass the minimal state requirements for instructional hours. Read his full report.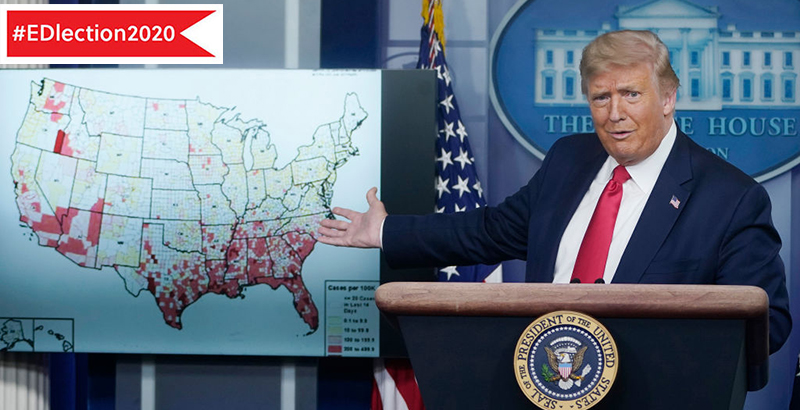 Politics, Not Science, is Driving School Reopening Decisions to a 'Really Dangerous' Degree, Research Suggests
Big Picture: The 2020 school year has exposed a national divide in America's coronavirus response: Even as some districts have long since welcomed students back to physical classrooms, millions of their classmates are still receiving their education through a screen. Now, a growing number of academic and independent researchers are pointing to the influence of politics in determining which districts have reopened for in-person instruction. Across several analyses, experts have found little or no correlation between the severity of COVID-19 spread and districts' plans for reopening; in contrast, reopening decisions are shown to be strongly associated with partisan considerations, including the strength of local teachers unions and support for President Donald Trump in the 2016 election. According to Jon Valant, a senior fellow at the Brookings Institution's Brown Center on Education Policy, while the question hasn't been settled, the influx of new evidence is "strongly suggestive" that political calculations are weighing heavily on the minds of school authorities: "There's a long list of issues associated with COVID that should not be politicized, but have been politicized, and it feels as though school reopenings are on that list." Read Kevin Mahnken's full report.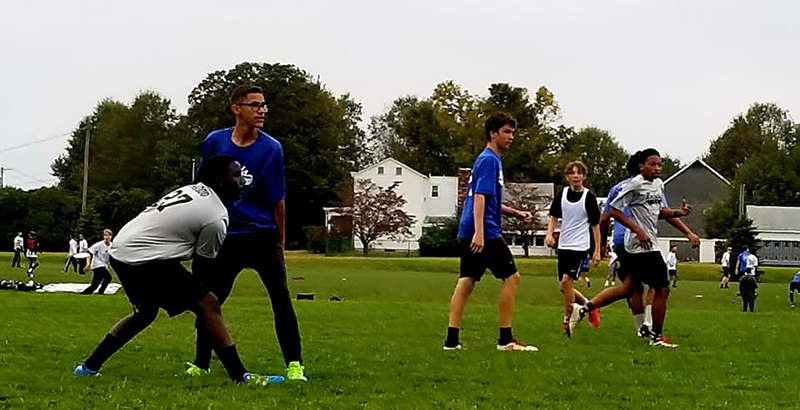 Sign on, Zoom in, Drop Out: Pandemic Sparks Fears That Without Sports and Other Activities, Students Will Disengage from School
Student Engagement: With millions of students attending virtual school this fall, many educators have focused closely on learning loss, the so-called COVID slide. But as the shutdowns have lingered, attention has turned to the loss of engagement that makes students interested in staying in school long enough to learn. That's why postponing, minimizing or canceling school sports, along with activities like drama, band and debate, is ringing alarm bells for educators nationwide, who know that these activities serve a vital, unspoken purpose: They keep kids interested in school and reduce their risk of dropping out or falling behind. Johns Hopkins University education researcher Robert Balfanz, who has studied high school dropouts for decades, said literature on the topic is clear: Having a handful of adults and peers in a school who know and care about a student is key to graduating. "It's in drama, debate and the football team," he said. "It's doing something that you think is bigger than yourself." Read Greg Toppo's full report.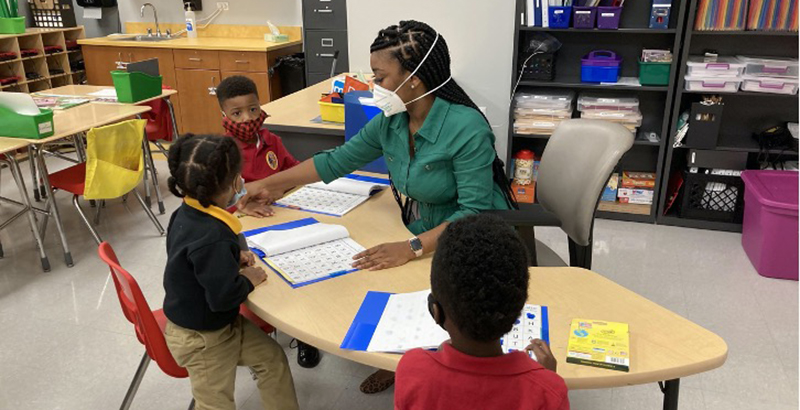 How New Orleans Schools Are Making Up Special Education Losses From the Spring Pandemic Shutdown — and Why the Process Could Improve Distance Learning This Fall
Special Education: Even in normal times, families of children with disabilities must often fight to get the special education services they are entitled to. During distance learning, those services have disappeared at many schools, leaving desperate parents without solid plans to stanch learning losses. But a number of New Orleans schools offer a hopeful model. Prodded by Louisiana education officials not to wait to begin making up for missed therapies and interventions special education students depend on, over the summer many began providing what special educators call compensatory services. Advocates credit the state's push for helping teachers and principals take stock of what has and hasn't worked for children with disabilities, both in brick-and-mortar schools and in remote learning. "It made schools really think through their re-entry," a community leader who reviewed schools' reopening special education plans tells Beth Hawkins. "We have to reimagine instruction, because when we didn't do it before, we saw what happened." Read the full report.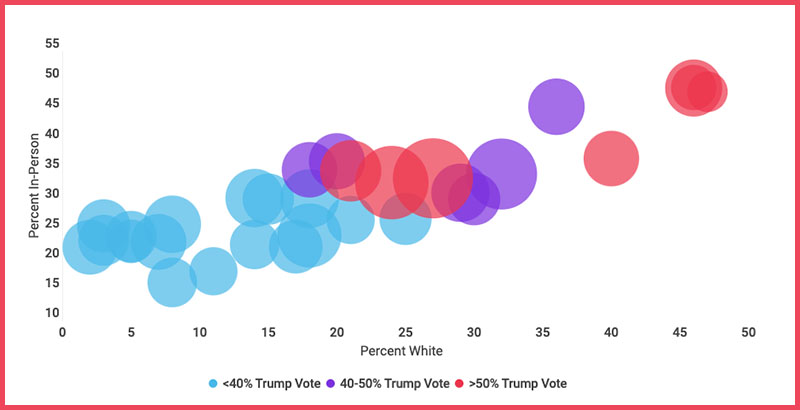 Educators Wanted Vulnerable Students To Return First for In-Person Learning, But a Racial Divide Spoiled Their Plans
COVID-19: White families are ready to get back to normal — and they are pressuring superintendents to let their children back into school buildings. Meanwhile, Black and Latino families, many of whom are in the high-needs categories that school districts prioritized in their reopening plans, are holding back. The realities of COVID-19 in their communities, with higher death rates and harder economic hits, are making them wary of trusting school officials to keep kids safe. "The assumptions we made about who would choose to return," Northside ISD Superintendent Brian Woods said, "have not largely proven correct." Read Bekah McNeel's full report.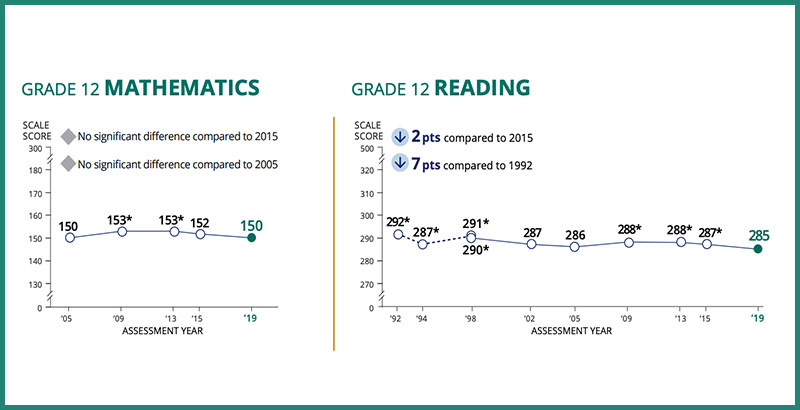 Twelfth-Grade NAEP Scores Offer More Bad News for Reading, Stagnation in Math
Nation's Report Card: Recent results from the National Assessment of Educational Progress have shown stagnation or decline in multiple age and subject groups, and last week's release of 12th-grade scores is no different. The exam, often referred to as the Nation's Report Card, shows a two-point drop in average reading scores for high school seniors since 2015, echoing similar declines for fourth- and eighth-graders in 2019. Average math scores were not significantly changed from the last round of testing, but lower-performing students — those at the 10th and 25th percentiles — saw statistically significant reductions in both subjects. The slumping performance from lower-scoring kids carried over an ominous trend from previous NAEP releases, which Peggy Carr, an associate commissioner at the National Center on Education Statistics, called "a troubling indication that too many students are falling behind." Kevin Mahnken reports.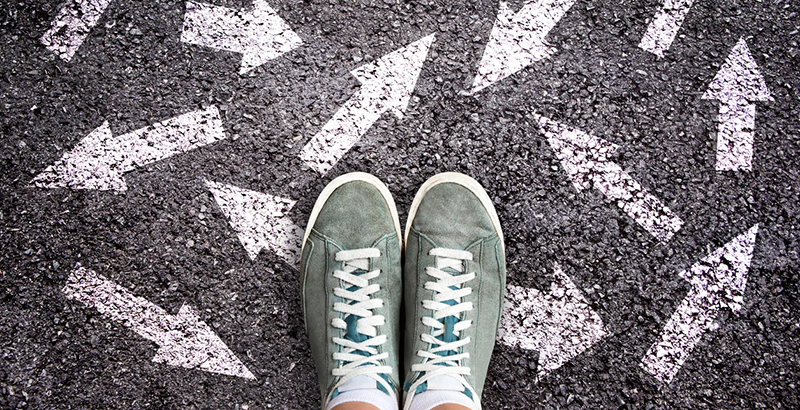 7 Ways American Education Could Change Forever After COVID
Analysis: A Nation at Risk, President Ronald Reagan's 1983 blue-ribbon panel's review of American public education, is frequently referenced as the benchmark and starting flag of the reform movement. But in a new essay today, contributor John M. McLaughlin argues that its 37-year reign as the reference point for educational progress is over. The pandemic, he writes, has now taken the pole position: "It will be the new reference point for the evolution of public schooling, and changes as a result of COVID-19 will be more rapid and far-reaching than any measures of the past 37 years." From fiscal restructuring to reconfigured school days, millions of new homeschoolers and a renewed push for both individualized instruction and parental choice, McLaughlin says there is no going back to a pre-COVID world for public education — and that while the coming evolution will be messy and varied, the results will be a wider array of options for families and education structures that better reflect the society they serve. Read more about the seven ways education could change forever.

Support The 74's year-end campaign. Make a tax-exempt donation now.