Personalized Learning. Budget Cuts. Grizzly Bear Protests? 5 Things to Know for DeVos's Wyoming Visit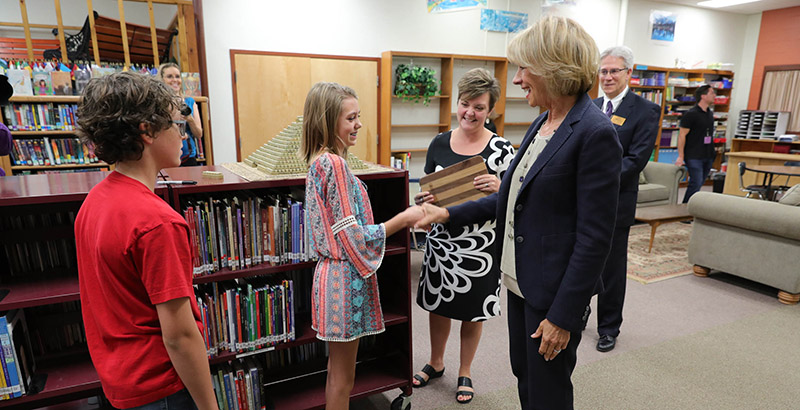 Kicking off a weeklong "Rethink School" road trip Tuesday, Education Secretary Betsy DeVos is scheduled to make an appearance in Wyoming, America's least populous state, in a tour that's billed as a way for the secretary to "showcase creative ways" in which school leaders are "truly rethinking education."
Cue the grizzly bears.
Although DeVos is best known as an advocate for and financial backer of education reforms like vouchers and charters, school choice options are far scarcer in Wyoming than they are in cities like, say, Chicago or Los Angeles. In fact, her all-in support for vouchers and charter schools became a sticking point during her January confirmation hearing before Congress. Sen. Lisa Murkowski, Republican of Alaska, noted that school choice alternatives are simply not an option in many of her state's rural communities. Expanding alternatives, Murkowski said, should not come at the expense of traditional public schools.
This narrative — that urban education reforms aren't so easily replicated in places like Wyoming's vast Powder River Basin — could be the motivation behind DeVos's visit Tuesday to the Woods Learning Center in Casper and St. Stephens Indian High School on the Wind River Reservation near Riverton.
"It is our goal to highlight what's working," DeVos said in the news release. "We want to encourage local education leaders to continue to be creative, to empower parents with options, and to expand student-centered education opportunities."
Here are five big issues that could come up during the DeVos visit:
Personalized learning
It appears personalized learning will be central to DeVos's visit to the Woods Learning Center. Operated by the Natrona County public school system, Woods doesn't have a principal, and teachers don't give letter grades, according to its website. The curriculum "emphasizes the skills of the 21st century," including critical thinking, communication, collaboration, and creativity, while all students take French and instrumental music.
Founded by a Jesuit priest from New York, the St. Stephens Indian School blends academics with pride and respect for Native culture and heritage, according to its website. It receives funding from the Bureau of Indian Affairs and support from the Bureau of Indian Education.
Budget woes
Struggling to find Wyoming on a map? Here, let Education Week help: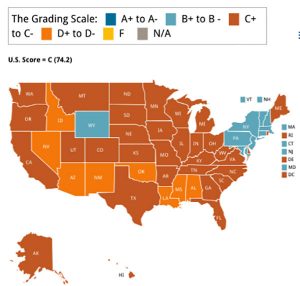 See that big blue square? That's Wyoming. In Ed Week's latest annual rating — which takes into account school finances, chances for student success, and academic achievement — Wyoming finished seventh among the 50 states and the District of Columbia. Driving that high ranking is the state's school finance structure: Wyoming spends about $16,000 per pupil on K-12 education, according to U.S. Census Bureau figures, exceeding the national average by nearly $5,000 per student.
But the state's education funding system — which has benefited for years from taxes on natural resources extraction — is now in crisis. In March, state lawmakers agreed to cut more than $34 million from public schools, and new woes could be on the way. Over the next two years, Wyoming schools face a funding deficit that could exceed $500 million.
A poll released in August by the Wyoming Education Association, the state teachers union, found an overwhelming majority of residents are willing to pay more in taxes to better fund schools. Among Wyoming voters who participated in the poll, 78 percent said they would pay higher taxes if those funds were given to K-12 schools. Four in five voters said state lawmakers should not further cut the K-12 schools budget, despite the tough financial situation.
School choice
In many of Wyoming's rural towns, public schools serve as a hub for the community. There are also few educational alternatives, because multiple school options are simply unsustainable.
Though Wyoming law has allowed local districts to authorize charter schools since 1995, just five charter schools are currently open in the state: Arapahoe Charter School, Snowy Range Academy, Laramie Montessori School, Poder Academy, and Poder Academy Secondary School. Those schools serve about 500 of Wyoming's roughly 93,000 students, according to state data.
Along with homeschooling — many Wyoming districts allow homeschooled students to participate in public school athletics — the state boasts two virtual academies: K12 Virtual Academy and Wyoming Connections Academy.
During her confirmation hearing, DeVos used online schools as an example of school choice in rural communities, including those in Wyoming.
LGBT issues
Despite its motto, the Equality State, Wyoming has a reputation still haunted by the 1998 murder of Matthew Shepard, a gay student at the University of Wyoming. DeVos has been dogged by civil rights groups — including those representing LGBT students — since her appointment.
In February, the Trump administration announced the reversal of Obama-era federal guidance protecting transgender students' rights to use public school bathrooms that match their gender identities. Around the same time, Wyoming lawmakers debated legislation to segregate bathroom use based on one's sex at birth.
Sen. Mike Enzi, Republican of Wyoming, made headlines this spring when he told a group of middle and high school students that a gay man who wears a tutu at a bar "kind of asks for" a fight.
Grizzly bears!!!!!
Honestly, this never gets old. The Casper Star Tribune reported Monday that the local progressive group Invisible Casper plans to protest DeVos's visit as "ironic grizzlies" — meaning people in bear costumes.
During her Senate confirmation hearing, DeVos became the subject of national ridicule when she suggested a Wyoming school needed guns to protect students "from potential grizzlies."
Get stories like these delivered straight to your inbox. Sign up for The 74 Newsletter