DeVos Pledges Not to Gut Public Schools or Force School Choice During Confirmation Hearing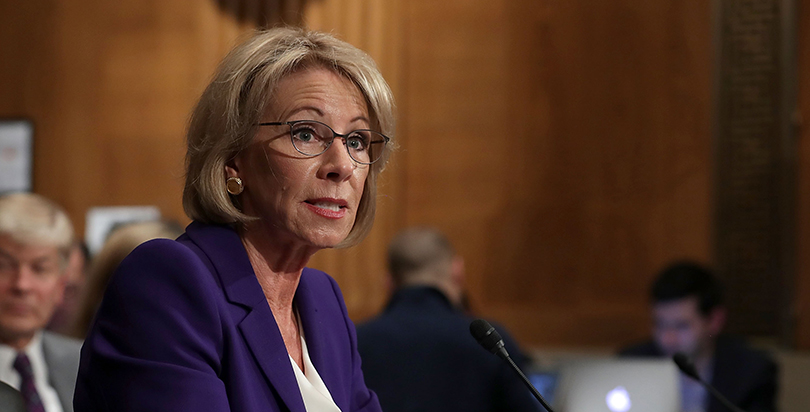 Education secretary nominee Betsy DeVos walked a tightrope at her confirmation hearing Tuesday evening, trying to reassure that she would neither decimate public education nor impose school choice or vouchers on unwilling states while returning repeatedly to her position that parents and children should be given the greatest weight in any decisions about school.
Along the way, she stumbled on some pointed lines of questioning from Democrats about gun-free school zones, the difference in measuring children's academic progress by proficiency vs. growth, and whether disabled students give up their rights under the federal Individuals with Disabilities Education Act when they use vouchers to attend certain private schools.
Under friendlier questioning from Republicans, she described what she said were decades trying to create better educational options for all children, especially low-income students of color who are most likely to fare poorly in traditional public schools. (
Watch the full replay of her Senate appearance
.)
Her nomination for education secretary seems set to advance through a committee vote, currently scheduled for January 24, pending the completion of ethics paperwork — which also drew much attention, given DeVos's wealth and extensive business holdings and investments.
She refused to commit to continued enforcement of Obama administration rules on issues such as campus sexual assault and holding colleges that take federal money to gainful employment outcomes for their graduates, saying those enforcement policies would be reviewed.
Throughout, she held held firm to her true north — that parents and students are best equipped to make education decisions.
"Why, in 2017, are we still questioning parents' ability to exercise educational choice for their children? I am a firm believer that parents should be empowered to choose the learning environment that's best for their individual children," she said during her opening statement.
Later, in response to whether she would work to mitigate financial consequences to district-run public schools as students transfer to charters, she said, "I will be a crusader for parents and students and the quality of their education, not for specific systems and not for specific arrangements of how school is delivered."
When Sen. Bernie Sanders asked DeVos if she believed she would have been chosen by President-elect Trump if she were not a billionaire or a Republican mega-donor, she said that she thought she would, based on her advocacy for children.
Republicans used their questions to help DeVos deflect from common criticism of her nomination — that her championing of private school choice necessarily meant that she would force those ideas on states or districts, and that her support of charters and private options necessarily meant she was trying to gut the traditional public school system.
Louisiana Sen. Bill Cassidy, who said he was "struck by the kind of reaction your nomination has elicited," asked a series of rapid-fire questions, such as whether DeVos supported public education, believed all children should have the opportunity for a quality education, and backed the idea that many decisions are best left to states and local school boards.
Chairman Lamar Alexander effectively put the Trump administration on notice that he will stick with his long-held opposition to administration interference with schools outside of specific laws. He earned a pledge from DeVos that she wouldn't write a regulation to mandate a private school choice program that contravened congressional intent, nor would she mandate that any state adopt such a policy.
"I would hope I could convince you all of the merit of that in maybe some future legislation," she said.
One Republican, though, seemed less than enthused. Sen. Lisa Murkowski of Alaska noted that in many rural communities in her state, there simply are not the school choice options that exist in other places.
Expanding choice should not come at the detriment of public schools, which are the only option in many remote areas, she said. "I need to have a very clear and a very firm commitment that the focus that you will give, to not only Alaska but to states that have significant rural populations, that these students who will not have alternatives, that that public school system is not undermined, eroded or ignored," she said.
DeVos committed to supporting public schools. Even if she didn't convince Murkowski, it's unlikely the Republican would block her nomination from moving through to the floor.
Blows on testing, guns, special education
Democrats, as they had telegraphed ahead of the hearing, focused many of their questions on her wealth, campaign donations and education advocacy, and she didn't back down from defending choice. But on several of their policy questions, she seemed underprepared and gave inaccurate or half-answers.
One of the biggest blows came during questioning by Sen. Al Franken. The Minnesota Democrat asked DeVos whether she believes tests measuring students' proficiency (whether students are achieving at grade level) or growth (whether students who may start school behind are making progress) is the better standard. She seemed unable to give an answer, first seeming to incorrectly correlate proficiency with "competency and mastery" and then seeking to clarify what Franken meant by proficiency.
"This is a subject that has been debated in the education community for years … It surprises me that you don't know this issue," Franken said.
Later, Connecticut Sen. Chris Murphy asked DeVos if she thought there was any place for guns "in and around schools." He has been perhaps the most visible congressional advocate for federal gun control laws since the 2012 mass shooting at Sandy Hook Elementary School in Newtown, Conn.
DeVos said that it was a state and local issue and that some schools in rural areas, like those she had previously discussed with Wyoming Republican Michael Enzi, might need to keep firearms on campus to deter grizzly bears.
Murphy was visibly taken aback, and he asked if DeVos would support Trump's proposal to end the federal law barring guns near schools.
"I will support what the president-elect does," DeVos said. "If the question is around gun violence and the results of that, please know that my heart bleeds and is broken for those families that have lost any individual due to gun violence."
Toward the end of the hearing, both Virginia Sen. Tim Kaine, the Democratic vice presidential nominee, and freshman Sen. Maggie Hassan of New Hampshire asked whether private schools that receive vouchers should be forced to abide by IDEA, the federal law requiring schools to offer disabled students a free, appropriate public education structured to meet their specific needs.
DeVos first said she thought schools were already following the law, then said it was "a matter best left to the states."
Kaine, reiterating that it was a federal law, retorted: "So some states might be good to kids with disabilities and others might not be so good?"
Later Hassan, whose son has cerebral palsy, said that some state-run voucher programs don't require private schools to provide appropriate services to disabled students.
DeVos, again asked whether it was an issue best left to states, said that "federal law must be followed when federal dollars are in play" and pledged to be "very sensitive to the needs of special needs students and the policies surrounding that."
Hassan wasn't satisfied. "It's not about being sensitive, though that helps. It's about being willing to enforce the law," she said.
Democrats also asked DeVos about donations made by her family to evangelical Christian groups, in particular Focus on the Family, that promote conversion therapy and other policies discriminatory to lesbian, gay, bisexual and transgender individuals. DeVos clarified that she has "never believed" in conversion therapy and that many of the donations in question were either made many years ago or were made by members of her family, outside her own control.
"I totally embrace equality, and I believe in the innate value of every single human being," she said.
On several other specific questions from both parties, she wouldn't commit to any one particular policy, pledging instead to re-examine the issue once confirmed "as would be tradition with the change of administrations."
Democrats asked about issues like upholding tougher Obama administration regulations on how colleges litigate sexual assault or K-12 school accountability rules under the Every Student Succeeds Act. Republicans asked whether she would commit to a federal screening policy for learning disabilities and if she would work to raise the federal share of costs to educate special needs students under IDEA.
Again, she demurred, even though so-called full funding of IDEA has long been a bipartisan issue in Congress.
The procedural spat
Democrats spent much of their time objecting to being limited to one round of questions of roughly five minutes apiece.
"I'm really disappointed that you have preemptively cut off our members from asking questions. It really is unprecedented … I don't know what you're trying to protect Ms. DeVos from. She should get robust scrutiny," ranking Democrat Patty Murray said.
All but one of the committee's Democrats stayed for the duration of the hearing rather than leaving after asking their questions, as is the usual practice for members of both parties at hearings. "They wouldn't be sitting here if they didn't have additional questions," Murray said.
She pointed to past nominees for other offices who faced second-round questions from several committee members, as well as to Rod Paige, President George W. Bush's first education secretary, who faced second-round questions from 10 members.
Alexander said he followed the "golden rule" when dealing with DeVos's hearing, and he pointed to precedent from his own confirmation hearing and those for Arne Duncan and John King. DeVos faced longer hearings than Duncan and King, and there were other opportunities to question her, Alexander added.
Democrats noted that Alexander, Duncan and King had long records of public service and well-known policy positions, a contrast to DeVos, whose lifetime in the private sector necessitated deeper public scrutiny. DeVos also faced queries from Democrats about her lack of experience in the public schools, either as a parent, teacher or administrator.
Former senator Joseph Lieberman, who introduced DeVos and sits on the board of the school choice organization she founded, the American Federation for Children, said DeVos coming from outside the education establishment should be considered an asset.
The Dick & Betsy DeVos Family Foundation provided funding to The 74 from 2014 to 2016. Campbell Brown serves on the boards of both The 74 and the American Federation for Children, which was formerly chaired by Betsy DeVos. Brown played no part in the reporting or editing of this article.
Get stories like these delivered straight to your inbox. Sign up for The 74 Newsletter