'Bathroom Bills' Beyond North Carolina: Here's Where 10 Other States Stand on Public School Legislation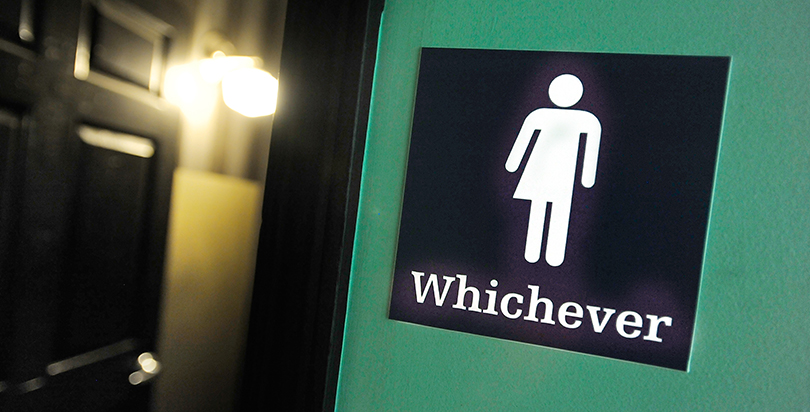 In the year since North Carolina became the first state to restrict which restrooms transgender individuals can use, 16 other states have followed suit.
Several bills have died quickly even as proponents — including lawmakers in Virginia and Tennessee — warily eyed the economic damage North Carolina incurred after passing House Bill 2 last March. (More on that later.)
Bills are still pending in 10 of the 16 states, and several — including those in Minnesota and Illinois — are policy proposals specific to public schools, rather than all public facilities, according to the National Conference of State Legislatures.
Most of the so-called bathroom bills segregate bathrooms, locker rooms, and other public facilities based on one's sex at birth. Some include restrictions that would supersede existing antidiscrimination policies. In Kentucky, for instance, a proposed measure allows students to sue the school district if they encounter people "of the opposite biological sex" in traditional male or female bathrooms.
While some advocates are heartened by what they view as the beginning of the end of the movement, school communities have already been hurt, they say. But unlike the millions in revenue lost during the year-long unofficial boycott of sports and entertainment events in North Carolina, the effects on students are harder to quantify.
Below, with the help of two experts, we answer questions we're hearing about the debate and suggest what might lie ahead.
Where are bills currently pending?
10 states: Alabama, Arkansas, Illinois, Kansas, Minnesota, Missouri, New York, South Carolina, Texas, and Washington.
Where have the bills stalled or failed?
6 states: South Dakota, Virginia, Wyoming, Tennessee, Montana, and Kentucky.
Is this the first time states have tried to legislate transgender bathroom rights at this scale?
Yes, says Eliza Byard, the executive director of GLSEN, a national advocacy and education organization that advocates for LGBTQ-inclusive K-12 schools.
"This is an issue that has been politicized recently where there is now this rather hysterical political response," she said. "We cannot allow the hysteria of outsiders to cause harm to children and get in the way of schools in a quiet and commonsense way simply doing their jobs as they have been for years."
Byard pointed to a 2015 study by Media Matters that reports that transgender-inclusive nondiscrimination policies were in place in 13 states and the District of Columbia.
"Schools around the country, in states where they have antidiscrimination protections for transgender students at the state level, have been very quietly and effectively supporting trans students without problems," she said.
What's changed in the past couple of years, and how are students affected?
Transgender students gained protections under the federal guidance rolled out by the Obama administration in spring 2015 and in many cases "began seeking protection from active harm," Byard said. At the same time, however, external resistance to school district practices and the spread of disinformation have increased, she said.
Shortly after entering office this year, President Donald Trump revoked Obama's protections, saying they were devised without enough legal analysis, The Washington Post reported.
When state and federal policies seek to remove antidiscrimination protections, "students suffer active harm" including physical and mental health problems that result from avoiding bathroom breaks because of fear of ridicule, Byard said.
"Imagine going to school and avoiding food or drink for the entire day because you knew that going to the bathroom was going to be a horrific experience," she said.
Other students deal with teachers who refuse to recognize their gender or address them by their preferred pronoun.
What happened in North Carolina?
After the March 2016 passage of House Bill 2, several big-money generators boycotted business in North Carolina, with losses estimated at $200 million, possibly growing to much more.
The National Collegiate Athletic Association banned its championship events from being held in the state; performers such as Bruce Springsteen and Pearl Jam canceled concerts; and businesses like PayPal and Deutsche Bank put a hard stop on planned expansions that would have brought jobs to the state.
"North Carolina was effectively the guinea pig for this legislation," said Mark Jones, a political science fellow at Rice University's Baker Institute in Houston. "The negative demonstration effect for other states is pretty strong."
On March 30, almost a year to the day after it was passed, House Bill 2 was repealed and replaced, reversing a law that required transgender people to use public bathrooms matching the sex on their birth certificates. But advocates weren't pleased by the fix: A new measure leaves bathroom-use regulations subject to change by state legislators and prevents cities and towns from passing their own ordinances until 2020.
Gay rights and civil rights organizations called it a "fake repeal," The Washington Post reported.
"This new law does not repeal HB 2," Chad Griffin, president of the Human Rights Campaign, told the Post. "Instead, it institutes a statewide prohibition on equality by banning nondiscrimination protections across North Carolina and fuels the flames of anti-transgender hate. Each and every lawmaker who supported this bill has betrayed the LGBTQ community."
The NCAA, however, responded by quickly lifting its six-month ban on championship events.
GLSEN's Byard said the fallout in the Tar Heel State is a sort of mixed blessing.
"I think it's a sad day in America where you're only willing to respect people's rights because of an economic argument," Byard said. "That being said, I am encouraged by the fact that forward-thinking corporate citizens of this country are prepared to vote with their feet when politicians hurt children."
What's happening in Texas?
Texas lawmakers debated their own "bathroom bill" last month; it requires school districts, universities, and government buildings to restrict multi-user restrooms and changing facilities to individuals based on the sex listed on their birth certificate, according to the National Conference of State Legislatures. The Senate passed the measure 21–10 and sent it to the House, where leaders have been unenthusiastic; some say it's not a priority.
If states like Texas, where the issue has been bitterly debated, ultimately don't pass a law, are there still consequences for schools — a 'chilling effect'?
Yes, Jones says.
"The fact that it passed out of the Senate and that it's on the radar has probably had a chilling effect on many school administrators in terms of making restroom and locker room accommodations," he said.
Similarly, any previous accommodations made for students are more likely to "create minor political firestorms" among other students' parents, community members, or local and state representatives, he said.
Byard, of GLSEN, added: "The fact is, this is not an issue that is going to come up in every single school, but when it does, the issue for the student who needs the accommodation of using the proper restroom and having their rights respected, when that doesn't happen, the consequences for them are dire."
---
---
Get stories like these delivered straight to your inbox. Sign up for The 74 Newsletter