DeVos Poised to Take Over Ed Department as Civil Rights Complaints Surge and Advocates Worry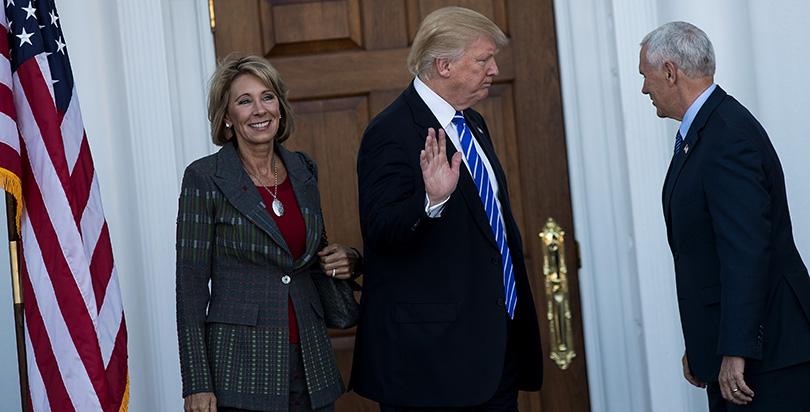 In Arizona, federal investigators found that thousands of English-language learners were incorrectly classified as proficient or were denied services altogether. In one year, investigators found that a North Carolina charter school improperly used manual restraints more than 200 times to control a disabled student. After a violent sexual assault at a California high school, investigators discovered that sexually harassing behavior among students permeated the district's K-12 schools.
Throughout his two terms, President Obama's administration has taken an aggressive tack on student civil rights issues — establishing the right of transgender people to access the bathrooms that match their gender identities, calling out school discipline policies that disproportionately affect disabled and minority kids, and demanding colleges and universities address campus sexual assault.
At an event on Thursday in Washington, D.C., federal education department officials highlighted that work — including the cases mentioned above — by the Office for Civil Rights over the past eight years, when the number of annual complaints more than doubled, reaching a
record high
of 16,720 in 2016. Additionally, a
new report
said the education department's civil rights division received 76,000 complaints and resolved 66,000 over the course of Obama's time in office, despite staffing levels that remained near an all-time low.
"What we did with those 66,000 investigations that we resolved transformed students' lives and transformed this country into a place where we believe that we mean every child, every day, deserves a right to learn and to be safe and to be treated with dignity and respect in school," Assistant Secretary for Civil Rights Catherine Lhamon said.
And while Thursday's event was billed as a celebration to reflect on eight years of progress, it quickly morphed into a call for action. Since Americans elected Republican Donald Trump to the White House, national civil rights groups have predicted major changes in the way federal officials address student social issues. Rather quickly, many of the Obama administration's policy guidelines could be washed away.
Citing the record number of student civil rights complaints, Education Secretary John King said the office has an obligation to double down on its efforts especially after "a rash of bullying and harassment" followed the divisive presidential campaign, leaving Muslim, immigrant and LGBT students feeling afraid.
"We have an opportunity to build on eight years of work," King said. "But we have to do it with urgency, because our kids need us."
Without ever uttering Trump's name, Marian Wright Edelman, a civil rights icon who founded the Children's Defense Fund, acknowledged that civil rights groups have "some tough times ahead."
"You might as well hunker down, do your crying at nights and on the weekends, but we are not going backwards," she said.
---
---
While the Trump administration's policy platforms on a handful of student civil rights issues remain elusive, indicators suggest a huge turn away from the office's aggressive work over the past eight years, which for many was controversial.
Arne Duncan, who served as education secretary for most of Obama's presidency, made a special visit to Washington for Thursday's event. Duncan said Trump's election has "unleashed" a level of racism that has always been there.
"As a nation we've done a pretty good job of sweeping some of that stuff under the rug," Duncan said. "And this time it's going to force all of us to confront those issues of racism, which is easier said than done."
In October, Trump
surrogate Carl Paladino
, who serves on the school board in Buffalo, N.Y., called the civil rights division "self-perpetuating absolute nonsense." Sam Clovis, who served as the national co-chair and policy director during Trump's campaign,
told the news website Inside Higher Ed
the incoming administration could work to move the Office for Civil Rights to the Justice Department's civil rights division.
Alabama Sen. Jeff Sessions will likely lead the Justice Department. He has also come under harsh scrutiny from national civil rights groups, 144 of which released
a joint statement
calling Sessions "unfit" to serve as the next attorney general after 30 years in which he opposed protections for people with disabilities, immigrants, African Americans, low-income students, women and the LGBT community.
Sessions called the central requirement of the Individuals With Disabilities Education Act to include children with disabilities in mainstream education "the single most irritating problem for teachers throughout America today" and "a big factor in accelerating the decline in civility and discipline in classrooms all over America."
Betsy DeVos, a billionaire mega-donor to conservative causes, has long focused on school-choice initiatives like charter schools and public vouchers for private-school tuition. When it comes to much of the Office for Civil Rights's work, like student discipline, much remains unknown — but not for long if her nomination is approved, as expected, by the Senate. About 4,000 student civil rights complaints — the amount pending at any given time, a department spokesman said — will await her.
The DeVos family does have
a long history
of supporting anti-gay causes, including donating hundreds of thousands of dollars to religious groups that support "conversion therapy." However, Greg McNeilly, a prominent gay Republican in Michigan who has served as a political adviser to DeVos, said the likely education secretary
stood up for him
when his sexual orientation wasn't widely known.
In an
article
for
The New Yorker
, Harvard Law School professor Jeannie Suk Gersen argued that the Obama administration's strategy to secure inclusive bathroom policies for transgender students could backfire when Trump takes office. In a "Dear Colleague"
letter
, the Office for Civil Rights told schools the department interpreted Title IX to refer to a person's "internal sense of gender" instead of the gender they were assigned at birth.
In response, 13 states sued the education department, a federal judge in Texas halted enforcement of the interpretation through a temporary injunction, and the U.S. Supreme Court agreed to hear the case of a transgender student in Virginia, where the administration's extension of Title IX protections played a major role in the lower court's decision.
Because the Obama administration interpreted provisions in Title IX without involving Congress, Trump officials could simply say "never mind."
Joshua Block, an American Civil Liberties Union attorney, is representing the Virginia student, Gavin Grimm, in the pending U.S. Supreme Court case about transgender student bathroom rights. He said he is concerned about the incoming administration, though many questions remain.
"I think everyone is hoping for the best and preparing for the worst," he said. "It's clear that if [Vice President–elect] Mike Pence was running the Department of Education that the guidance would be revoked, but we need to wait to see what actually happens at the Department of Education before we know what happens."
After Trump nominated DeVos to lead the education department, the Gay, Lesbian, and Straight Education Network said in a statement it is "deeply concerned" about DeVos's support for private-school vouchers, which it said "flies in the face of civil rights protections for students." On Thursday, the group's director of public policy, Nathan Smith, commended the Obama administration for helping to create safer school environments for LGBT students.
"We call on the incoming administration to maintain these vital gains," Smith said. "No less than the very well-being of many LGBTQ students depends on it."
Jonathan Adler, a law professor at Case Western Reserve University, who filed a brief with the libertarian Cato Institute urging the Supreme Court to hear Grimm's case, said he's long been concerned with "executive branch overreach."
"Policies imposed through 'Dear Colleagues' and guidances may be reversed summarily by a new administration," Adler said in an email. "That was always a risk of trying to proceed this way."
The Obama administration used a similar strategy in its progressive stance on student sexual assault. While much of that debate has played out on college campuses, the law also applies to K-12 schools, where sexual violence complaints have spiked in the last few years.
---
---
Again, the Obama administration found itself in a legal battle when it issued a "Dear Colleague" letter in 2011 calling on schools to adjudicate sexual misconduct allegations through a lower "preponderance of the evidence" standard.
In August, Oklahoma Wesleyan University joined a federal lawsuit by the Foundation for Individual Rights in Education, a student free-speech advocacy group, arguing that the Obama administration's rules didn't follow proper public notice and comment procedures that ensure government agencies aren't given "unfettered discretion" to create new laws. In this case, the free-speech foundation argued that the Obama administration's Title IX interpretation impeded the due-process rights of students accused of sexual violence.
While it remains unclear how Trump and DeVos will address the issue, advocacy groups representing sexual assault victims fear that Obama's big push to curb campus sexual assault could come to a screeching halt. And while advocacy groups worry that the Trump administration
could cut funding
to the Office for Civil Rights, the division said in 2015 that staff shortages and an increased caseload had already led to sexual assault investigations spanning several years.
Dan Losen, director of the Center for Civil Rights Remedies at the University of California, Los Angeles, said he was most concerned about the rise in complaints around school violence and sexual harassment, especially because Trump "has bragged about doing some of those things and
women actually came forward
saying he did those things." He said he is concerned that sexual assault victims will be less willing to file complaints if they feel the incoming administration is less likely to listen.
Despite support from civil rights groups, Republican lawmakers and pundits have long blasted Obama's education department for overstepping its duties. Frederick Hess, director of education policy studies at the American Enterprise Institute, a conservative think tank, said the growth in civil rights complaints over the past eight years is "largely irrelevant" because the office has found ways "to manufacture complaints that have no basis in statute and that stretch far beyond the appropriate enforcement role" of the civil rights division.
Hess said the Obama administration's campus sexual assault guidelines left suspects without due-process rights, its guidelines on transgender bathroom rights expands upon Title IX's original meaning, and its use of disparate impact theory in student discipline focused on students' race and not on incidents of misbehavior and disruption.
"These things don't sound to me like an effort to enforce civil rights," Hess said. "They sound like an ideologically inspired witch hunt."
The Dick & Betsy DeVos Family Foundation provides funding to The 74, and the site's Editor-in-Chief, Campbell Brown, sits on the American Federation for Children's board of directors, which was formerly chaired by Betsy DeVos. Brown played no part in the reporting or editing of this article. The American Federation for Children also sponsored The 74's 2015 New Hampshire education summit.
Get stories like these delivered straight to your inbox. Sign up for The 74 Newsletter