NYC Student Activists Can't Boycott Schools That Are Closed, but as Coronavirus Highlights Longstanding Inequities, a Chance to Change Policy Emerges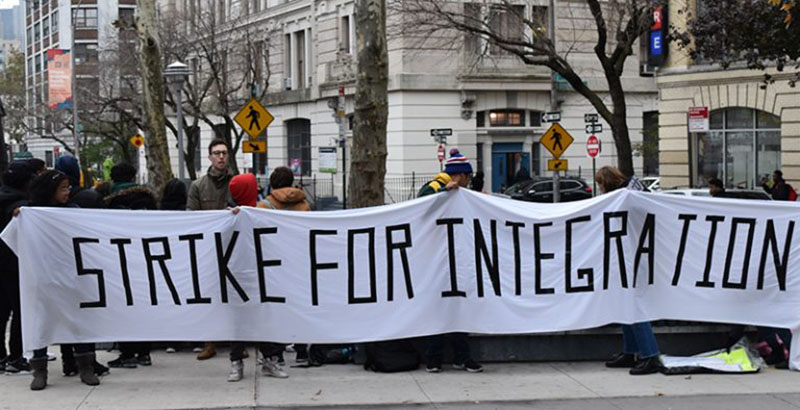 Updated March 24
With New York City schools closed from coronavirus and social distancing the new normal, student activists in the country's largest school district are recalibrating their campaigns, focusing on outreach to at-risk peers and using the newly magnified attention on the system's inequities to force new policy.
Before the pandemic, student groups Teens Take Charge and IntegrateNYC were prepping for a May 18 districtwide school boycott, taking a page from the playbook of young activists in 1964 who'd turned out by the hundreds of thousands to protest school segregation. The spring boycott would have marked an escalation from seven near-weekly strikes starting in the fall that demanded immediate action on integrating the 1.1 million-student system, still one of the nation's most segregated.
While it remains unclear when New York City schools will reopen — or if they will this school year — the boycott has been officially canceled, IntegrateNYC leadership confirmed to The 74. As of Monday, there were more than 12,000 confirmed coronavirus cases in NYC, and Gov. Andrew Cuomo's recent executive order banned all non-essential gatherings.
But rather than seeing the inability to organize in person as a roadblock, student leaders are eyeing this new and unprecedented development as something else: an opportunity.
"A lot of things that activists have been fighting for, people are becoming aware of [during this crisis]," from students' disparate access to technology to the plight of homeless students to a lack of basic hygiene products in lower-income schools, said Leanne Nunes, a high school senior and IntegrateNYC's director of equity. "In the aftermath of COVID-19, I think we're going to see a lot of policy get passed."
Student leaders in the past week alone have started crowdsourcing their peers and relaying their concerns to city Department of Education leaders. They've simultaneously become makeshift resource centers to connect students to services, including free Wi-Fi providers and food pickup locations. Teens Take Charge is determined to keep students "engaged" on social media, too, knowing that "all the work we put in for the boycott has really mobilized a lot of students who were really excited and really passionate about" issues like school integration, said Sophie Mode, a junior who helps lead the group's communications team.
Mayor Bill de Blasio and Schools Chancellor Richard Carranza have been reticent to commit to sweeping integration actions, such as abandoning all competitive middle school admissions screens, largely handing the reins to local districts to implement plans. Just last week, the city's storied specialized high schools, whose disproportionately white and Asian student enrollment was an initial focus of the integration fight, once again offered admission to a staggeringly low number of black and Latino students. At Stuyvesant High School specifically, that meant that out of 766 offers, 10 were extended to black students and 20 to Hispanic students.
"It's not surprising, as nothing's actually been changed, but of course we are so, so upset and so disgusted," Mode said in reaction to the news.
While city DOE officials "have been very thoughtful [in the wake of the coronavirus] — they've been in touch with us, and I know they're working really hard — they also need to know that when this has passed, we're still fighting," she added. "We're still here. We're still really passionate."
Building momentum
This time last year, Nunes was one of about 114,000 homeless students in NYC, bouncing between three families' homes with motel stays in between. She's attended schools that didn't have soap, and where teachers bought hand sanitizer with their own money.
In both those cases, she said she felt "invisible."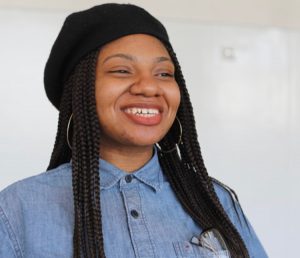 Amid the coronavirus crisis, though, low-income and underserved student groups are suddenly front and center. The DOE earlier this month announced that it would not consider student attendance records in admissions decisions for competitive middle and high schools next year — something many advocates were already calling for. It's currently working to ensure that some 300,000 families who don't have access to devices at home get one in the coming weeks. Local service providers, meanwhile, are providing free Wi-Fi and hotspots to newly remote learners who need it. And the state has placed a 90-day moratorium on evictions, likely preventing more students from becoming homeless.
Nunes doesn't want that focus to dissipate. "I don't want [the help] to be a one-time thing," she said. "We want to make sure the resources that have gone to those communities stay there, and the attention on those communities stays there."
In that spirit, IntegrateNYC launched a survey about a week ago asking students nine questions, such as "What concerns you most about the school closures?", "Do you have younger siblings you will have to take care of during the school closures?" and "Have your parents/guardians been put on leave from work during this time?" Students districtwide had completed 660 surveys as of Monday afternoon, IntegrateNYC officials confirmed — all of which are being used to help the organization game out its policy agenda.
Last week "was about data collection," Nunes said. This week, the group intends to start "elevating" some initial policy recommendations on social media while developing longer-term proposals internally. Nunes texted on Monday that IntegrateNYC had already shared a few short-term policies with the DOE based on student concerns highlighted in the survey. One is "No Fail for students" — that "no student should fail this semester given the circumstances of the pandemic," Nunes explained.
A second is no testing. While state exams have been canceled, AP exams (albeit a shorter version) can go on online, according to the College Board website.
"Failure and testing were very high concerns" in the survey, Nunes said. "Testing in these conditions seems counterproductive."
Another recommendation Nunes would like to pursue: Every single school must have good supplies of soap, toilet paper and hand sanitizer. "People would think that doesn't even need to be said" prior to the coronavirus outbreak, she said. "But it does."
Teens Take Charge's immediate next steps policy-wise were less clear, with Mode saying Friday only that "you can definitely expect a bunch of stuff coming in the next couple of days."
If Twitter is any indication, both groups have been actively tweeting or retweeting the #FundNYSchools hashtag as state leaders work to finalize a state budget by April 1.
As new agendas form, IntegrateNYC and Teens Take Charge, along with other student groups, are keeping in contact with DOE officials, namely student voice manager Amallia Orman and Sadye Campoamor, the department's director of community affairs. Mode confirmed that her group spoke with them twice last week and that they "were really trying to get both our recommendations and our questions, because we do represent a lot of students and we have connections to a lot of students."
Mode recalled that top-of-mind student concerns raised to the DOE so far were access to technology, child care, food, and grades and testing, including how the shutdown could alter graduation criteria.
In a statement Monday night, Orman emphasized the importance of student voice and receiving that kind of feedback.
"Now more than ever it's critical that we listen to our students and involve them in conversations regarding what their school year will look like going forward," she wrote. "Over the past week, I've had the pleasure of speaking with multiple student leaders remotely, listening to their ideas and concerns, and bringing them to the DOE's senior leadership. Students across the City should know that we're here; we're listening."
Any student can reach Orman at studentvoice@schools.nyc.gov.
Keeping students connected
Along with those policy aspirations, student leaders are hyper-focused on addressing the immediate needs of their peers — especially those who are lower income. Both IntegrateNYC and Teens Take Charge's websites have become go-to resources for information ranging from free Wi-Fi providers to food pickup and delivery, domestic violence hotlines and unemployment assistance for students' families.
Teens Take Charge's guidance, pulled from the advocacy group #NYCEDU, is even broken out into categories: "advocacy," "food," "educational," "in-home activities" and "mental health," to name a few.
Mode said Monday that Teens Take Charge had its first successful virtual general meeting that day via Zoom, a videoconferencing platform. The group is also utilizing social media tools like Instagram to engage students and keep them excited about activism.
Part of that engagement is through new "member takeovers" on Teens Take Charge's Instagram account; Mode said the group is hoping to coordinate about three takeovers a week. One member who went live last week discussed how joining Teens Take Charge opened her eyes to resource inequities at her own school. She also talked about social distancing — how being apart from friends is tough, but "not an excuse to lose that bond" — and encouraged fellow students to check in with their friends.
Both groups acknowledged that as much as they're doing already, the coming weeks are still uncharted territory.
"This whole thing is going to be interesting," Nunes said. "We're setting a lot of precedents."
Support The 74's year-end campaign. Make a tax-exempt donation now.