Adams: NYC School Admissions, Attendance and Coronavirus — How Parents Forced the City to Change Its Applications Policy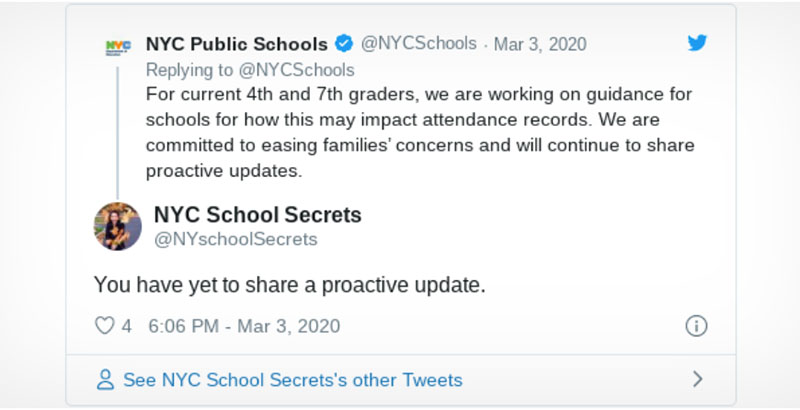 A version of this essay originally appeared on the New York School Talk blog.
On Sunday, March 1, I posted NYC School Admissions… and Coronavirus?, asserting that: At press time, there were no diagnosed cases of the novel coronavirus in New York City.
A half-hour later, the first confirmed case was reported. (I never claimed to be clairvoyant.)
My post discussed how several NYC schools had asked families who'd traveled to coronavirus-affected areas to voluntarily self-quarantine for 14 days, and how this could be a problem for fourth-graders applying to public screened middle schools and seventh-graders applying to public screened high schools for September 2021, as attendance is a huge part of the admissions rubric.
NYC schools are obsessed with attendance — and use it to sort kids for admission — because when kids miss school, schools lose money. It's really that simple.
What's not so simple is the decision families will be making this month and possibly for multiple months to come about whether or not to send their child to school. Is it just a runny nose, an allergy cough, or is it the beginning of something more serious? Risk possibly infecting others or risk getting eliminated from consideration from next year's school placement?
My questions struck a nerve. The post was shared widely on Facebook and Twitter.
On March 3, the Department of Education tweeted out the following:
I wasn't the only one confused:
In response to the barrage of questions, a few hours later, they clarified:
Now, I was no longer confused. Now, I was incensed:
And I stayed that way through subsequent explanations:
Chalkbeat joined me in my anger. So did AMNY. Both quoted my tweets and those of other angry, confused parents.
The pressure continued to build until finally, at a press conference, Mayor Bill de Blasio himself, who previously, when asked about attendance and admissions, said he knew nothing about where current policy stood, declared that:
"Attendance will be frozen as a factor in admissions for the foreseeable future, so as not to allow any impact to this crisis to negatively affect the admissions process."
As noted in the previous post, objections to attendance being a part of the admissions rubric have been gathering support for years. It is yet unclear whether this might turn into a permanent change beyond the 2020-21 season.
But what is and should be clear is that the roller-coaster ride of the first few days in March 2020 proved, once and for all, that parent voices do matter. If there hadn't been the uproar, odds are that everything would have remained status quo.
The uproar didn't start in the press. The uproar started with parents, which is what made the press sit up and take notice. And when the press takes notice, government takes notice.
So moms, dads, anyone who cares about educational policy, take a lesson from the above and know that you can make a difference. Stick to your guns, make some noise, and make them hear you!
Alina Adams is a New York Times best-selling romance and mystery writer, the author of Getting Into NYC Kindergarten and Getting Into NYC High School, a blogger at New York School Talk and mother of three. She believes you can't have true school choice until all parents know all their school choices — and how to get them. Visit her website, www.NYCSchoolSecrets.com.
Get stories like these delivered straight to your inbox. Sign up for The 74 Newsletter