The View Inside NYC's Latest School Segregation Protest: Why Students Walked Out Monday for 1,800 Seconds — and Say They'll Do It Again Every Week Until De Blasio Acts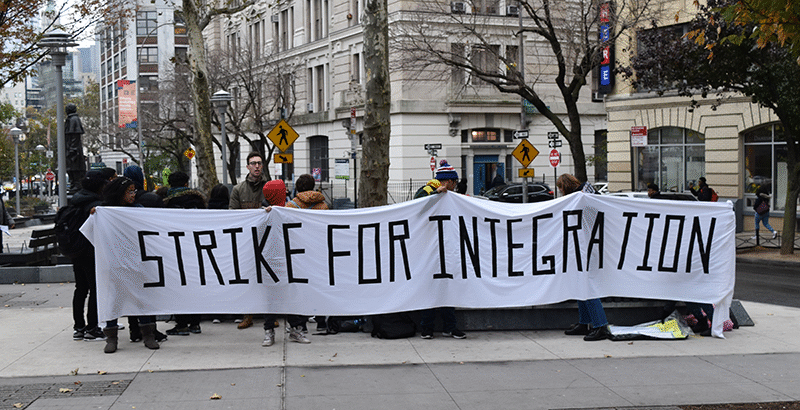 Monday morning, Teens Takes Charge led dozens of students from New York's Chelsea Career and Technical Education High School and NYC iSchool in a walkout touted as a "strike for integration."
Organizers said the action marked the launch of a new and ongoing campaign that would be orchestrated under the banner "Education Unscreened," voicing demands for an end to school segregation in America's largest school district.
The growing coalition of high school students also announced that "Education Unscreened" will bring a new strike to a different school campus every Monday until their demands are met.
The timing of Monday's walkout was noteworthy; just last week, new data showed that a campaign to integrate Brooklyn middle schools through altering enrollment processes was generating promising results.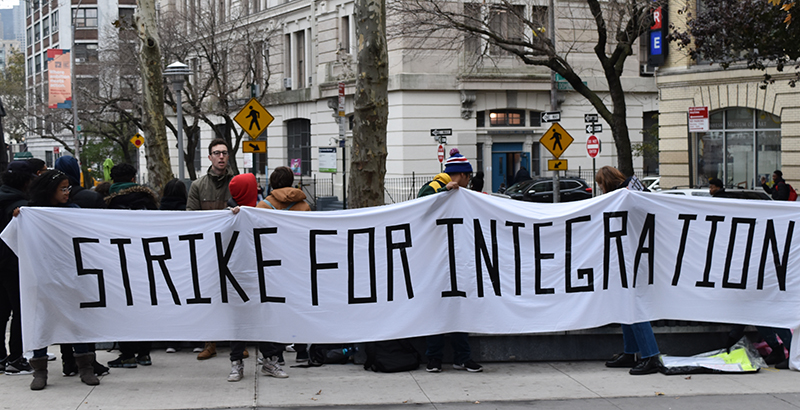 Monday's strike was organized for 1,800 seconds — a nod to the total number of New York City public schools. Monday's marchers come from two different schools that share the same building, but organizers say the two groups of students have vastly different classroom experiences, from racial makeup to resources to curriculum.
While the strike's broader goal is to spark a citywide dialogue about school integration, organizers said a side benefit was to offer these two student bodies, who attend class just a few feet apart yet rarely interact, with the chance to bond and share their unique perspectives.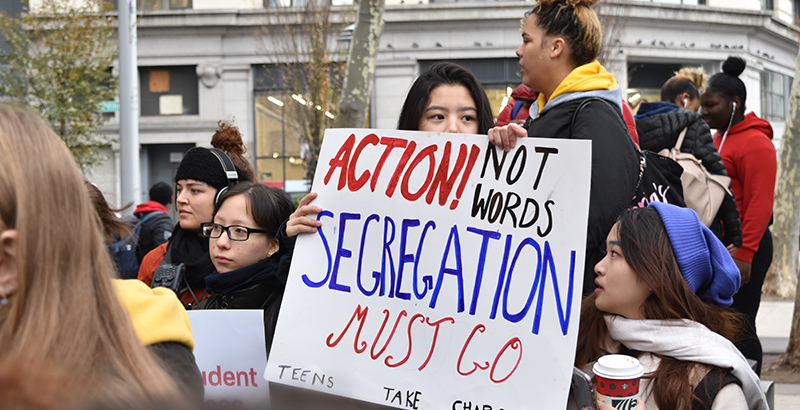 According to Teens Take Charge, NYC iSchool uses competitive admissions screening and is 41 percent white and 40 percent low-income, while Chelsea CTE doesn't use screening and is 4 percent white and 80 percent low-income.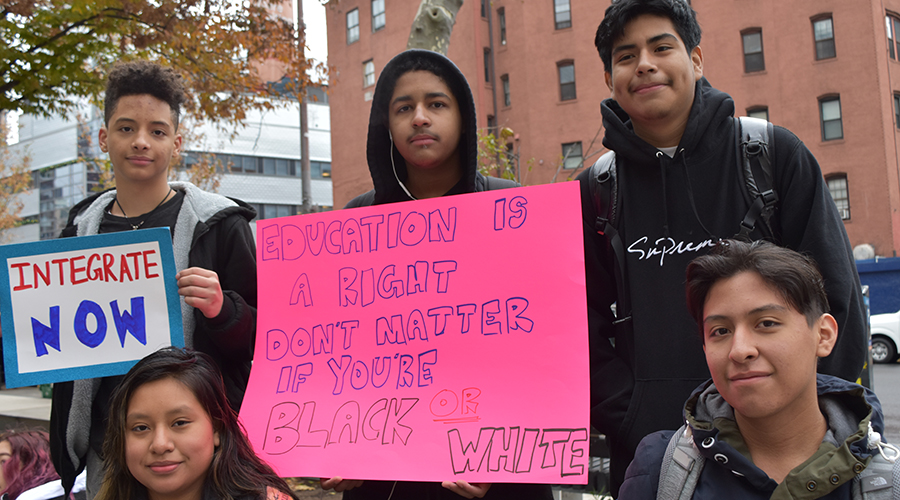 Chelsea CTE student Jocelyn Reyes (pictured above, bottom left) said that while the issue of school segregation hasn't been formally discussed in classroom lectures, some teachers have indeed addressed the disparities before class.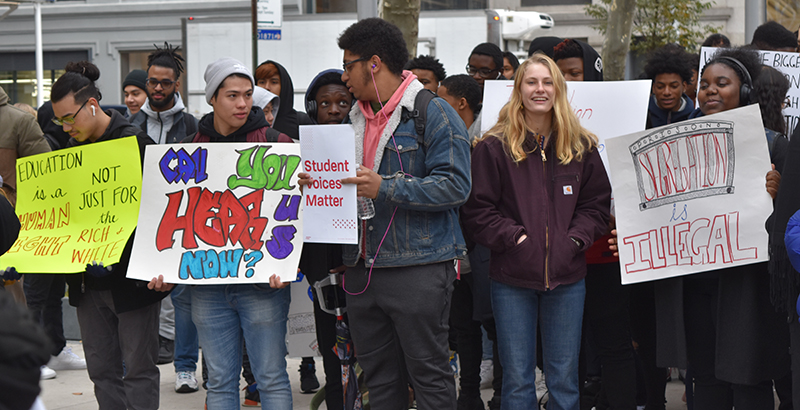 NYC iSchool senior Sadie Krichmar, who didn't want to be photographed, said she's found the protests eye-opening: "I knew loosely about [the inequities] and I knew about underfunded schools, but I didn't really know the extreme of it, until September, when I joined Teens Take Charge. I had never talked to anyone from Chelsea until then, because our schools are so segregated, like everything in our schedule seems designed to not overlap. None of our classes change at the same time, and Chelsea starts earlier and gets out earlier than we do. The only thing we really share are sports and prom."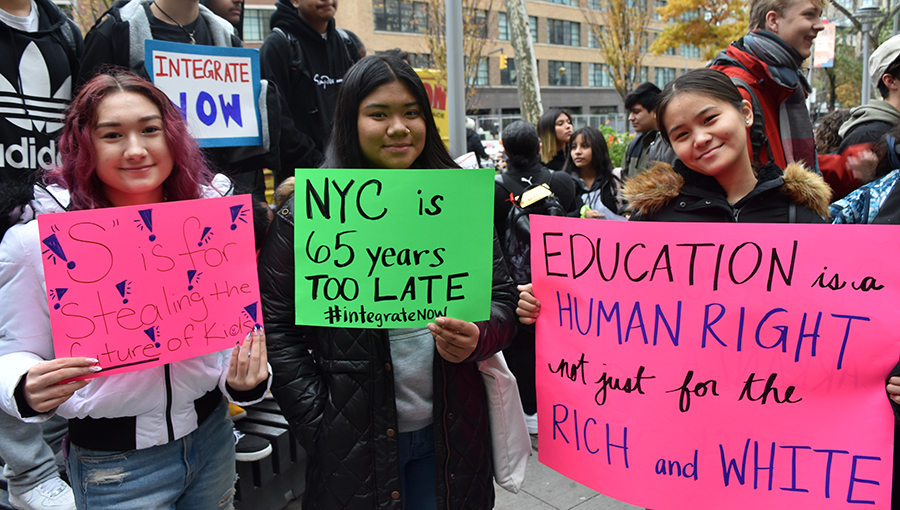 Among the chants heard in Spring Street Park Monday: "How much longer will it take?" "We're the biggest in the nation; we must fight for integration" and "If you're black or if you're white, education is a right."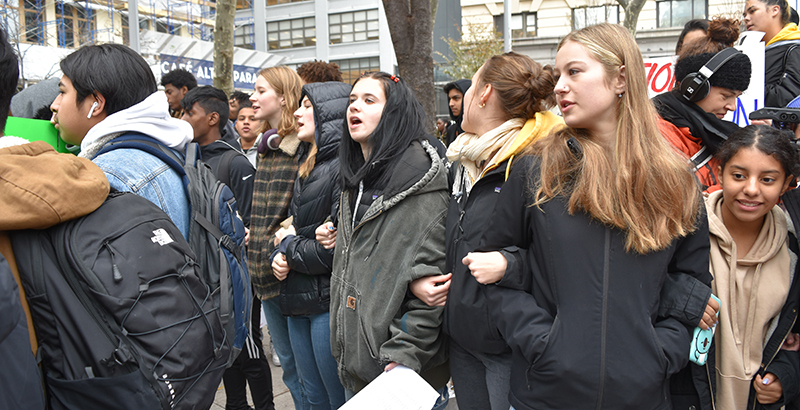 Students were encouraged by strike leaders to link arms with those next to them to express unity between the two schools.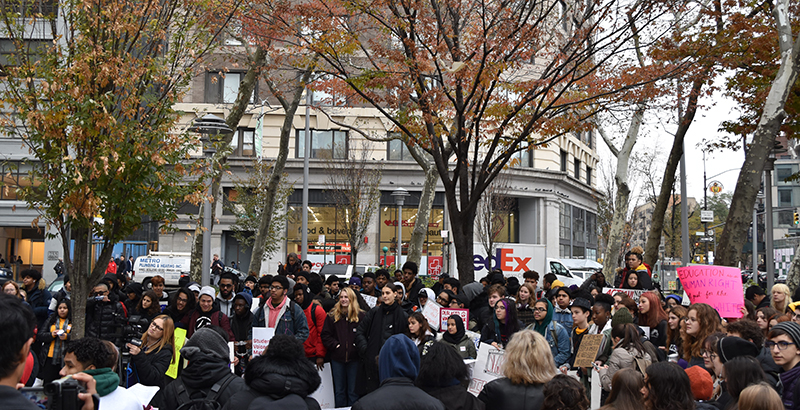 Charles Footman, a senior at Chelsea Career and Technical School, feels as though he is at a disadvantage compared to students at NYC iSchool when it comes to getting into college: "I feel like I've had to work harder in this school than I would in another school with better resources. I've worked hard to get 90s in math all year, but I can't get my SAT scores to what college admissions are looking for."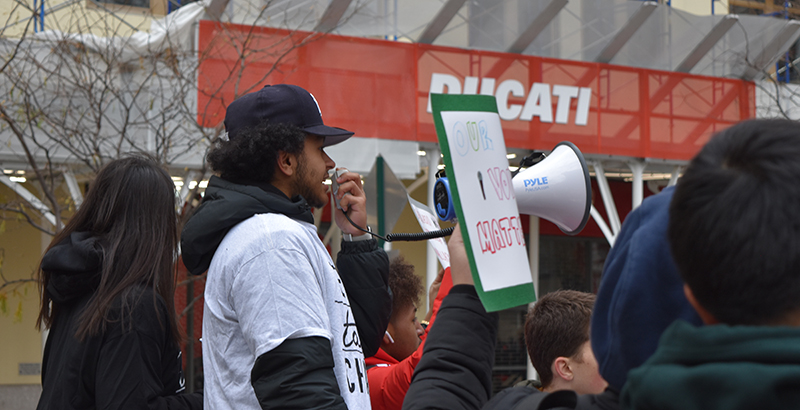 Alexander Ruiz (pictured above), a senior at Chelsea CTE and a student leader at Teens Take Charge, said he was pleased with the turnout and excited to see both schools uniting over this issue. Strike leaders led chants, shared their reasons for striking and listed the demands they have for the New York City Department of Education.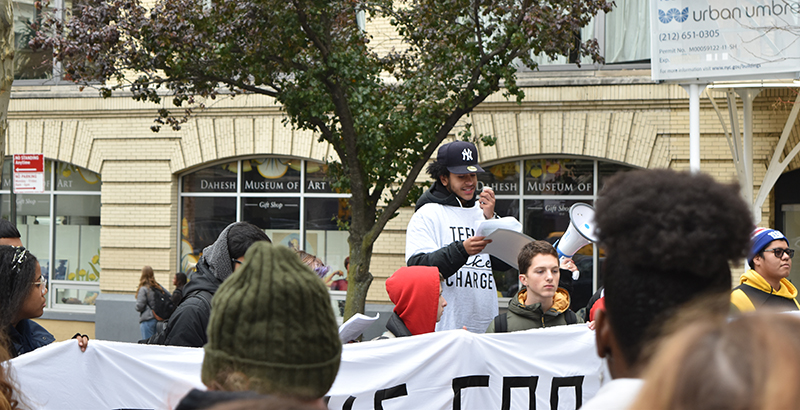 One observation from Monday's presenters: New York City is often cited as one of the most progressive cities in the world, yet it still has one of the most segregated school systems.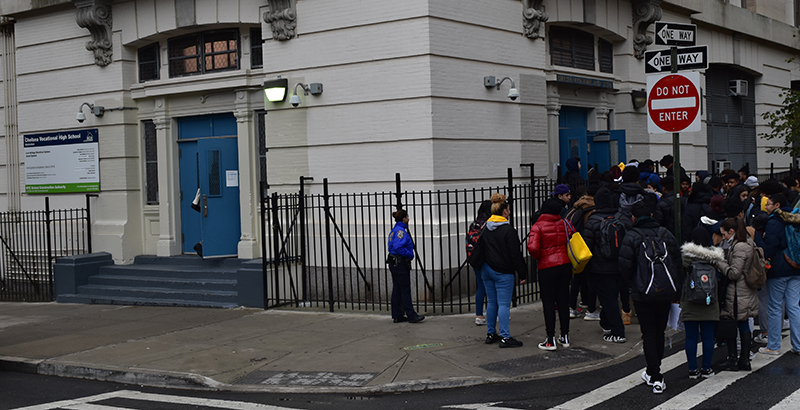 Strike leaders thanked their peers for their activism and participation. Students from both schools then returned to class through the same doors at the same time, something that almost never happens due to the staggered start times.
Support The 74's year-end campaign. Make a tax-exempt donation now.