It's Nearly Time to Reauthorize the Every Student Succeeds Act: 4 Priorities Otherwise-Distracted National Leaders Should Set to Make the K-12 Law Stronger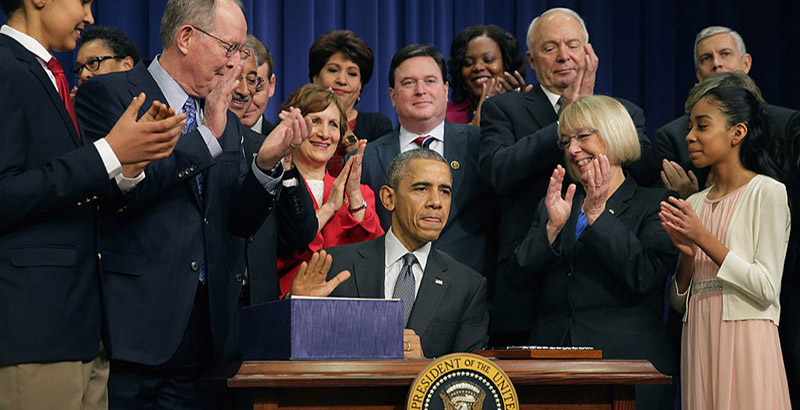 It may seem odd to spend even a moment of what's left of 2019 thinking about the slow, hard work of designing and implementing education policies. After all, to pass laws, you need a functioning legislative branch, and to implement them, you need a functioning executive branch, and to have any branches at all, you need to have free and fair elections that actually generate functional representative government.
And, uh, that whole basic equation looks less certain now than it has in a long, long time.
And yet! The Every Student Succeeds Act is still due for reauthorization after the 2020-21 school year. What's that mean? Basically: ESSA is the latest version of the Elementary and Secondary Education Act, and Congress promised to give the nation's main K-12 bill another look by then.
Not sure if you've heard, but there's a presidential campaign on. Campaigns are time for ideas. They're political windows for dreaming big and setting agendas. Surely this — a major education bill due for an update with something like $25 billion in federal education dollars hanging in the balance — will attract some attention, right?
No. Of course not. Not on the campaign trail, where, as I wrote back in May, there's still "strikingly little appetite for staking out specific reforms to actually change K-12 schools." We've heard some big (and broadly worthwhile) promises for more public education funding, higher teacher salaries and/or a strong federal push on school desegregation. But we haven't heard anything like a framework for rethinking ESSA's key provisions: things like federal testing mandates or school accountability. The only exception: In her recently released K-12 education plan, Sen. Elizabeth Warren called for a blanket reduction in federal support for standardized testing. But it's not yet clear how she'll advance that proposal, particularly given that Warren also has a history of supporting strong federal accountability provisions built upon standardized test scores.
Even more consequentially, the White House has not provided a significant framework for reworking ESSA in the coming year. Given that the administration has shown an at-best diffident attitude toward enforcing that law, that's hardly a surprise.
In other words, even if U.S. democratic institutions survive the next few years, they're — we're — not gonna make that deadline.
On the one hand, this isn't such a big deal. Congress, to no one's surprise, routinely misses these sorts of targets. The previous version of the law, the infamous No Child Left Behind, became law in 2002 and was supposed to be reauthorized in 2007, but it took until 2015 for Congress to replace it with ESSA. Public education won't suddenly vanish from the United States if Congress misses its self-set deadline to update the law.
But that's no excuse for indifference. It's like deciding not to replace your smoke detector batteries simply because you often forget to test them. ESSA won't suddenly work really well just because we didn't come up with any ideas for how to replace it.
So what could we do? How might we reimagine the federal role in U.S. public education?
First: We should consider deeper centralization of public education. This isn't some insane dream of the hard left. It's how most developed countries run their education systems. The United States is unique among peer nations in decentralizing its education system's funding, academic standards, curricula and more to states and local school districts. Further, in the years leading up to the passage of No Child Left Behind, it was taken as a generally obvious position that local and state education officials had weak capacity (and even more limited political will) for driving educational equity. NCLB forced them to step up on a host of issues, however awkwardly. Unfortunately, when ESSA was drafted, Congress moved in the opposite direction — passing a weak law that gave more discretion to local leaders on core equity protections.
For most of the past century, the federal government has been the most reliable (if still frequently imperfect) place for advocates to ensure that historically underserved communities have their civil rights protected. From voting rights to clean air and water, federal policies have forced states to step up and do what's right. Education is no different. When Congress replaces ESSA, it ought to explore ways of dramatically scaling up federal funding and accountability for public education.
Second: We should consider revamping federal accountability. NCLB was frequently criticized for forcing schools to narrow their academic focus to math and reading (because it mandated that states test these subjects and hold schools accountable for improving student performance on those tests). In response, ESSA's accountability provisions gave states more room to experiment with different ways of measuring schools' performance and leeway to decide what should happen in persistently struggling schools. In other words, ESSA replaced NCLB's narrow accountability system with a vague one. There's little evidence it's working. States aren't, by and large, using their newfound freedom to boldly innovate in ways that upend structural biases in favor of historically underserved kids.
When Congress gets tired of leaving oversight of public education to local and state decision-makers, it should replace ESSA's accountability fuzziness with specificity. Note that specificity and narrowness are not the same thing — a specific federal accountability system need not replicate NCLB's narrow one. The federal government should be more prescriptive in defining what it expects from schools, but that prescription can also include a wider range of data points — academic proficiency and growth across a range of subjects including math, reading, science, civics and more. It should include inputs like funding alongside outputs. It should be as broad as possible … so long as it gives states less leeway to shape accountability systems.
Third: We should dramatically expand the amount the federal government spends on public education, partly with an eye toward expanding access to early childhood education and connecting it with K-12 schools. There's considerable political energy behind expanding access to early childhood education. But the bulk of federal early education dollars sit in the Department of Health and Human Services' Head Start program, not the Department of Education. Research suggests that the advantages of early education investments can fade when these programs feed into ineffective K-12 schools. As such, when Congress commits to increasing federal funding for public education, it should build greater access to pre-K and help elementary schools adjust their practice to build on these new early education programs.
Fourth: We should avoid mandating priorities that federal policies are bad at advancing, no matter how worthy they seem. For instance, we know that family engagement matters for students. We know that social and emotional learning is a critical component of academic success. But we don't have any meaningful model of how to advance these by means of federal interventions, largely because they're equal parts hard to mandate and measure. The federal government's historical role has been to put pressure on inequitable state and local education structures and, in turn, force decision-makers at those levels to make changes. Basically, every public school could be better at engaging students' families. But it's not clear how the federal government can drive that shift in behavior. When Congress prepares to fix ESSA, it should focus federal resources and energy on specific issues that federal mandates can actually address.
There's much more, some of which builds on campaign ideas already in the ether. The federal government could pay teachers better. It could refuse to provide full funding under ESSA to states that allow privileged communities to further school segregation by seceding from existing school districts. It could ramp up federal investments in school infrastructure to accelerate the pace of much-needed repairs. It could identify and fund broader education research on a host of education priorities. And so on and so forth.
Of course, most of this is too detailed and/or politically dangerous for any candidate to take out on the trail. So no one's campaigning on ESSA. The administration has yet to show any interest in meaningful leadership on systemic K-12 education reform. And, yes, given the state of our democracy, it's a terrifyingly open question whether we'll have the will and/or bandwidth to rethink the contours of public education in America.
But the deadline is still looming — the end of next school year — and we clearly won't even be ready to start thinking about fixing ESSA if we don't start talking about it.
Get stories like these delivered straight to your inbox. Sign up for The 74 Newsletter