2020 Democratic Presidential Hopefuls Love 'Universal' Pre-K. But When It Comes to Providing Schooling for America's Youngest Students, Few Are Moving Beyond Talking Points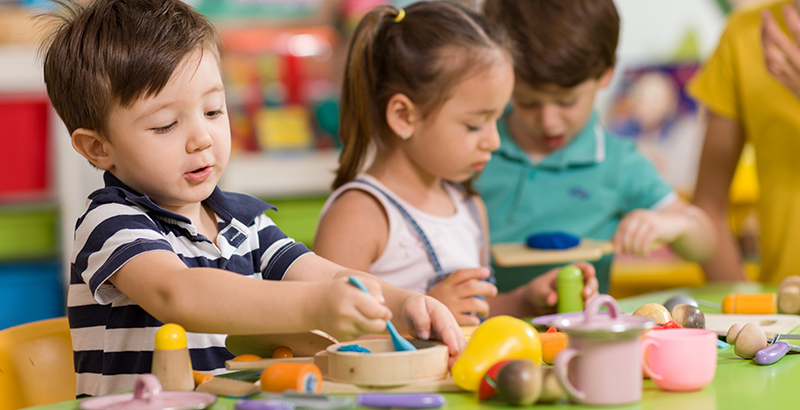 Nearly ubiquitous among the 2020 Democrats' platforms, alongside such liberal standbys as expanding health care coverage and reforming U.S. immigration policy, is a benefit for the country's youngest citizens: universal preschool.
Bill de Blasio, the current mayor of New York City, and Julián Castro, who led San Antonio before being appointed housing secretary, started programs in their cities. Many of the candidates who have served in Congress have authored and co-sponsored legislation to create federal programs. Among the 20 candidates still in the race, all but two told The Washington Post they support universal pre-K. (Pete Buttigieg and Tulsi Gabbard didn't respond to the Post's queries.)
But merely backing universal pre-K, which has widespread, bipartisan public support in opinion polls and a solid research backing, isn't enough, experts said. Candidates owe it to voters to explain what they mean by "universal" and how they'd implement the program.
Advocacy groups are making the call, too. Education 2020, a coalition of 23 education and civil rights organizations, launched Wednesday, urging presidential candidates to lay out a plan for America's schools, including early childhood education.
But a review of the top-polling candidates' campaign websites shows they aren't meeting the standards the experts sought, with most providing scant — if any — details on the candidate's plans.
Though supporting pre-K is practically compulsory for 2020 Democrats, there has been no real discussion of it in the two rounds of debates so far. The next opportunity to chime in comes Thursday night, when 10 candidates who met fundraising and polling thresholds set by the Democratic National Committee will again debate.
Rather than protracted debates about positions on school busing decades ago, candidates should discuss the "real progressive priority" of pre-K, Sen. Michael Bennet of Colorado said on a call with reporters when unveiling his education plan last week.
"The reason why that hasn't been a priority is obvious to me, and that's because 3- and 4-year-olds don't vote, but it doesn't make their needs any less important," Bennet said. (His plan sets ambitious goals to have universal pre-K programs by 2024 for 4-year-olds and 2027 for 3-year-olds. But he won't get the chance to make that point at the debate Thursday since he didn't meet the requirements to participate in this round.)
Research has shown that students who attend high-quality preschool programs have better early math and literacy skills and lower rates of special education placement than their peers who didn't attend pre-K. As adults they're more likely to graduate from high school and earn higher salaries, and less likely to be incarcerated. Some studies have found that positive effects fade as children progress through K-12.
But relatively few children are enrolled in early learning programs now: Only about a third of 4-year-olds and less than 6 percent of 3-year-olds attended state-funded programs in the 2017-18 school year, the annual State of Preschool Yearbook found. Another 10 percent of 4-year-olds and 11 percent of 3-year-olds were enrolled in federal Head Start or special education pre-K programs.
State program enrollment varies widely, from over 70 percent in Washington, D.C., Florida, Vermont and Oklahoma, to zero in Indiana, Idaho, New Hampshire, South Dakota, Utah and Wyoming, which don't have state pre-K programs.
As they propose to expand those enrollment figures, candidates owe it to voters to explain what they mean by "universal" preschool, said Steven Barnett, senior co-director of the National Institute for Early Education Research.
"Universal can mean so many different things. There has to be some articulated plan more than that," he said. New York, for instance, has "universal" preschool, but it's only truly available in New York City, Barnett said.
In most cases, candidates aren't reaching those benchmarks.
Though Sen. Kamala Harris called for universal preschool in the speech launching her campaign, there's nothing on her website about it. Sen. Amy Klobuchar's points to "early-childcare" and fixing the public education system as a way to address "systemic racism and inequality."
Several candidates, including Sens. Cory Booker and Bernie Sanders, former representative Beto O'Rourke and Andrew Yang call for "universal" pre-K, without any additional details, including even what ages of children would be included.
Former vice president Joe Biden's website expands a little, explaining that he'll work with states to create universal programs for 3- and 4-year-olds. Sen. Elizabeth Warren's proposal would run early learning opportunities through a universal child care system.
Ultimately, candidates should do more than just explain what they mean by "universal," Barnett said, such as by talking about how early learning initiatives will be integrated with K-12 policy as opposed to thinking of it as a separate effort. Child care and parental leave should also be part of the proposals, he added.
Any national program should avoid getting in the way of ongoing state and local efforts and should factor in the wide choice and mixed delivery systems provided through many pre-K programs, with district and charter schools and community-based programs, said Sarah Rittling, executive director of the First Five Years Fund.
"Those are the kinds of things you're thinking about [when creating a new program], drawing from what works. But make sure you're not reinventing the wheel," Rittling said.
At least one candidate has taken that to heart: Castro, who started a pre-K program in San Antonio, has the most detailed proposal among the 10 candidates in Thursday night's debate. His plan draws on the San Antonio program and hits many of the experts' concerns, including covering 3- and 4-year-olds, requiring linkages to the K-12 system and kindergarten readiness, and working through state and local governments.
Barnett made another recommendation unlikely to stir the spirits of voters seeking a big change in early childhood policy: Grow programs only as fast as capacity is available. Alabama, for instance, has grown its available seats only as money and space are available in its high-quality program, he said.
As the candidates' plans come into focus and the election grows more acrimonious, experts hope candidates focus on how to implement the policy rather than turn it into a political cudgel.
Though the proposals for universal pre-K are large-scale, they shouldn't be seen in the same category as free college or Medicare for all, policies that also provide a universal benefit but have become political hot buttons, Rittling said. The more the conversation around pre-K can be kept to ideas rather than politics, the better, she added.
Ultimately, a universal pre-K program, expanded carefully over a handful of years and led by states, is a possibility, Barnett said.
"The reality of this is, it's not a lot of money compared to the $10 trillion climate change plans [proposed]. I think fiscally, it is realistic," Barnett said. "I think the question will be whether it really gets a high priority in a new administration. It's definitely feasible."
Disclosure: The Bill & Melinda Gates Foundation provides support to the National Institute for Early Education Research, First Five Years Fund, and The 74. 
Get stories like these delivered straight to your inbox. Sign up for The 74 Newsletter