Williams: Just as Florida Should Be Embracing Its Vibrant Immigrant Community, Its New Education Plan Is Set to Make Life Harder for Students Learning English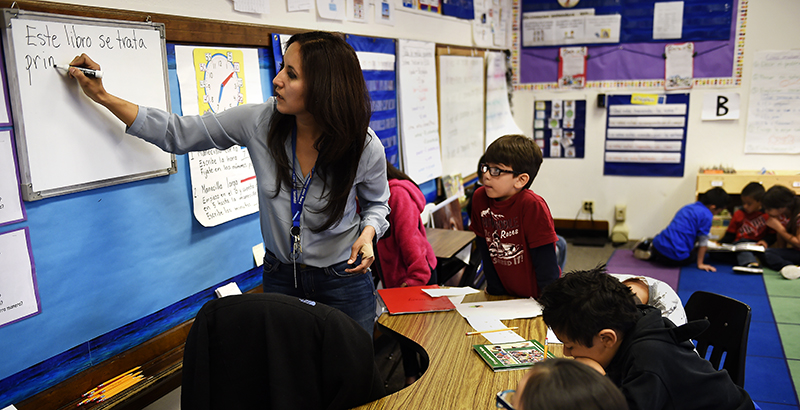 The elections are over! Or uh, maybe they're not. Enjoy your recounts, folks.
Whatever else comes of all this, rest assured: there will be no cooling in the United States' Cold Civil War. It's going to get worse before it gets better. We are coming apart — it's as evident in our culture and economics as it is in our politics and geography. Huge swaths of the U.S. are struggling to find a place in the country's future, while economically flourishing states fume at the strugglers' revanchism.
One way to tell the difference? Look for the states with robust communities of immigrant families. It's not a perfect metric, but states with healthy, thriving economies tend to attract immigrant workers and their families. This grows their population and their tax base. It's a healthy amplifying cycle: Folks come to work, which grows the community; they buy more things, which grows the local and regional economy; they pay taxes, which supports public investments in the area's infrastructure.
All of this enriches the area in the present and the future. The research isn't ambiguous: Immigrants generally follow the free market's invisible hand to economic opportunities — and then create more for everyone else.
Too many states struggle with the inverse situation. Globalization, automation, and more have decimated their local economies. Their populations are fleeing — and few are able to attract new residents. At present, that's a key difference shaping California's and Michigan's divergent fortunes.
Speaking of recounts, Florida, like many swing states, lies somewhere between these groups. It's rich in people and benefits from strong inflows of linguistic, cultural, and economic capital from new residents from elsewhere in the United States and from other countries. It's economically vibrant.
But it's also unsure about how to engage its large immigrant community — and commensurately large group of English-learning children. The state has a complex history of wrestling with its linguistic and cultural diversity. While it's long been a gateway state for immigrants to the U.S. — around one-third of the state's children speak a non-English language at home — Florida also designated English as its official language in 1988.
The state's ambivalence shows up in its recent, meandering efforts to bring its education system into compliance with federal law. Florida was the last state to have its plan for overseeing federal education dollars under the Every Student Succeeds Act, or ESSA, approved. The state knew it had compliance problems as soon as the new law went into place. After all, state leaders initially announced they were going to seek waivers from the law — only to forge ahead (unsuccessfully) without making any changes.
What was at issue? ESSA requires states to provide English-learning children with academic assessments in common non-English languages so that they can demonstrate their knowledge without being limited by their still-developing English skills. This is intuitive enough: If I gave you a fourth-grade math test in Welsh, you'd probably struggle, even if you know your way around a pile of fractions. That test would really just reflect your (lack of) Welsh skills.
But Florida really — really — didn't want to provide assessments in other languages for English-learning students. In round after round of revisions, the state shuffled other pieces of its plan, but this remained constant.
The U.S. Department of Education pushed back a few times, but, after several rounds of bureaucratic shuffling, the state more or less wandered ahead with its initial, noncompliant plan. "The gamble paid off," wrote Education Week's Corey Mitchell. The state still isn't letting English learners (ELs) take academic assessments in Spanish (the language spoken by 75 percent of Florida ELs).
That wasn't the only problem. ESSA requires states to include ELs' progress towards English language proficiency in its school ratings. Florida … was resistant. After a pile of revisions, the state basically decided to keep its existing school ratings system, while also calculating a separate rating using the ESSA rules. ELs' English acquisition will be explicitly included in the ESSA rating, but not in the other. Local civil rights advocates dubbed the ESSA version a "shadow system."
What's going on? In a moment when so many states are gasping for the human (and financial) capital that immigrants contribute, Florida's reticence to perform even the basic elements of supporting these young children's multilingual development is, well, baffling.
Most ELs are second- or third-generation immigrants. They're born here. They're the present growth in our schools and the future growth in our workforce. The Sunshine State has a booming population and a commensurately bright future. It's one of the winners in our great shuffling of the national economic decks. Why do anything to slow that down — or mess it up?
Get stories like these delivered straight to your inbox. Sign up for The 74 Newsletter