President George W. Bush Reflects on the Lasting Impact of No Child Left Behind at ASU+GSV: 'For the First Time, in Return for Money, People Had to Show Results'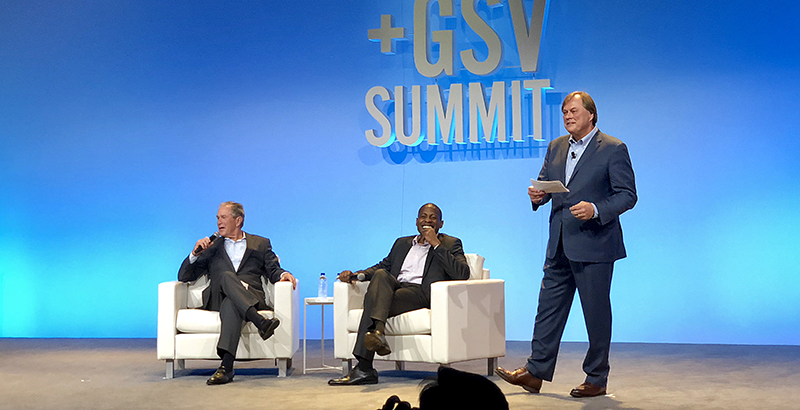 The most dramatic moment of George W. Bush's presidency unfolded while he was sitting in an elementary school classroom.
As a girl read aloud from the book The Pet Goat, then–White House chief of staff Andy Card delivered the news that two passenger jets had crashed into the World Trade Center. Although the president didn't know it yet, two other Boeing-757s were destined to crash into the Pentagon and a field in Shanksville, Pennsylvania. Within the span of a few minutes, Bush had become a wartime president.
The former commander in chief shared his memories of 9/11 in a free-form chat on Monday night at the 2018 ASU-GSV Summit in San Diego. The annual confab brings together policymakers and entrepreneurs to discuss the latest trends in education, technology, and workforce development. (See our picks for 13 ASU+GSV sessions not to miss in San Diego) 
This year's gathering focuses on distinctly contemporary themes, from the rise of artificial intelligence to the galling resource and achievement gaps separating America's children. But in a wide-ranging — and often punchy — conversation with journalist Carlos Watson, former president Bush shied away from discussing current affairs, instead reconsidering the signal events of his time in office.
Many were shaped by his concern for America's students, including the one student who was reading to him on the fateful morning of Sept. 11, 2001.
"Sitting in that classroom, I vowed that I would do everything within the law to protect that child, her family, and the country in which she lived," he said. "And that's exactly how I conducted my presidency."
The landmark No Child Left Behind Act, signed into law in January 2002 as a gesture of bipartisan cooperation following the attacks, was Bush's foremost contribution to education policy in his eight-year administration. The legislation — whose mandate for yearly standardized testing quickly became a bone of contention — inaugurated the modern era of education reform and school accountability.
Watch The Oral History — 15 Years After NCLB, the Enduring Legacy of the Landmark Education Legislation:
In spite of the controversy surrounding the law's expansion of federal authority, Bush said he considered it a success.
"I think it's a great piece of legislation," he said. "You know why? In return for money, people had to show results. I view it as a great piece of civil rights legislation. For the first time, the achievement gap began to close significantly."
So cool to see President George Bush in such great form and spirit at #ASUGSV2018 @TheBushCenter pic.twitter.com/CivD6xmfp7

— Nina Rees (@Ninacharters) April 17, 2018
President Bush, who has spent much of the past decade explaining the crucial choices of his years in power, observed that he had made some missteps. In particular, he acknowledged that his abortive 2005 attempt at reforming Social Security, which consumed much of the political capital gained in his re-election campaign, derailed much of his second-term agenda.
"In retrospect, I should have gone with immigration reform," he said.
The former president said he still hoped that a long-term accommodation of America's undocumented immigrants might be reached. "The ones that are here — the idea of kicking them out is just unrealistic," he said.
"I don't think it's in our nation's character to hold people up and make them feel like they're not wanted."
Get stories like these delivered straight to your inbox. Sign up for The 74 Newsletter