Analysis: How Devastating Floods in Thailand in 2011 Harmed Students' Academic Growth, and What Lessons We Can Use in Confronting Learning Loss During the Pandemic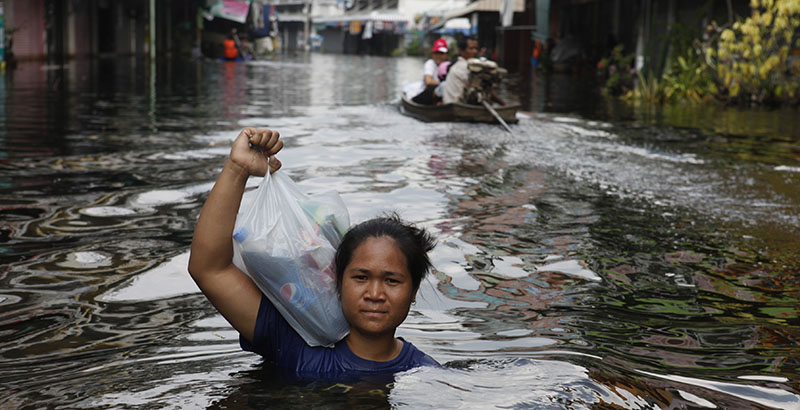 As we make our way through the coronavirus pandemic, I'm looking back at past educational disruptions and what we can learn from them. I've already discussed some lessons from a massive earthquake in Pakistan and from a wave of teacher strikes in Argentina. Today, I'm going to focus on a flood in Thailand in 2011.
In a normal year, Thailand has a rainy season from July to October, with monsoons bringing heavy storms and large amounts of rainfall in a short period of time. Floods are not uncommon, especially during years with particularly heavy rains.
In 2011, Thailand experienced its worst floods in half a century. Rainfall was 40 percent higher than in a normal year, leading to overflowing dams and widespread flooding. The Atlantic collected photos of what the country looked like at the time.
As a result of the floods, schools in central Thailand, near Bangkok, were closed for weeks. Textbooks, computers and other education materials were destroyed. All told, the 2011 Thailand floods rank as one of the costliest natural disasters in modern history.
A recent study by Kawin Thamtanajit in The Journal of Developing Areas analyzed what happened to students.
The country was scheduled to administer its national assessments, called the Ordinary National Educational Test (O-NET), shortly after the floods receded. The tests, given to students in grades 6, 9 and 12, take about 6 to 13 hours and cover eight subject areas. (For comparison, this is about the same amount of time as federally mandated tests take students in the U.S.)
The stakes for Thai students are extremely high. The O-NET results are used to make promotion decisions for sixth- and ninth-graders and, for 12th-graders, they count for 30 percent of Thailand's centralized higher education admissions process. Fewer than half of students pass the exams in a typical year.
Despite the record-breaking floods, the government did not cancel or postpone O-NET. The worst of the flooding took place from August to December 2011. Two months later, in February 2012, the tests were given as scheduled. As far as I can tell, the government did not even soften the consequences for students affected by the floods.
Looking at it now, with the advantage of time and the perspective of an outsider, it's remarkable how much resiliency Thailand asked of its children.
How did those students fare? Students in the areas hit hardest by the floods, especially those in grades 6 and 9, had large declines across nearly every subject. However, scores did not fall for 12th graders, which Thamtanajit suggests may have come down to motivation and the particularly high stakes attached to their results.
The Thailand example is far from a perfect parallel to our current situation. For one thing, while the floods were devastating financially and emotionally, and nearly 1,000 people died, the health risks were not on the same magnitude as those the coronavirus has brought to our shores.
But the Thailand story does cast a different light on our academic response. Thailand administered a full battery of tests two months after its crisis; our leaders canceled tests last spring, and some are already proposing to do so again next year — even though our computer-based exams are easier to conduct than Thailand's pencil-and-paper variety. The youngest Thai students were the ones who suffered the biggest academic losses; almost all the research on the effects of school disruptions show a similar pattern. But U.S. school district responses last spring, and their reopening plans for the fall, have mostly ignored this lesson and instead tend to treat students of all grade levels the same. If the Thailand story is any guide, that lack of differentiation is a mistake.
One final difference regarding the consequences attached to the tests: Whereas Thailand's exam results have truly high stakes for young students, our tests are mostly diagnostic and rarely carry any real consequences. The next time I hear someone in the U.S. decry our "high-stakes testing," I'll think about the Thailand story and what "high stakes" really mean.
Chad Aldeman is a senior associate partner at Bellwether Education Partners and the editor of TeacherPensions.org.
Get stories like these delivered straight to your inbox. Sign up for The 74 Newsletter