Aldeman: Did Fear of School Closings Prompt Warren's Tough Talk on Tests? She Needn't Worry — Those Shutdowns Rarely Happen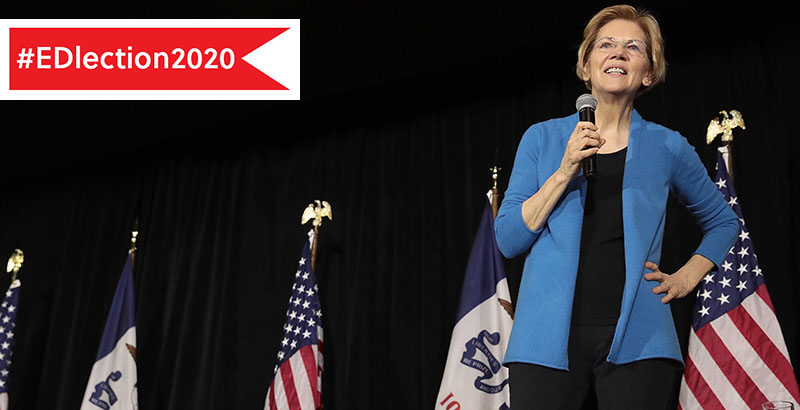 As part of her new education plan, Democratic presidential hopeful Sen. Elizabeth Warren declared she would "prohibit the use of standardized testing as a primary or significant factor in closing a school, firing a teacher or making any other high-stakes decisions."
If history is any guide, Warren's proclamation is reacting to the scare factor of federal interventions into education policy without looking too closely at what really happens. Starting with No Child Left Behind and continuing into President Barack Obama's Race to the Top and NCLB "waiver" initiative, the threat of interventions has always been much scarier than its reality.
Under NCLB, schools that failed to make Adequate Yearly Progress for all students or for any subgroup were marked as "needing improvement." If a school failed to make Adequate Yearly Progress two years in a row, the school had to offer its students the opportunity to transfer to a better-performing school in the district. After three years of failing to make Adequate Yearly Progress, schools were required to offer free tutoring. Schools that failed to meet Adequate Yearly Progress after four years were identified for corrective action, and after six years, that school would have to develop plans for restructuring, such as firing the principal, converting to a charter school, or undergoing any "other major restructuring."
These final consequences got the most attention. It became conventional wisdom that NCLB was a tough law with harsh consequences for schools, which fed into a broader "test and punish" narrative and eventually led to the much-weaker Every Student Succeeds Act that's now in place.
But was this conventional wisdom ever really true? Not really. Despite the broad coverage given to the threat of NCLB forcing schools to take dramatic actions, states, districts and schools rarely chose those options. This created a strange situation in which the public was led to believe NCLB was more punitive than it truly was. For example, during the entirety of NCLB, there were over 3,500 news reports that the law could lead to state takeovers of failing public schools. In the end, that worked out to about 15 news stories for each school that was eventually affected.
Moreover, the news stories appeared in news outlets all across the country, but in the end, all the schools subject to takeover were concentrated in just five states: Arkansas, Hawaii, Illinois, Louisiana and North Carolina. In fact, nearly 80 percent (182) of these schools were in Hawaii, which operates as both a state and a school district. Take out Hawaii, and the ratio of news stories about state takeovers to actual state takeovers would have been more than 65:1.
While I wasn't able to get an accurate count of how many news stories mentioned the threat of NCLB forcing schools to be converted to a charter, I suspect the total number of schools facing that consequence — 124 schools spread over nine years, or just 0.2 percent of all 56,000 Title I schools — was far lower than media coverage made it out to be. Moreover, just as state takeovers were concentrated in only a few states, the charter school conversions in response to NCLB were concentrated in 14 states, and 70 percent of those came from just one state: Illinois.
A similar narrative played out around the Obama administration's School Improvement Grant program. It too included some "tough" interventions for schools to choose from, and there were indeed a few places where those reforms actually took place. But the media coverage was disproportionately focused on the special cases, even as most schools accepting grants actually implemented much weaker reforms.
Perhaps the best lesson is that policymakers should be careful about talking tough if they're not planning to follow it up with tough actions. In some ways, that might be the worst result of all, because the veneer of accountability that doesn't produce dramatic change can still come with all the media and political backlash, as if it were the real thing.
Chad Aldeman is a senior associate partner at Bellwether Education Partners and the editor of TeacherPensions.org.
Get stories like these delivered straight to your inbox. Sign up for The 74 Newsletter