Aldeman: What a 2005 Earthquake in Pakistan Can Teach American Educators About Learning Loss After a Disaster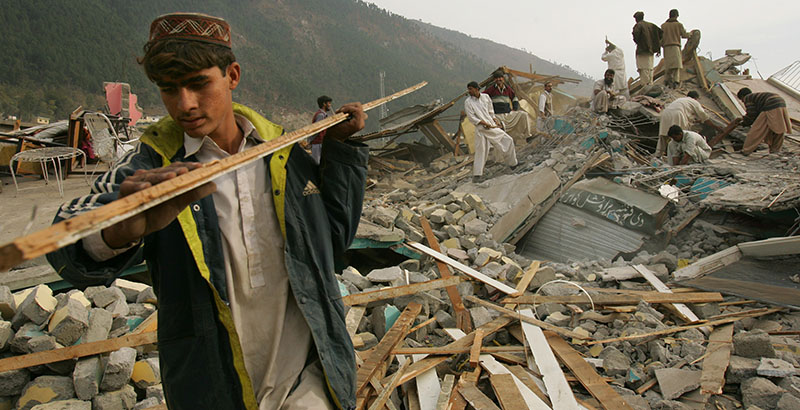 In May, I wrote about what we can learn about student learning losses from past school disruptions.
Today, I want to take a closer look at what happened after an earthquake hit Pakistan's Kashmir region in 2005. Although it may sound far away from our current situation, the story has a number of lessons and warnings for education leaders and policymakers dealing with the coronavirus pandemic.
On the morning of Oct. 8, 2005, an earthquake measuring 7.6 shook the entire Kashmir region. For an American comparison, it was equivalent to the 1906 earthquake that devastated San Francisco. It was centered in the Pakistani city of Muzaffarabad, about 80 miles northeast of Islamabad, the country's capital, but tremors were felt in India, Afghanistan, Tajikistan and part of China.
Nearly 80,000 people died in the earthquake, including 19,000 children killed when their school buildings collapsed. The quake leveled markets and hospitals and left 2.8 million people homeless. On average, students were out of school for 14 weeks.
A recent study looked at what happened next. The authors found that thanks to extensive disaster recovery efforts in the form of cash payments, housing reconstruction grants and compensation for death and injuries, families in the affected areas had made a full financial recovery by the time they collected their data four years later. Despite the initial devastation, the recovery efforts helped rebuild infrastructure such that, four years out, the earthquake-affected areas had the same access to schools and health clinics as other parts of the country. Adults emerged better off in terms of their quality of housing, access to electricity and running water, and annual incomes.
But what about the children?
On the plus side, the affected students did make their way back to schools. After the initial disruption, children enrolled and advanced through grade levels at the same rates as their peers. Importantly for a country like Pakistan, with considerable gender gaps in education, the authors found no variation in educational attainment and progression rates across gender.
But children suffered in less obvious ways. Those effects wouldn't have been discovered if the researchers hadn't been looking — an important lesson for us today.
First, the earthquake harmed the growth and development of very young children. Due to the immediate shock of lost income and less access to food at a critical juncture in their lives, children under age 2 living near the earthquake fault line were shorter in stature than their peers in other parts of the country. This trend was also observable for children who were in utero at the time of the disaster.
Second, test scores fell substantially. Students living within 10 kilometers of the fault line demonstrated 1.5 grades' worth of lost learning compared with students who were 40 kilometers away. Put another way, students had test scores losses that were larger than the actual time they missed out on school.
Third, the earthquake increased inequality. Children whose mothers had completed primary school suffered no negative effects at all, regardless of how close they lived to the fault line. In contrast, all the learning losses were concentrated among children from less-educated families, and the closer they were to the fault line, the larger the losses they suffered. Using historical wage data, the authors estimate that the learning losses suffered by low-income students will translate into a lifetime earning loss of 15 percent.
Fourth, the test score losses grew over time, even after kids were back in school. The authors can't identify why, but they hypothesize that advancing and promoting students despite their learning losses led to them falling further and further behind.
Many of these lessons are relevant to American policymakers today in the wake of the COVID-19-induced school closures. It's early and preliminary, but the recovery efforts thus far have focused on adults and the economy. The federal government stepped in to expand unemployment insurance and passed out stimulus checks that, at least temporarily, raised personal savings rates to a record high.
But we have done comparatively little to address the effects of the disruptions on children. Distance learning efforts overall went poorly and amplified inequities, and districts are poised to cut learning time again next year. And now, states like Georgia and Michigan are already requesting to eliminate testing programs that would identify the students and schools in need of more support.
If nothing changes about this trajectory, we should be prepared for outcomes similar to those Pakistan experienced: Large and inequitable learning losses will hit the COVID generation of students, and those effects will carry on into the future, hurting the children directly and society indirectly down the road.
Chad Aldeman is a senior associate partner at Bellwether Education Partners and the editor of TeacherPensions.org.
Support The 74's year-end campaign. Make a tax-exempt donation now.