Inside the National School Walkout: What We Saw at 7 Very Different Marches Against Gun Violence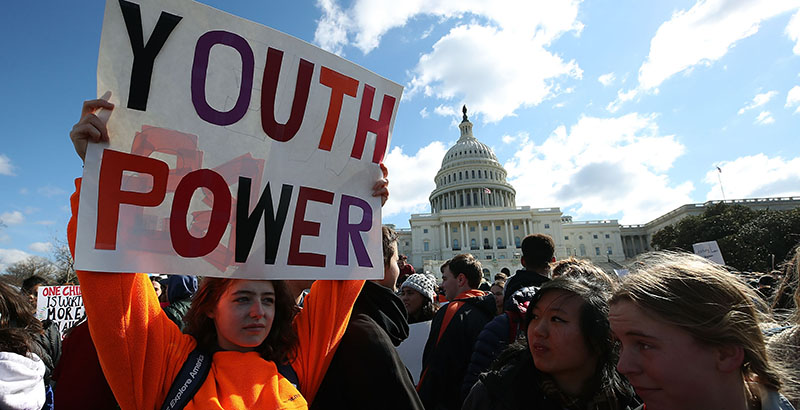 From coast to coast, hundreds of thousands of students participated in the National School Walkout earlier today, demonstrating against gun violence while also paying tribute to the 17 victims of the Parkland, Florida, school shooting exactly one month ago.
In many places, the 17-minute protests — one minute for each Parkland victim — lasted much longer, as students gathered on the streets, in gyms, on athletic fields, in church, even on the grounds of the U.S. Capitol, holding signs and speaking eloquently against the epidemic of gun-related deaths and injuries at schools across the country. (We've assembled an extensive archive of images from the day; click here to see photos and videos from every time zone.)
Our reporters also took to the streets on Wednesday, reporting on distinct and unique protests across four states and the District of Columbia. Here's a slice of what we saw at schools today:
Politics and prayers in D.C.
Hundreds of high school students from the greater Washington area held their 17 minutes of silence at the White House — turning their backs on the occupants inside — before rallying at the Capitol in favor of gun control. The students had some star-studded backup, with Democratic lawmakers walking out of the Capitol to address them.
Meanwhile, across town, a Catholic elementary-middle school turned thoughts and prayers — widely dismissed as empty gestures — into a meaningful tribute to the Parkland victims with a prayer service not just for the Florida school but for schools across the country.
Facing their fears in Los Angeles
At campuses across the Los Angeles area, students staged peaceful demonstrations showing their support for victims of school shootings. The walkouts came one day after the city school board approved a resolution strengthening school safety — a recognition that many students do not feel safe in their classrooms. Said one demonstrator, "I think we should have more drills at school because we haven't had any, and I feel like we're really unprepared in case a real [shooting] happens. We're showing today that we don't have to be afraid to go to school."
Grade-schoolers boo guns in New Jersey
Most students who marched out of their classes Wednesday morning were teenagers, but a small group of Jersey City parents used the opportunity to teach their young children about civic engagement. About a dozen parents stood with their elementary-school-age kids on a sidewalk outside the building, talking about how difficult it is to discuss something as horrific as gun violence with a 5-year-old. Sometimes, all a kindergartner can say is, "Boo guns! Yes flowers and hearts." And sometimes, that's enough.
Girls versus guns in Brooklyn
Though the victims of gun violence are disproportionately men, students at the all-girls Brooklyn Emerging Leaders Academy Charter High School say their lives are affected as well. The school is located in Bedford-Stuyvesant, a rapidly gentrifying, predominantly black neighborhood with a history of violence. "We leave these girls out of the conversation a lot, but they carry the trauma," said one teacher. "They carry the labor of this conversation but don't get the attention for it."
Free speech showdown outside Minneapolis
In the affluent, solidly purple Minneapolis suburb of Edina, high school students spent exactly 17 peaceful minutes in the parking lot, chanting, waving signs, and consoling one another. Having been the site of several recent controversies regarding the limits of student and teacher free speech, the district took no chances with security. Police cruisers were on prominent display at several schools, but the only observers who turned out were mothers in bright T-shirts advocating gun control.
WATCH — The largest school in New York City walks out 
The 74's Video Director James Fields captures on video the massive walkout at the elite, 5,800-student Brooklyn Technical High School. He also records the poignant and on-point voices of students like junior Divya Tulsiani: "I definitely get emotional because we are talking about the future plans of these [Parkland] students, some of whom were getting ready to graduate, some of whom were getting ready to compete with their teams. We as Brooklyn Tech students are lucky enough to still have that privilege. Unfortunately, because of a lack of commonsense gun control at the federal level, the students at Parkland who lost their lives are not able to carry their future plans." Watch the walkout here.

Get stories like these delivered straight to your inbox. Sign up for The 74 Newsletter