'Boo Guns!' — New Jersey Parents Sign Their Young Children Out of School for a Teachable Moment In Civic Engagement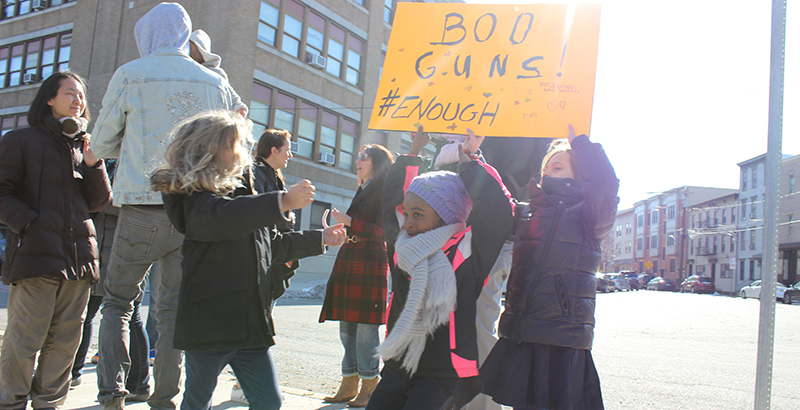 Thousands of students walked out of school at 10 this morning in a 17-minute nationwide demonstration that served as both a tribute to the 17 victims of the Parkland, Florida, school shooting exactly one month ago and a protest against gun violence. More than 2,800 National School Walkout demonstrations were taking place across the country; click here to see our comprehensive recap of the sights and sounds from the protests in every time zone.
Kate Stringer has this dispatch from Jersey City:
Parent Elena Rossi-Snook can't take credit for the sign. It was a stroke of brilliance from her kindergartner.
"You should say, 'Boo Guns!' " Lucia Snook-Dengate told her mom Tuesday night, as she stared at a blank orange sign sitting on their kitchen table. Later, in pink marker, the kindergartner added a smaller, but equally important postscript: "YES FLOWRS AND HEARTS."
It was a simple but meaningful message, reflective of the type of dialogue parents and their young children have been holding in the face of increased gun violence in schools. On Wednesday morning, as an overwhelming number of older students across the nation walked out of their classes to protest gun violence, Rossi-Snook and several other parents signed their elementary-school-age children out of their classrooms to make a shared statement about the horror they're hoping policymakers can help prevent.
"On its most fundamental level, it's about teaching civic engagement," said Rossi-Snook, who helped organize the walkout at the pre-K–8 Dr. Michael Conti School. "It's important to talk to children about what is fundamentally right and good for Americans. … It's a great moment in history to grow a generation of thinkers."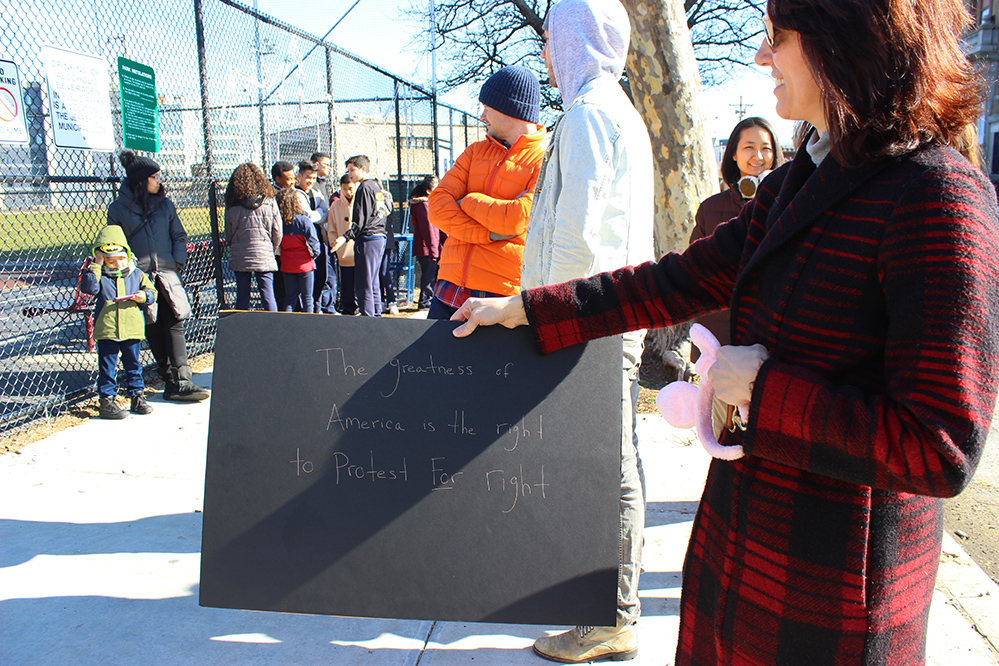 Bundled up against the cold, about a dozen parents stood on the sidewalk across the street from the school, holding thermoses, some with babies strapped to their chests. No one chanted, and some of the students were more interested in running through a nearby playground with their protest signs. But parents talked about the frustration they felt at legislative inaction in the face of tragedy.
"I'm slightly furious with the current state of affairs," said fifth-grade parent Jamie Wilson Murray. "But you have to be the change."
Parents want to protect their children's innocence, Wilson Murray said, but find themselves forced to have conversations about active shooter drills. Her daughter once asked her if the policy around gun control was enough to keep her safe.
"It's real but disconcerting, because I didn't grow up in that world," Wilson Murray said. She was raised in Utah, where students often drove to school with guns in their trucks before heading out hunting or back to the family farm. Still, the idea of needing to own an assault rifle doesn't make sense to her, or to many of the organizers and participants in Wednesday's National School Walkout.
Behind the parents, a group of seventh-graders were also huddling together in the cold. The students had been studying the impact of the Second Amendment on American culture before the Parkland shooting happened. Their language arts teacher, Omar Alvarez, received permission from the school principal to make the walkout a teachable moment.
"It's a real wake-up call," he said. "As safe as we think we are, anything can happen. The school drills are more real for them."
One of Alvarez's students, a seventh-grader who identified herself only as Ciara, said she heard about the Parkland shooting from a news story on Snapchat and immediately called her mom. "What happened was tragic," she said. "Those people didn't deserve to die."
Alvarez and parents said their school supported their decision to walk out. Officials of Jersey City Public Schools had anticipated that all the high schools would participate in some way and announced that students would not be penalized for missing class, though they would be marked absent if they did not return after 17 minutes.
"We are proud that our students are speaking out to make our communities safer and will work with them to support their peaceful expression of commitment to an important cause," Superintendent Marcia Lyles said in a press release.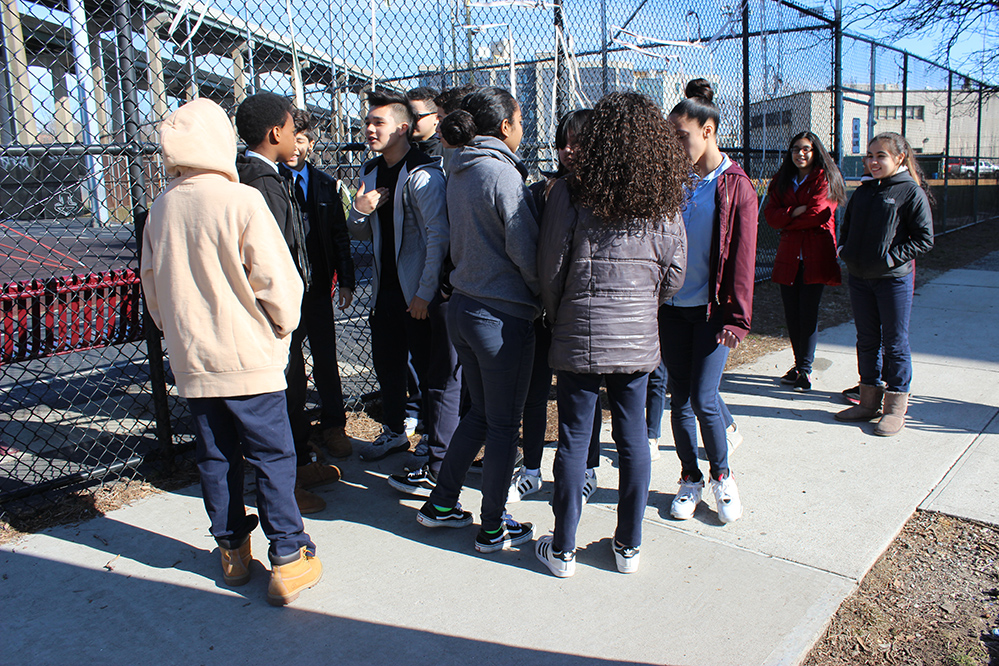 But 30 miles away, in the town of Sayreville, the district threatened students with suspensions for participating in the national protest, something ACLU–New Jersey called "the most punitive" approach in the state. Superintendent Richard Labbe said parents could sign their children out of class without consequences, but a walkout would be a "major disruption" to their education.
"My blood pressure went up," Rossi-Snook said when she heard about students threatened with discipline for protesting. "It's so easy to tie this into a teachable moment."
Standing in the snow-lined street, she flipped over the "Boo Guns" poster to reveal her own postscript, a quote that she had copied onto the back: "The greatness of America is the right to protest for right." In the other hand she held her daughter's pink bunny ears, as the kindergartner raced around the playground.
Get stories like these delivered straight to your inbox. Sign up for The 74 Newsletter