Courage, Compassion, & Concern In California as Students Display Their Own Fears Along With Support for Shooting Victims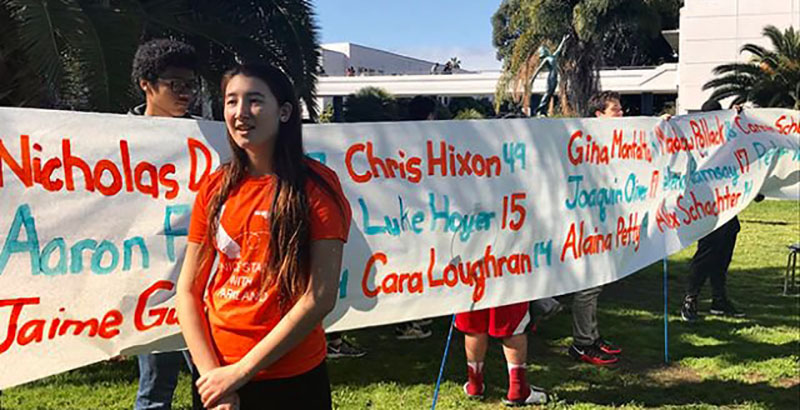 Thousands of students walked out of school at 10 this morning in a 17-minute nationwide demonstration that served as both a tribute to the 17 victims of the Parkland, Florida, school shooting exactly one month ago and a protest against gun violence. More than 2,800 National School Walkout demonstrations were taking place across the country; click here to see our comprehensive recap of the sights and sounds from the protests in every time zone.
Esmeralda Fabián Romero of LA School Report has this dispatch from Los Angeles:
Concerns about their own safety mingled with students' expressions of support for victims of school shootings, as peaceful demonstrations were held Wednesday at campuses across Los Angeles.
"I think we should have more drills at school because we haven't had any, and I feel like we're really unprepared in case a real [shooting] happens," Talita Villanueva, a sophomore at LA Unified's Venice High School, said as she walked with a poster among 17 empty desks set up on the front lawn. "We're showing today that we don't have to be afraid to go to school."
Teresa Diaz, a senior, said, "We want to show that we care for the victims, but also that it's scary that it can happen anywhere, especially here with our open campus — I feel like it's easier for someone to walk in here. It's just scary."
About 2,000 students at the West Los Angeles campus walked out of their classrooms to honor the 17 victims of last month's mass shooting at Marjory Stoneman Douglas High School in Parkland, Florida.
Students in orange shirts that read "Venice stands with Parkland" called out the names of each of the victims and placed orange flowers on the desks. Tables were set up for students to pre-register to vote and sign petitions supporting stricter gun laws. A group of fifth-graders from nearby Acton Academy Venice Beach joined the high schoolers in chanting, "Protect kids, not guns." A long banner bearing the names and ages of the 17 Florida victims was anchored by a palm tree.
"This is a start, and what matters is how far we're going to continue with this until we see change," said student Christopher Holland.
Kirsten Farrell, a health sciences teacher at Venice High and 2018 California Teacher of the Year who organized the school's demonstration, said, "After today, I'd like to see students continue this movement, and I'd really like to see the federal government banning weapons we consider weapons of war and really have some conversations on gun safety and mental health and the background checks. I was very lucky to teach in countries with very strict gun laws, and I think we need to pay attention to what other countries are doing."
The demonstrations at schools throughout the city came one day after the LA Unified school board approved a resolution to strengthen school safety. On Wednesday, three board members — Monica García, Nick Melvoin, and George McKenna — were in Washington, D.C., meeting with congressional leaders to bring students' demands for safer schools and to lobby for more education funding.
Independent charter schools across Los Angeles also joined the movement Wednesday morning.
Parents marched with more than 500 students around KIPP Raíces Elementary School, who were carrying handmade signs and chanting, "Peace and love," "Keep us safe," "Love not hate," and "Más amor." At KIPP Academy of Innovation, students used art to decorate the campus and surrounding sidewalks with messages of hope, peace, and solidarity.
Students from Alliance College-Ready Middle Academy 8 held a walkout outside the Los Angeles Museum of the Holocaust, which they were visiting Wednesday. At Alliance Dr. Olga Mohan High School, students created signs demanding more gun control with the slogan of the movement #Enough. One teacher carried a sign reading, "Armor teachers with knowledge not with weapons."
Nearly 500 students at Alliance Susan & Eric Smidt Tech High School walked around the campus in Lincoln Heights holding banners and chanting. They also created an altar with photos of the Parkland victims and a sign reading, "Gun control not thoughts and prayers."
Camino Nuevo Charter Academy students walked onto their soccer field carrying posters of those who lost their lives to gun violence. A schoolwide kindness event is planned for March 21.
At Los Angeles Leadership Academy, where students' artwork and poems were on display, students, parents, and staff linked arms and held a 17-minute walkout in front of the school.
At Granada Hills Charter High School in the San Fernando Valley, 17 gongs sounded and students formed a giant human message, spelling out "Enough" on the football field.
Teachers Emily Beecher and Liz Kleinrock at Citizens of the World Charter School in Silver Lake started an open letter petition to federal and local lawmakers to keep guns out of schools. The letter implores lawmakers to "address and restrict access to military-grade weapons and ammunition, and restrict access to guns of any kind by young people. Adding more guns only results in more gun violence."
A teacher in northern California, Sarah La Due, has helped organize Teachers Take Action Against Gun Violence, which has signed up nearly 5,000 teachers and developed a curriculum and other resources for teachers around gun violence. La Due is a Teach Plus fellow and teaches seventh-grade English at Korematsu Middle School. The school, in El Cerrito in the Bay Area, on Wednesday set up a "photo booth" in the library for students to take pictures with #WhatIf signs to post to social media.
Support The 74's year-end campaign. Make a tax-exempt donation now.