At U.S. Capitol, Students Condemn 'Too Much Waiting Around' by Adults as Hundreds Call for Stronger Gun Control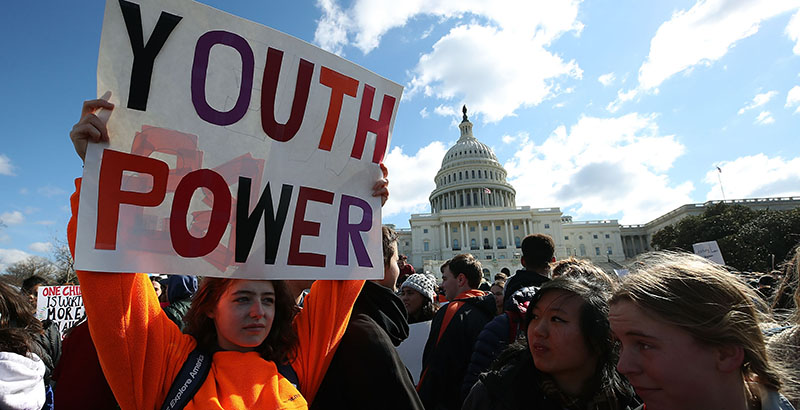 Thousands of students walked out of school at 10 this morning in a 17-minute nationwide demonstration that served as both a tribute to the 17 victims of the Parkland, Florida, school shooting exactly one month ago and a protest against gun violence. More than 2,800 National School Walkout demonstrations were taking place across the country; click here to see our comprehensive recap of the sights and sounds from the protests in every time zone.
Carolyn Phenicie has this dispatch from Washington, D.C.:
Hundreds of students from schools across the D.C. area took their walkout directly to the country's halls of power, capping their 17-minute silence in front of the White House — where they turned their backs — with a rally at the Capitol calling for increased gun control.
"We are the generation that is going to make a change," said Kimberly Maldonado, a senior at Wheaton High School in Silver Spring, Maryland.
The loss of the 14 students and three teachers gunned down at Marjory Stoneman Douglas High School has to be "significant and meaningful," she said.
A group of students from Gonzaga College High School, a Jesuit boys' school near the Capitol, held posters with the names and ages of each victim.
"Students are really fed up," said Krishna Euella, a senior at Takoma Academy, also in Silver Spring.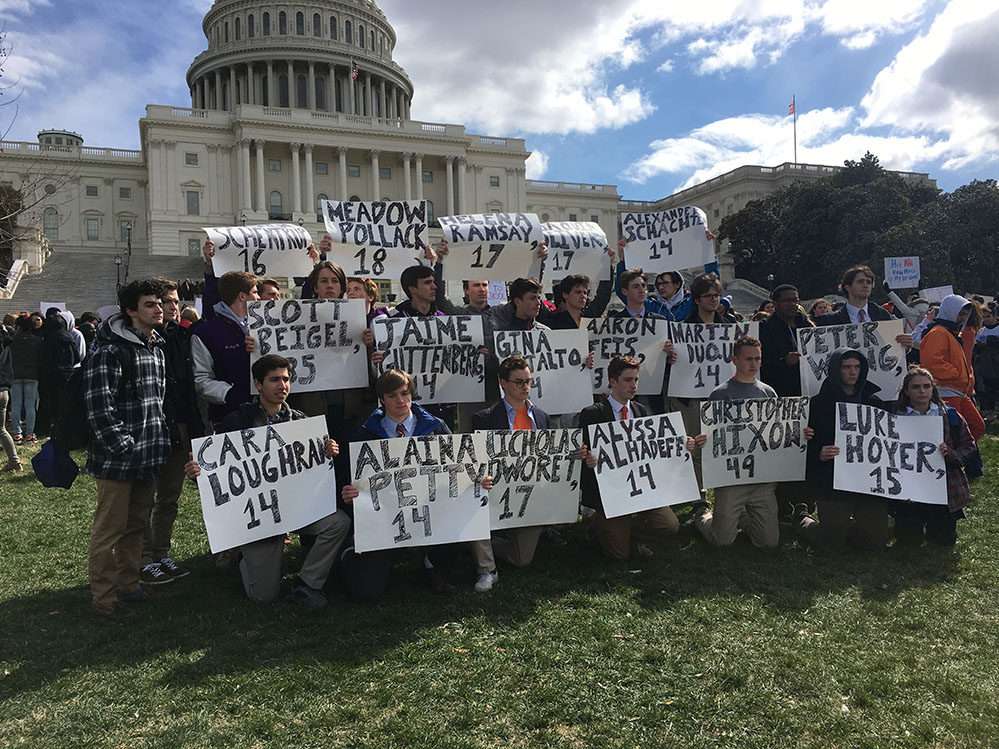 The teenagers said they don't feel protected at school.
"It could've been me … This world is not safe anymore," said Dominique Allen, also a senior at Takoma Academy.
Euella, Allen and two other students walked out of their private Seventh-Day Adventist school after feeling that the prayer service school leaders held wasn't enough, they said.
At the chilly, windswept foot of the Capitol Building, a sea of students held up signs proclaiming things like "Books not bullets," "No more thoughts and prayers," "Stop endorsing murder," and "Arms are for hugging." One that attracted a lot of attention said, "Fix this before I text my mom from under a desk."
"There's been too much waiting around" to take action, said Trevor Kanter, a junior at Walter Johnson High School in Bethesda, Maryland.
This being the nation's capital, students weren't shying away from the political controversy. Several carried posters referencing the National Rifle Association and its influence on and political donations to Republicans.
The students had backup from some big names — Democratic members of the House and Senate walked out to address the crowd, with Sen. Bernie Sanders, the former presidential candidate, getting the biggest applause.
The students argued for "comprehensive gun control."
"It's way too easy to buy a gun," Kanter said, adding that there are "so many ways to get around" existing background check systems.
Matt Garfinkel, also a junior at Walter Johnson, said there is a graduated system to get a driver's license but barely any hurdles to buying a gun.
The students were split on whether they think the adults in charge are listening to them. Some thought that the continued conversation was evidence they're being heard, but others saw their concerns being dismissed because of their age. Regardless, they vowed to keep it up.
"We refuse to stay silent," Garfinkel said.
Get stories like these delivered straight to your inbox. Sign up for The 74 Newsletter