'The Women Have to Come Together': At Brooklyn All-Girls School, National Walkout Has Local Reverberations on Violent Streets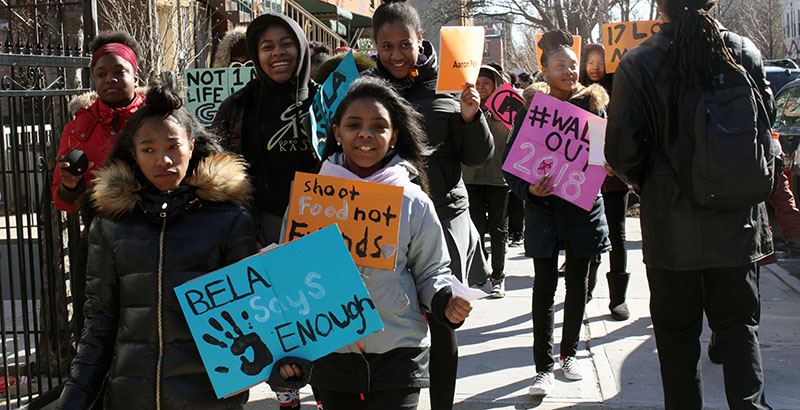 Thousands of students walked out of school at 10 this morning in a 17-minute nationwide demonstration that served as both a tribute to the 17 victims of the Parkland, Florida, school shooting exactly one month ago and a protest against gun violence. More than 2,800 National School Walkout demonstrations were taking place across the country; click here to see our comprehensive recap of the sights and sounds from the protests in every time zone.
Mark Keierleber has this dispatch from Brooklyn:
In Tatiana Gonzales's neighborhood, she said, people "can't even go outside and play in the park without us feeling like we're not protected."
For Gonzales and about 60 students at her all-girls school in Brooklyn who walked off campus Wednesday, the event was not only an opportunity to show solidarity with the 17 people killed in Parkland, Florida, but also a chance to reflect on the ways gun violence has affected their own lives.
They marched down the streets with signs containing the names of the Marjory Stoneman Douglas High School victims — and other shooting victims like Michael Brown, a black teenager who was shot and killed by a police officer in Ferguson, Missouri, in 2014. The school, Brooklyn Emerging Leaders Academy Charter High School, is located in Bedford-Stuyvesant, a rapidly gentrifying, predominantly black Brooklyn neighborhood that has long struggled with violence. While young black men are disproportionately the victims of gun violence in this neighborhood — and in communities across the country — the girls made it clear that they, too, are affected.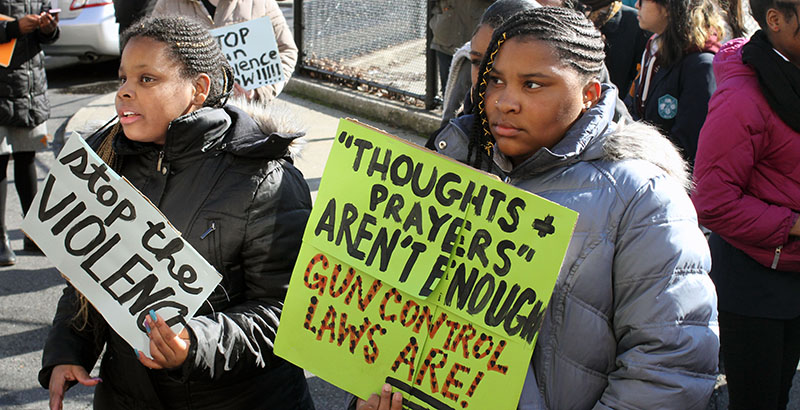 "This gun violence is not good because it just keeps happening and happening and happening and nobody's changing anything, and no men are doing anything either," Gonzales said. "The women have to come together."
Wellness teacher Wazina Zondon, who helped the students organize the walkout, noted that while men are disproportionately shot and killed, women have to worry about their brothers, sons, and fathers.
"We leave these girls out of the conversation a lot, but they carry the trauma," she said. "They carry the labor of this conversation, but don't get the attention for it."
As the girls marched past aging brownstones and bodegas, they chanted in unison as motorists honked their horns and people stood on their stoops and clapped. "We, the people of the United States, in order to form a more perfect union, gun violence must stop," the students chanted.
Rosalie Bobbett, a 15-year-old freshman who organized the protest at her school, said she felt motivated to act after the deadly shooting in Las Vegas, the mass school shooting in Parkland, and other school shootings across the country. Despite the violence that's plagued some communities, she said, lawmakers have failed to act.
"Knowing that anyone can come in and shoot up a school is mind-blowing," she said. "As president, as mayor, as governor, as senators, as representatives, they need to know where their place is, and their place is making students feel safe because we are the future lawyers, doctors, representatives, senators, and presidents."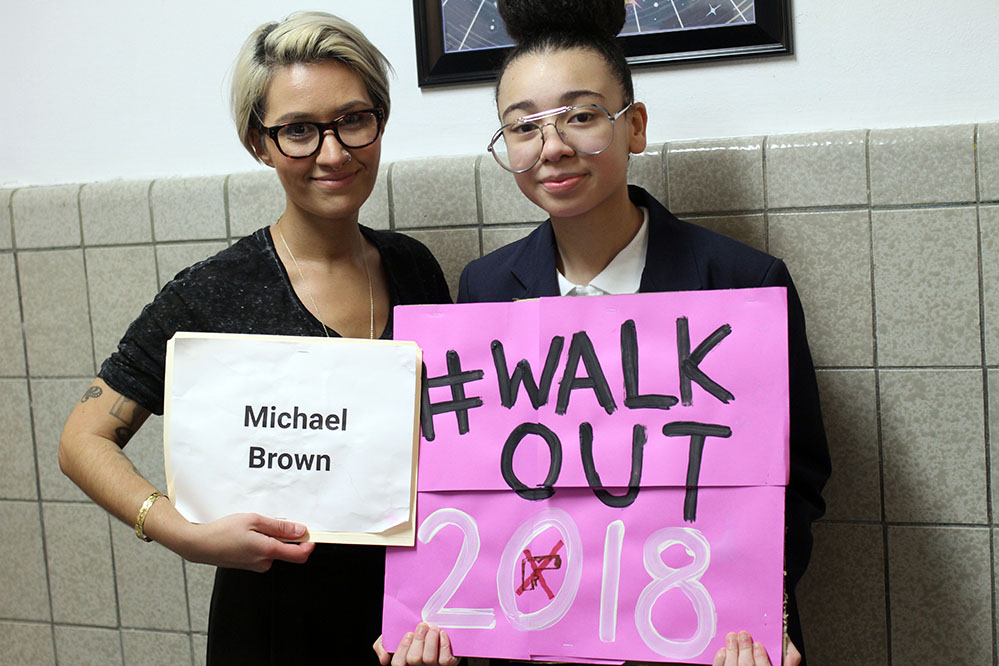 Although some school districts across the country have disciplined students for skipping class to protest, school officials at Emerging Leaders encouraged the activism. Nicia Fullwood, co-founder and head of school, said she hopes the students' civil disobedience teaches them how to use their voices and actively engage in their community. Asked whether school officials were similarly engaged in civil disobedience since they empowered their students to speak up, Fullwood laughed.
"You know, one could interpret it that way," she said. "One could say that."
Get stories like these delivered straight to your inbox. Sign up for The 74 Newsletter