74 Interview: Former NBA Player and Michigan Fab Five Member Jalen Rose on Running a College-Bound High School in His Hometown of Detroit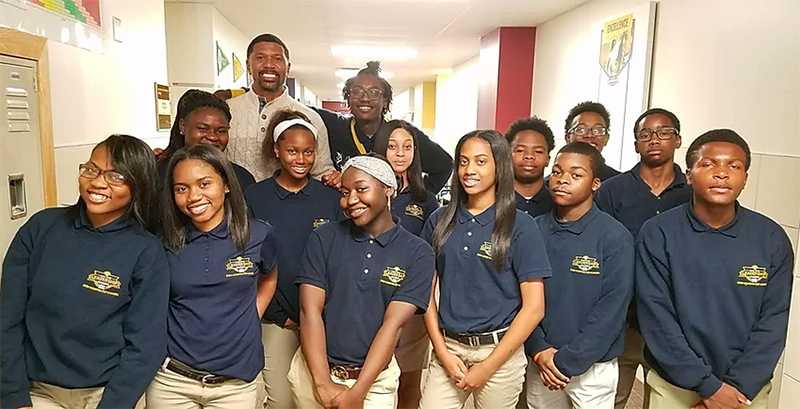 See previous 74 interviews: Sen. Cory Booker talks about the success of Newark's school reforms, researcher Gloria Ladson-Billings on culturally relevant teaching and the role of teachers in Trump's America and Chicago Public Schools CEO Janice Jackson on getting more students to and through college. The full archive is right here.
Former NBA player Jalen Rose, a member of Michigan's famed Fab Five, has been an influential figure both on and off the court. However, nowadays, when Rose isn't co-hosting Get Up!, ESPN's morning sports talk show, or Jalen & Jacoby, a national sports radio show on ESPN Radio, or providing his analysis on NBA Countdown, he's also using his resources to help further educational opportunities for students in Detroit at the Jalen Rose Leadership Academy.
Developed by Detroit native Rose and co-founder Michael Carter, JRLA is a tuition-free, open-enrollment high school that has been changing lives of Detroit students since 2011. Since the school's founding, JRLA has been committed to its stated mission: "Empowering all scholars to develop the strength of character, skills, and knowledge needed to matriculate into, be great in, and graduate from college so that they have opportunities to be successful in the competitive world and to take care of themselves and the people that they love."
JRLA prides itself on its high school graduation rates of 91 percent (compared with the state's rate of 81 percent) and had a 100 percent post-secondary acceptance rate among the class of 2019.
Rose received the 2019 Trailblazer Award from the National Alliance for Public Charter Schools at the Charter School Leadership Awards and Reception held this past September in Washington, D.C., for his work in developing a public charter school in his old neighborhood.
The interview has been edited for length and clarity.
The 74: As many people already know, opening a school is no small feat. What was your motivation behind opening Jalen Rose Leadership Academy?
Rose: JRLA is an open-enrollment, tuition-free, public charter school located in the same zip code I grew up in. Our school caters to all students in grades 9-12, including those with special needs, and we don't test students in or test them out. When our students graduate from high school, it's not goodbye, it's see you later because we also provide support for students while they're in college. These are the things that make me proud because we've been a full-service opportunity support system for our scholars.
What differentiates your school from schools in the surrounding area? Can you talk to us about some of the strengths and challenges around building JRLA?
JRLA abides by a 9-16 school model, which means that we're determined to ensure our students graduate from high school and college. We also operate on an inner-city budget while simultaneously engaging in fundraising efforts with the board to help provide scholarship dollars and the necessary support systems that students need while in college as well. JRLA also operates 11 months out of the year. If a student fails a class, they'll go to summer school in the month of July. Otherwise, the majority of our students are set up with paid internships and are provided with a collegiate experience on college campuses.
Additionally, in 20 years, there are figures that indicate sports will be extinct in public high schools. However, JRLA provides over 20 sports and extracurricular activities for our students, and it's not just because we're a school; it's because we're trying to cultivate partnerships and pull resources from individuals and companies that are looking to give back.
As for challenges we've faced, JRLA gets zero state funding for facilities because the state of Michigan does not provide direct funding to public charter schools for their facilities costs. This essentially means we have to fundraise additional dollars to cover these costs.
You grew up in Detroit and went to Southwestern High School. How does your experience of high school back then differ from what you are offering students at JRLA today?
My high school experience mirrors what I hope to provide for my students now. I appreciate my high school experience because I received an opportunity to participate in accelerated classes, which I took pride in as an athlete because I didn't fall into the stereotype of being a dumb jock. I wanted to be an honor roll student. I remember they had something called the Pepsi Challenge where a student who received a 3.5 GPA would be able to meet Magic Johnson, and I told myself that I could not be the star of the basketball team and not meet Magic Johnson because of my grades. These are the types of things that gave me a sense of pride that I try and instill in our school. Our scholars, parents and staff are in the building daily and are committed to the work that we do, and I'm forever grateful that they trust me as a leader.
What are some short-term and long-term goals you have for JRLA?
We are making great strides! However, we know we have more work to do. In the short term, we are working to improve our scholars' GPAs and SAT scores. In the long term, we hope to graduate more scholars from college so that they can be successful and take care of themselves and the people that they love.
Your state's governor, Gretchen Whitmer, recently decided to cut $35 million from a $240 per-pupil spending increase for charter schools while per-pupil hikes for traditional public schools were kept intact. What are your thoughts on this decision? Do you think it will affect JRLA? If so, how?
This decision is unjust and unfair. Every Michigan student should have equitable funding to support their education. This hurts our scholars, our educators and ultimately what we are able to provide in the classroom. The JRLA budget is definitely affected as this decision undermines all of the hard work we've been putting in to accomplish our mission, vision and goals.
Note: In early December, the Michigan Legislature restored the charter school aid increase and other funding vetoed or transferred to other parts of the state budget by Gov. Whitmer.
In a recent ESPN podcast, you mentioned that you wish you could mobilize people to contribute to public charter schools in the same way they're contributing to the pockets of for-profit company owners, i.e., Popeye's chicken and Chick-fil-A owners. Why is this important to you, and what form do you think those contributions should take?
I'm competitive, and when something goes viral, I automatically think I have to do the same thing for our scholars! However, I don't necessarily want to discuss these specific companies or ways to help them make more money. I'm trying to figure out a way to create that level of enthusiasm for the field of education. When my co-founder and I first founded JRLA, one of the things I've always said was in the same way the Fab Five made bald heads, long shorts and black socks cool, I hope to make education cool, too.
You received the inaugural Trailblazer Award at the 2019 Charter School Leadership Awards and Reception, a prestigious award that was created to honor an individual or group that is not traditionally involved in education but has made a commitment to use their celebrity, status, wealth and/or brand toward the advancement of the community. What does receiving this honor mean to you?
It was a great honor to receive the Trailblazer Award and be recognized with so many outstanding individuals improving the educational landscape. This award brings recognition to the good work we are doing in Detroit. It truly is a team effort, and I thank my founding team, board of directors, supporters, staff, students and families for believing in our mission!
Get stories like these delivered straight to your inbox. Sign up for The 74 Newsletter