3 Congress Members, 5 Education Leaders — Including Former NBA Star Jalen Rose — Honored for Their Charter School Work During Congressional Black Caucus Conference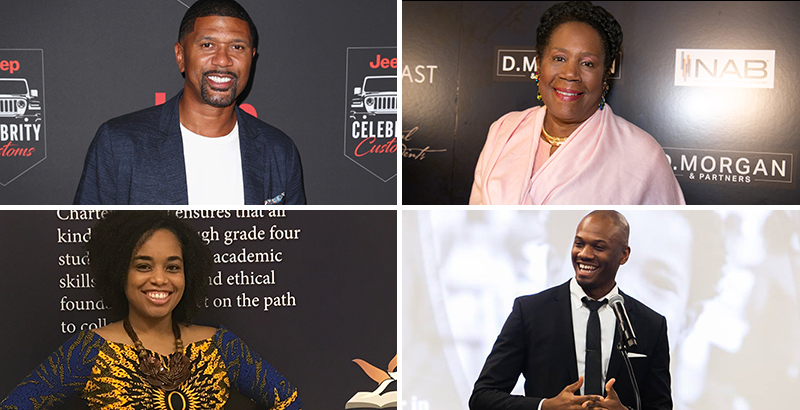 Washington, D.C.
Eight black leaders from the worlds of politics and education will be celebrated for their contributions Wednesday on behalf of more than 3 million public charter school students around the country.
The group will be recognized at a reception held in conjunction with the Congressional Black Caucus Foundation's 49th Annual Legislative Conference, the leading policy conference on issues impacting African Americans and the global black community. For the 116th Congress, the caucus consists of 55 members of the House of Representatives and the U.S. Senate who come together to advocate on critical issues, including criminal justice reform, voter suppression and education.
Among the honorees are three caucus members, including Democratic Reps. Lacy Clay of Missouri, Sheila Jackson Lee of Texas and Donald Payne Jr. of New Jersey. The charter school leaders being recognized are Michael Carter, co-founder of the Jalen Rose Leadership Academy in Detroit; Dominique Lee, founder and CEO of New Jersey-based Building Resilient Intelligent Creative Kids (BRICK) Education Network; Tysie McDowell-Ray, co-founder of Crossroads Charter Schools in Missouri; and Lagra Newman, founder and head of school of Purpose Preparatory Academy in Tennessee.
Former NBA player and co-host of ESPN's Get Up!, Jalen Rose, will receive this year's Trailblazer award for his work partnering with Carter to start the school that bears his name in his hometown in 2011.
Each honoree will be recognized for their accomplishments spearheading the movement to provide families and students with access to high-quality public school opportunities, according to the National Alliance for Public Charter Schools, one of the sponsors of the second annual awards event.
Rose, who was a member of the famed "Fab Five" teams at the University of Michigan in the early '90s and played alongside Reggie Miller on the Indiana Pacers, compared a strong education to life's most basic essentials.
"Choice is important for communities of color because the quality of your education should not be defined by your zip code — education is a necessity just like food and water," Rose told The 74.
Carter, Rose's co-founder, said poor families in rural and urban areas often don't have the means to offer the same opportunities as those available to students in high-performing, well-funded school districts.
"Charter schools offer a choice to parents and children who desire to escape failing, obsolete and ineffective schools," he said.
Lee, of the BRICK network, said that turning around failing schools in Newark was among his network's greatest accomplishments.
"One of the things I am most proud of is actually proving that school transformation can happen," he told The 74. "We were able to transform some of New Jersey's lowest-performing schools, and at the end of our work, we had some of the highest student growth percentiles in the state."
In addition to the National Alliance, the leadership awards and reception are sponsored by the Diverse Charter Schools Coalition, Education Reform Now, KIPP Foundation, the Washington D.C. NAACP chapter, National Charter Collaborative, Progressive Policy Institute, UNCF and the Walton Family Foundation.
There will also be a live recording of 8 Black Hands, a podcast focused on issues affecting black and brown students and co-hosted by four black male education leaders: Raymond Ankrum, Chris Stewart, Charles Cole III and Sharif El-Mekki. Music will be provided by DJ Flava of 93.9 FM radio, and the ceremony will be emceed by Joe Gorham of 96.3 WHUR FM radio. The 74 is a media sponsor for the Sept. 11 event, which will take place from 5:30 to 8 p.m. at Cuba Libre in D.C. Those interested in attending can email Brittany Harris for more details and to RSVP.
Also coinciding with the CBC's annual legislative conference, The 74 and African-American journalist Roland Martin will host a "Why School Choice Is the Black Choice" forum on Friday from 4:30 to 6 p.m. at the Walter E. Washington Convention Center. Martin will have an in-depth discussion with national education advocates and local leaders about high-quality school options for black families. Featured panelists are Elizabeth Davis, president of the Washington Teachers' Union; Margaret Fortune, president and CEO of Fortune School in California; Dr. Steve Perry, education speaker, daytime TV host and former head of schools of Capital Preparatory Magnet School in Connecticut and New York City; and Shawn Hardnett, CEO and founder of Statesmen College Preparatory Academy for Boys PCS in Washington, D.C. This event is free to all registered attendees of the Congressional Black Caucus's conference. Participants can register for the event here.
The Sept. 13 forum is part of a national tour by Martin and The 74 focusing on equity and educational excellence for black families that has already made stops in Indianapolis, Atlanta, Sacramento and Philadelphia and will continue through 2020 with upcoming events in Denver and other cities.
Disclosure: The Walton Family Foundation provides financial support to the National Alliance for Public Charter Schools, KIPP, Education Reform Now and The 74.
Get stories like these delivered straight to your inbox. Sign up for The 74 Newsletter