Williams: School Choice Panel at National Urban League Summit Shows We're Having the Wrong Conversation About Charter Schools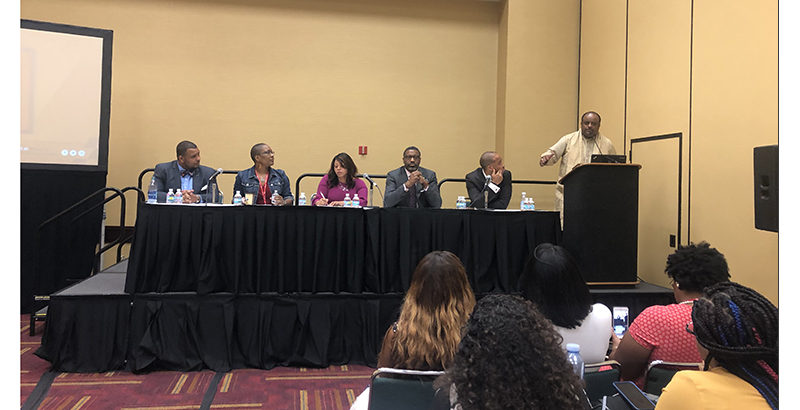 Last month, the National Urban League hosted an all-star panel of activists at its Young Professional L.E.A.D. Summit to discuss the present — and potential — of school choice programs for African Americans in public education. It was a summit of sorts, presented by The 74 and African-American journalist Roland Martin, with choice advocates like Martin and the Progressive Policy Institute's Curtis Valentine sharing a stage with NAACP President and CEO Derrick Johnson — whose organization famously called for a moratorium on new charter schools in October 2016.
Unsurprisingly, the panel delivered fireworks. Voices rose. Rhetoric sparked. But one thing stood out: The debate over school choice couldn't fit within any of the usual frames.
"It's the wrong conversation that we're having," said Johnson. "This is a quality argument, this is not about 'this versus that' … we've got to get out of that conversation. Let's get back to the main conversation, providing quality education for all children."
In this, at least, Johnson found plenty of agreement. "We're having the wrong argument," said Tomeka Hart of the Bill & Melinda Gates Foundation, a former Memphis school board member. "We should be talking about quality schools, period. When we remove ourselves from the structure and governance conversation and actually give communities real choice, right? And that choice should sit inside the charter community, it should sit inside the district community, and we can't overlook the number of students who are choosing independent schools."
It came up over and over — we're not talking or thinking about this in the right way — an empty complaint that, repeated often enough, crystallizes something concrete. Much of the heat around charter school debates stems from the fuzziness about what charters are for.
That is, debates about the value of and problems with charters are less about facts and more about how we frame them. These schools enroll around 3 percent of American students, but they take up dramatically more of our public education debate time because they've become a proxy for other debates. That's why members of the panel, "School Choice Is the Black Choice: Black Excellence in Education — The Role of Civil Rights and Black Advocacy Organizations," kept insisting on reframing the conversation.
Charter fights aren't about labor unions, said Johnson, but rather should be about quality and inequity. This need not be a battle over stopping charters, he also said, but rather a push to ensure that charters open only in states where there is sufficient quality monitoring and oversight. It's not an argument about charters siphoning dollars from public systems, said Hart, but about the inadequacy of state education funding. It's not a dispute about governance, really, said Valentine, but about phraseology — when districts launch charterlike schools and call them something else, much of the controversy evaporates. This isn't a conflict over putting pressure on low-quality charters, said Patricia Brantley, CEO of Washington, D.C.-based Friendship Public Charter Schools, but a fight about setting high academic standards for both traditional and charter schools all over the country.
Each of those framings shifts the terrain toward certain priorities and away from others. For example, if the debate settles on determining whether traditional public schools have adequate funding, it's much easier to present charter schools as a concerning problem. Charters can pose difficult fiscal choices for local and state leaders, and in many cases, they wind up competing for scarce public education dollars (though not always). A conversation orbiting the fiscal solvency of traditional districts tilts concerns toward that possibility.
Of course, that's not the only way to set the stage for discussing a charter moratorium. If the conversation instead is over whether charters are held appropriately accountable for performance, it's easier to avoid discussion of — or comparison to — the relatively lighter academic accountability pressures traditional public schools generally face. Charter schools are regularly closed for failing to meet academic goals that they agreed to when they were authorized to operate. Brantley noted this accountability gap. "I live in a district where they never closed a school except when it came to financial mismanagement," she said. "Not due to poor performance. You can serve our kids poorly and exist forever. That is not right and you know it's not right. If the public schools were great, we wouldn't need charters." A conversation that focuses on raising the academic bar for all schools drives the debate toward outcomes-based accountability.
Incidentally, my preferred framing didn't come up. There were several half-mentions of the perniciousness of determining school enrollment through the real estate market, but they went largely unexplored. Still, a conversation about charter schools that centers on how they're one of the only ways to get open enrollment past privileged families (who generally recognize that kind of choice as a threat to their opportunity hoarding) avoids a lot of the usual political landmines. That sort of discussion tilts the charter school debate toward structural inequities in wealth and housing. It makes it easier to show how charter schools decouple wealth and housing markets from access to opportunity and social capital.
These are just a few examples. But the point ought to be clear: Arguments about charter schools aren't necessarily about charter schools. They're about inadequate funding, student outcomes, inequitable housing policies and other major elements of public education. People are importing these concerns into charter school debates, perhaps because they sincerely care, but also because they're trying to force charter battles onto favorable turf.
This kind of rhetorical massaging happens a lot. It's a sign that an issue is more complex than usually understood. None of the framings sketched above is wrong, per se. We should care about the adequacy of public education funding, accountability for academic results and enrollment systems designed to reinforce existing social inequities. All deservedly pull on our heartstrings.
The trouble, of course, is that this jockeying over the purpose of charters and the appropriate boundaries of debate takes time. It risks eroding our sense of urgency. It's hard to advance a discussion if we conduct most of it about whether we're having the right one. At some point, when we can't pin down a framing, set some priorities and actually hash out what needs doing, we're implicitly picking a side. We're extending the life of the country's educational status quo.
Brantley hit on this point, and she was clear about the stakes. "The argument is real for kids every day where kids cannot start because of moratoriums," she said, referring to the NAACP's 2016 decision. "I have never heard someone call for a moratorium on public schools that are traditional that don't work. We need our schools. Calling for moratoriums is the false choice." She continued later, "So, while we talk about the need to fix systems, and I agree, how much time are we going to take to fix systems if your kid is 5 years old and you have to make a decision?"
Valentine agreed, and he noted the danger of fighting to a standstill: "There are children who are not in this room who are sitting in classrooms or waiting for school to start in a few weeks, and they're going to sit in that classroom and they're going to trust in us that we're giving them the best education possible."
Conor P. Williams is a fellow at The Century Foundation. Previously, Williams was the founding director of New America's Dual Language Learners National Work Group. He began his career as a first-grade teacher in Brooklyn. He holds a Ph.D. in government from Georgetown University, a master's in science for teachers from Pace University, and a B.A. in government and Spanish from Bowdoin College. 
Disclosure: The Walton Family Foundation is a national partner in The 74 and Roland Martin's education town hall series. The Walton Family Foundation and the Bill & Melinda Gates Foundation provide financial support to The 74.
Get stories like these delivered straight to your inbox. Sign up for The 74 Newsletter