Three Lawsuits to Weigh the Most Explosive Issues in Schools this Year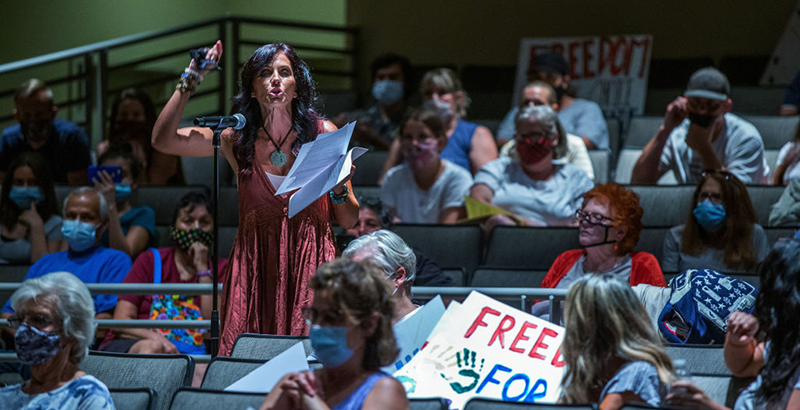 Support The 74's year-end campaign. Make a tax-exempt donation now.
In the coming months, lawsuits over bans on teaching critical race theory and COVID-19 vaccine mandates for students and teachers will test how much leeway officials have to shape school policy on some of today's most explosive political issues.
The cases arrive as schools have become a culture war flashpoint in a nation divided over its pandemic response and reckonings with racism past and present.
Classroom coronavirus safety measures such as masking requirements and teacher vaccine mandates have spurred protests, and in some cases, even violence — with reports of anti-mask parents pushing students and ripping off their face coverings.
Meanwhile, local school boards have become the epicenter of superheated debates over the perceived encroachment of critical race theory into U.S. curricula, spurring conservative takeovers that have led to the departure of multiple beloved Black administrators.
Tensions have escalated so high that the National School Board Association urged the Biden administration to protect school leaders who faced "an immediate threat" from what they called "domestic terrorism." The group on Friday apologized for the letter's strong language, but their initial message was enough to prompt the U.S. Department of Justice to mobilize the Federal Bureau of Investigation and U.S. Attorneys' Offices to combat the spike in harassment.
With the politics of school policymaking red hot, here are three key upcoming education cases to watch:
1 ACLU sues Oklahoma over its CRT teaching ban, arguing the law restricts educators' and students' free speech
On Oct. 19, a group of educators and civil rights groups — backed by the American Civil Liberties Union and ACLU of Oklahoma — filed a lawsuit challenging an ​​Oklahoma rule that restricts public school teachings on race and gender issues.
The organizations allege that H.B. 1775 violates students' and teachers' right to free speech, tamping down on classroom discussions of race and gender for political motives. The suit also argues that the state has committed a 14th Amendment violation, because the legislation is so vague that it places teachers' jobs in jeopardy if they misunderstand its clauses.
The Oklahoma law, which took effect in May, prohibits classroom activities that would make a student feel "by virtue of his or her race or sex, (he or she) bears responsibility for actions committed in the past." Observers described the rule as an "antiracism teaching ban."
Though the bill text does not expressly mention critical race theory, the state legislature quickly took up and passed the law while a wave of similar legislation swept through Republican-held statehouses nationwide, some of which did explicitly prohibit CRT.
Critical race theory is not an ideology, experts have previously told The 74, but a scholarly framework that views racism and inequality as ingrained in law and society. However, right-wing politicians and pundits frequently use the phrase as a catch-all term for any classroom content dealing with race.
As a result of the law's approval, according to the ACLU, school districts in the state have told teachers to avoid using terms such as "diversity" and "white privilege" in their classrooms, and have removed To Kill a Mockingbird, Raisin in the Sun and other seminal books from reading lists.
Because a total of a dozen states have enacted similar bans on teaching about racism and sexism, the Oklahoma lawsuit could prove the first of many challenges to curricular prohibitions, legal experts say, providing a bellwether for future cases.
2 Parent claims discrimination against the unvaccinated as Los Angeles mandates COVID-19 shots for eligible students
On Oct. 8, the Los Angeles Unified School District was sued by a parent for its requirement that students eligible to receive coronavirus shots be vaccinated in order to attend school in person.
The parent, who was not named in the suit, alleged that COVID immunizations are too new to be mandated for young people, and that the district's policy discriminates against unvaccinated children by denying them the right to an equal education.
Students ages 12 and up in the nation's second-largest district must be fully immunized by Dec. 19, according to LAUSD policy. Those who fail to comply will need to enroll in an online schooling alternative called independent study to remain in the school system.
Just down the coast in San Diego, a parallel lawsuit with near-identical language and prepared by the same law firm was also filed against the 121,000-student district, which requires students 16 and up to receive shots by Dec. 20.
Other California school systems Oakland and Culver City, as well as Hoboken, New Jersey, have also instituted COVID vaccine mandates for eligible students, and Washington, D.C. is mulling a similar rule. In early October, California Gov. Gavin Newsom announced that coronavirus vaccines will be required for all eligible students in the state, though the rule will likely not go into effect until July 2022.
The twin cases will provide a litmus test for whether student vaccine mandates, which legal experts have told The 74 may be vulnerable to lawsuits, hold up in court — all while shots for even younger children, ages 5 to 11, are on the verge of authorization.
3 Texas top court halts San Antonio teacher coronavirus vaccine mandate, case moves to Fourth Court of Appeals 
Hours before a teacher COVID vaccine mandate was set to take effect in San Antonio, the Texas Supreme Court issued an opinion Oct. 14 that temporarily blocked the district's policy, delivering a brief win to Gov. Greg Abbott, who has banned all COVID-19 immunization requirements in the state via executive order.
A more final ruling on the state's request for an injunction against the mandate will soon come from the Fourth Court of Appeals in San Antonio. The Texas Supreme Court opinion, in the words of its authors, was issued only to "preserve the status quo" until the appeals court settles the matter.
School districts across the country have enacted coronavirus vaccine requirements for school staff, including over one-third of the nation's 500 largest school systems, but San Antonio Independent School District is the only Texas district so far to attempt such a policy in opposition to Abbott's ban.
What the appeals court decides regarding San Antonio's rule may prove an arbiter of whether blue cities in hyper-red states will be allowed to follow through on implementing their chosen COVID safety measures amid opposition from state lawmakers.
Support The 74's year-end campaign. Make a tax-exempt donation now.