'An Immediate Threat': National School Board Group Calls on Biden to Combat 'Domestic Terrorism' Toward Educators During Pandemic Turmoil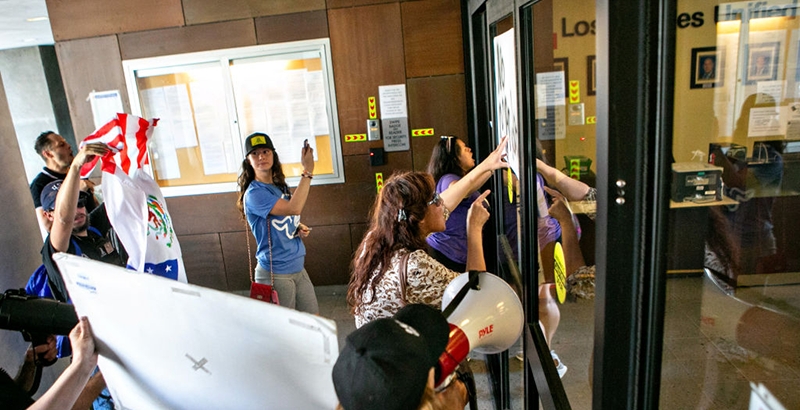 No paywall. No pop-up ads.
The Biden administration must act to combat a surge in threats and violence toward education leaders amid volatile tensions over schools' pandemic response and lessons on systemic racism, a 90,000-member national school board members' group wrote in a letter Wednesday.
In the letter to President Joe Biden, the National School Boards Association said the country's schools and educators are "under an immediate threat" and urged the federal government to "investigate, intercept and prevent the current threats and acts of violence against public school officials through existing statutes," including the Gun-Free School Zones Act and the PATRIOT Act. The group called for a "joint collaboration" between local and federal law enforcement agencies to halt what it referred to as "domestic terrorism" carried out at school board meetings, through the U.S. Postal Service and on social media.
"As the threats grow and news of extremist hate organizations showing up at school board meetings is being reported, this is a critical time for a proactive approach to deal with this difficult time," which includes tumult around mask mandates and classroom instruction on critical race theory. The group cited more than 20 instances of threats, harassment and intimidation during school board meetings that targeted education officials in recent months.
"Coupled with attacks against school board members and educators for approving policies for masks to protect the health and safety of students and school employees, many public school officials are also facing physical threats because of propaganda purporting the false inclusion of critical race theory within classroom instruction and curricula."
The White House didn't immediately respond to a request for comment on the letter.
School board meetings have become ground zero for political unrest in recent months as conservative groups and former Trump administration officials have sought to capitalize on angst against school officials as a campaign strategy. Though news articles have highlighted outrage that include divisive and at times violent rhetoric, it's unclear if any education leaders have been injured.
In one incident, police arrested an Illinois man on aggravated battery and disorderly conduct charges for allegedly hitting a school official as he was being escorted out of a school board meeting. In Ohio, a school board member was mailed a letter that warned "we are coming after you" and threatened that the school official would "pay dearly" for requiring students to wear masks. In a recent story for The 74, school leaders discussed how they faced online threats and vandalized campuses. Candace Singh, who leads a school district near San Diego, said she was threatened with warnings like "You better watch out" and "Watch your back." Such language, she said, has become "accepted in the public discourse, where it never would have been tolerated before." Some districts, like the Rockwood School District in suburban St. Louis, resorted to hiring private security earlier this year to protect staff.
Earlier in the month, the National Association of Secondary School Principals called on federal officials to "do more to protect school leaders from rampant hostility and violence that disrupts our schools and threatens the safety of our educators and students."
In a joint statement last week, the school boards association and AASA, The School Superintendents Association, called on the public to stop using violent threats to express their opinions about pandemic-era school reopening decisions.
"We oppose the increasingly aggressive tactics creeping into board and community meetings, and we cannot let frustrations and tensions evolve into name calling and intimidation," Daniel Domenech, AASA's executive director, said in the statement. "We will never back down from the importance of freedom of speech, but we cannot — and will not — tolerate aggression, intimidation, threats and violence toward superintendents, board members and educators."
Get stories like these delivered straight to your inbox. Sign up for The 74 Newsletter