This Week in Education Politics: Trump's 2019 Budget, Native American Education, Reforming ADA for Private Schools & More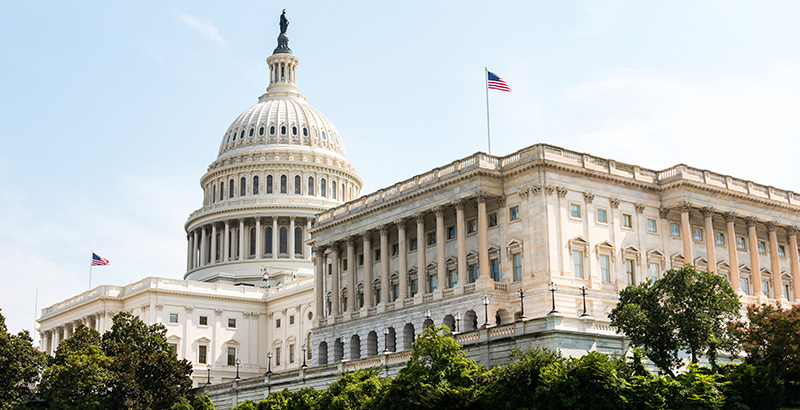 THIS WEEK IN EDUCATION POLITICS publishes most Sundays. (See previous editions here.) You can get the preview delivered straight to your inbox by signing up for The 74 Newsletter; for rolling updates on federal education policy, follow Carolyn Phenicie on Twitter @cphenicie.
INBOX: BUDGET 2019 WATCH — The eyes of the education world Monday morning will be on releases from the Office of Management and Budget and the Education Department as they unveil President Trump's fiscal 2019 budget proposal.
Trump reportedly wants to make large cuts to the Education Department, even more than the $9 billion he wanted to ax last year. Those cuts included eliminating Title II teacher training grants and the 21st Century Community Learning Centers program that funds before- and after-school care, plus a number of smaller programs, including the Special Olympics.
To promote school choice, the administration proposed a $250 million voucher pilot program and $1 billion in Title I portability, plus increases to the federal charter and magnet school programs.
Those proposals — particularly the voucher pilot, and its implications for civil liberties protections for students — became flashpoints in Education Secretary Betsy DeVos's early dealings on Capitol Hill. House Republicans in their fiscal 2018 spending bill did eliminate the teacher training grants, but Congress acquiesced to no other administration requests.
The president's request is largely a messaging document: It attracts a lot of reaction in its first few days, and Congress will hold hearings on specific agency proposals, but little of it ends up in the final bills lawmakers write.
Also due Monday is the Trump administration's $1.5 trillion infrastructure plan. House Democrats had urged the administration to include school modernization in the plan, though early reports indicate it's not there. As of the 2012–13 school year, 53 percent of public schools needed to spend money on repairs, renovations, or modernizations to attain "good overall condition," at a total cost of about $197 billion, according to a federal report.
IN CASE YOU MISSED IT: BUDGET DEAL REACHED, DACA ON DECK — After a brief shutdown, Congress early Friday morning passed a bill to keep the government funded at current levels through March 23.
The deal will also raise total spending caps through September 2019, extend funding for the Children's Health Insurance Program for another four years, boost spending for federal child care grants, and reauthorize the Maternal, Infant, and Early Childhood Home Visiting program, which expired in September. The package also includes disaster relief funding, including $2.7 billion for schools affected by recent hurricanes and fires.
House Democrats had balked at the lack of a solution on Deferred Action for Childhood Arrivals, or DACA. Democratic Leader Nancy Pelosi held the House floor for eight hours Wednesday to protest; House Speaker Paul Ryan on Thursday told reporters he would bring the issue to the floor.
"If anyone doubts my intention to solve this problem and bring up a DACA and immigration reform bill, do not. We will bring a solution to the floor, one the president will sign. We must pass this budget agreement first so we can get on to that," he said.
Pelosi has urged Ryan to allow floor votes on several competing DACA proposals, with the one that gets the most support winning. That would presumably allow Democrats and moderate Republicans to push through a more centrist bill than the one House Republican leadership would allow. Ryan hasn't committed to bringing anything to the floor besides something Trump would sign, Politico reported.
Senate Majority Leader Mitch McConnell also set up a floor debate on DACA this week, in keeping with the promise he made at the end of the previous shutdown last month. There is no guarantee that the House will consider, or that Trump will sign, anything that gets through the Senate.
WEDNESDAY: NATIVE AMERICAN SCHOOLS — A subcommittee of the House Education and the Workforce Committee examines "the government's management of Native American schools." The Bureau of Indian Education, a long-troubled agency that funds 183 schools educating about 48,000 students on reservations across the country, last year made the Government Accountability Office's list of "high-risk" agencies most in need of change.
THURSDAY: IS EDUCATION WORTH IT? — The American Enterprise Institute, a conservative think tank, holds a debate between author Bryan Caplan, who recently wrote The Case Against Education: Why the Education System Is a Waste of Time and Money, and Eric Hanushek, a visiting scholar at AEI who has studied how the quality of education impacts national economic growth.
LATE IN THE WEEK WEEK: ADA CHANGES — The House this week will vote on the ADA Education and Reform Act, which would amend the Americans with Disabilities Act to limit the circumstances under which a disabled person can sue "places of public accommodation" for failing to change architectural barriers that prevent people with disabilities from fully accessing them. The rules apply to private, non-religious schools; public schools are subject to different rules for government property, and religious institutions are exempt. Filing a lawsuit is currently one of three remedies available to disabled people.
Sponsor Ted Poe, Republican of Texas, said in a release that the bill "offers a common-sense fix" to the problem of "unscrupulous attorneys [who] prey on small business owners and file unnecessary lawsuits that abuse the spirit and purpose of the ADA."
Civil rights and disability advocacy groups rejected the idea that there is any widespread problem of frivolous lawsuits over public accommodations. The American Civil Liberties Union said the bill "undermines the very purpose of the landmark civil rights law" and "harms people with disabilities."
Support The 74's year-end campaign. Make a tax-exempt donation now.